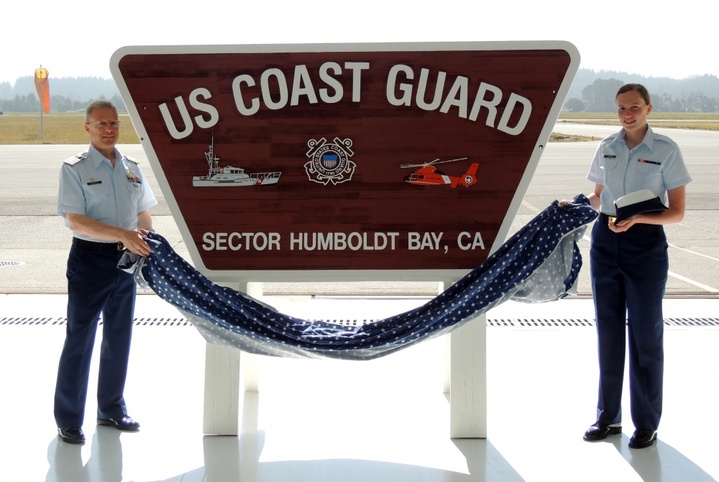 Coast Guard Sector Humboldt Bay sure knows how to "shred the gnar" (as shown in last week's post), but they're not just out there for entertainment and thrills — they're out there to keep us all safe. Coast Guard Sector Humboldt Bay serves the public from the Mendocino-Sonoma County line to the California-Oregon border. Alaskan storms, offshore rocks, fog, and cold water make this stretch of coast some of the most dangerous and rugged in California. The Command Center at Sector Humboldt Bay monitors for distress 24 hours a day, and facilitates boat and aircraft responses to maritime emergencies. Due to the rugged ocean conditions in the area, Sector Humboldt Bay also has a "surf school," to teach how to operate 47-ft motor lifeboats in heavy surf (thus the recent shredding of the gnar).

Coast Guard Pilot Neil Romans was a recent guest on KHUM's Coastal Currents, and he provided some insight into what the Coast Guard does and how folks can stay safe at the beach during the winter season.

Here are a few question and answer excerpts from the interview, or you can listen to the whole Coastal Currents podcast here.

Q: What are your daily operations when you are not conducting a rescue?
A: We are a highly trained crew. We are training to keep skills at high level of readiness. That's mainly what our operational focus is between rescues. Training to go out on that dark and stormy night and have the skills to pull someone out of the water or render assistance. We have weather that we can train in. There's a certain level it's too risky, but we will still conduct rescues in. If it meets the contract the coast guard has laid out we will go train in that.
Q: Do you ever get scared?
A: It's human to be scared. It's going to happen, but what you fall back on and what gets you through the fear is your training.
Q: Rip currents: What are they, and what to do if you get caught in one?
A: A rip current or rip tide is a column of water moving from shore out to sea through the breakers. You can identify them by some sea foam or seaweed moving out to sea. If you get caught in one it will move you out to sea, but not forever. Relax, swim parallel to shore, and then let the waves push you back to shore.
Q: How can people stay safe near and on the ocean?
A:
1. Learn to swim. It seems elementary but its step one in being safe around the water. And always swim with a buddy.
2. Never turn your back on the water and always watch your children.
3. Avoid walking on jetties and near the water when waves are large. Even if conditions seem mellow, a large wave could sneak up at any time. When conditions are rough, admire from a distance.
"Coastal Currents," with Coast Guard pilot Neil Romans
###
Ocean Night is going black and white this December in the spirit of the holidays!

Join Surfrider Humboldt, Northcoast Environmental Center, and Humboldt Baykeeper for their Holiday Party and Year in Review at the 1st Annual Black & White Ocean Night. The event will take place Saturday December 10th from 6:30-10pm at the Arcata Theater Lounge, and is open to all ages.

This classy evening will feature live piano music by Katie McGourty, black & white surf films, extra-special gift raffles with awesome local goodies, games, and lots of holiday cheer. Come eat, drink, and be merry! And don't forget to wear your most fabulous (or funny) black and white attire for this fancy(ish) affair.

For more information check out the Facebook event here.
Looking for the perfect present this season? A Surfrider membership is only $25 for a year! Renew or become a member at the event and receive 10 free raffle tickets!
###
Delia Bense-Kang serves as the Northcoast Environmental Center's Marine Protected Area Outreach Coordinator and chairs Surfrider Foundation's Humboldt Chapter.