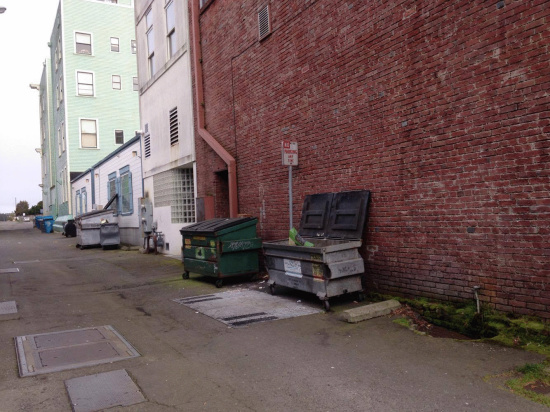 The alleyway behind the Pearl Lounge. By John Ross Ferrara.
UPDATE, 4:00 p.m.:
Eureka Police Department Press Release:
On 02/14/16, at about 1:00 a.m. officers with the Eureka Police Department responded to a report of an assault with a deadly weapon call at the Pearl Lounge. Upon arrival, officers learned that two people had been stabbed following a verbal dispute which escalated to a fist fight on the sidewalk in front of the bar.

Two men were involved in the initial fight, which was quickly broken up by bouncers from the Pearl.

Employees from the establishment asked the involved parties to leave and encouraged them to do so in separate directions.

Shortly thereafter, one of the men involved in the initial dispute and a friend walked out the back door of the Pearl and were reportedly confronted by several men. Another fight broke out resulting in two men being stabbed. The remaining participants fled the scene prior to law enforcement arrival.

The two stabbing victims were transported to St. Joseph Hospital.

Anyone with information regarding this matter should contact the Eureka Police Department Criminal Investigations Section at 441-4300, or Sgt. K. Howden at 268-5261
###
Two stabbing victims were taken to St. Joseph's Hospital this morning, after an altercation on the 500 block of 2nd Street in Old Town Eureka.
Sgt. Travis Breaud of the Eureka Police Department tells the Outpost that officers responded to an assault with a deadly weapon call at 12:48 a.m.
Upon arrival, officers located two suspects with stab wounds.
The investigation is ongoing. An update will be posted when more information is available.