A dead cat was reported to be tied down and floating near the dock under the Samoa Bridge this afternoon.
Two Eureka Police Department Officers responded to the scene, but were unable to remove the cat from the water.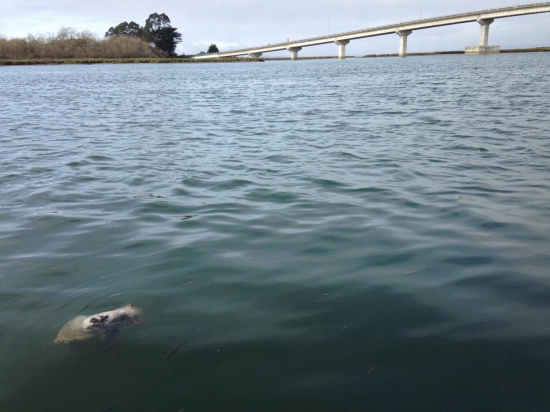 Officer Heinrich Soltow told the Outpost that the animal appears to be tied down by an unknown object.
"Based on its location, I am unable to get it without getting wet, so I'm referring it to an ally agency that can take care of the remains in the propper fashion," Soltow said. "It appears it's caught on something. I don't know what."
Jake Smith and Jocelyn Marshall of Eureka reported the incident to law enforcement.
"We came to hang out at the park for a little bit with our dog, when we noticed she was intently glancing over the ledge at something," Smith said. "When we went to check it out, we saw spots on it and we could tell it was a cat."
The pair said they often come to the waterfront on their breaks and see people swimming in the area.
"It's definitely tied down with a harness of some sort keeping it there," Marshall said. "Just three days ago, a girl was training and swam literally two to three feet away from here."
It is unknown at this time if the incident is considered an animal cruelty case. An update will be posted when more information is available.