Amid strained labor negotiations, faculty members throughout the California State University's 23-campus system are threatening a five-day strike in April. The California Faculty Association, which represents close to 26,000 professors, lecturers and librarians, is demanding a five percent salary increase while CSU administration has offered only two percent.
The strike "would bring campuses across the state to a virtual standstill," reported Kimberly Veklerov on SFGate.com. And union President Jennifer Egan told the L.A. Times, ""We won't hold classes, we won't check our email. We're going to be on the picket lines."
And yet, in the email sent earlier today to HSU students Rossbacher says the campus will remain open and "not all faculty will strike."
A report published by the faculty union last March found that HSU's tenure-track positions decreased by 25 percent from 2004 to 2014, the biggest decline of any school in the CSU system. Over the same period faculty salaries at HSU "only increased a shocking 1% while the average manager/supervisor salary has increased by 42%," the report noted.
This discrepancy is reflected in the chart below (with apologies for the low resolution):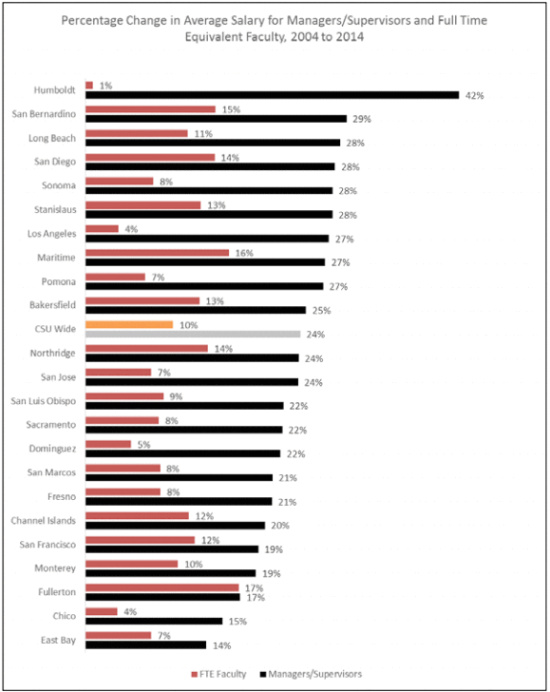 CSU administrators, meanwhile, argue that faculty raises of five percent fall behind such priorities as student enrollment growth, hiring new faculty and improvements to technology and infrastructure.
Here's the email from Rossbacher:
February 18, 2016

Update on Possible Faculty Strike

Dear Students,

As you are no doubt aware, the California Faculty Association recently announced plans for a potential strike on all 23 CSU campuses April 13-15 and April 18-19, 2016. To date, CSU representatives have not been able to reach a salary agreement with the CFA through the collective bargaining process. While we remain committed to the process and hopeful for its positive outcome, our campus leadership team and many others throughout the University have been planning for the possibility of a strike.

I want to assure you that if a strike occurs, our campus, and all of the CSU's campuses, will remain open. While some classes may be canceled, many classes will be held as not all faculty will strike. You are advised to check with your instructors about their individual class schedules, and if your class is scheduled you should attend. We anticipate that all campus operations and administrative services will be available and scheduled events will be held. The campus will remain open to students, staff, and the public. Our University Police will be serving the campus to ensure a safe environment for all, which is always one of our primary goals.

The strike should not interfere with your being able to complete your semester courses and graduate on time. Faculty who strike will generally arrange for assigned reading or other work if their classes are canceled.

If a strike does occur, it is important to note the following:

No individual, including students, can be compelled to take either the CSU administration's position or the CFA's position;
Classroom time cannot and should not be used by faculty to discuss issues related to the strike;
Students cannot be compelled to walk out of class, walk picket lines, stay away from campus, or support the strike as part of a class assignment or in exchange for a grade;
Striking faculty may not block or otherwise obstruct student access to campus, campus services, or the classroom.

I also want you to be aware that should a strike occur, media may be on campus and may ask people to comment. You have the right to choose whether to be interviewed. You may also direct media inquiries to our public affairs staff at 707-826-3390.

I want to emphasize that, in the event of a strike, we plan to maintain full campus operations with minimal disruption to students, faculty, staff, and guests. We respect our faculty's rights and remain committed to the collective bargaining process. For more information, I encourage you to review this Q&A document that was provided by CSU.

We will strive to keep you updated about this situation as the semester continues.

Sincerely yours,

Lisa A. Rossbacher, Ph.D.
President
PREVIOUSLY: