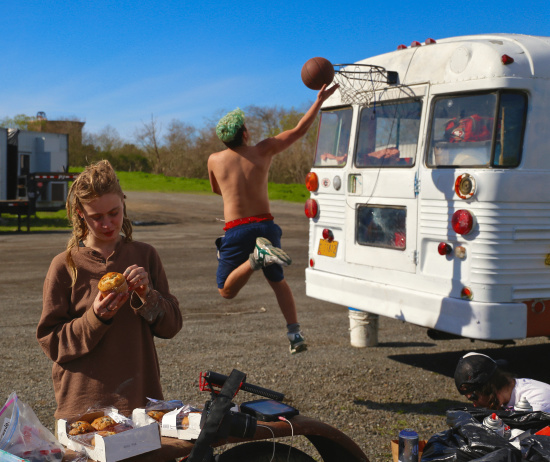 It's a bright, sunny day in a parking lot of a business in south Eureka. Members of the The Vagabus, a collective of mostly "houseless" volunteers with do-goody plans to traverse the Western Hemisphere in a caravan of eye-demanding buses, are busying themselves with various chores and leisure activities. Some are applying a coat of primer to their long vehicles, anticipating future colorful designs. Another tends to the needs of the various canine friends traveling with them. A few share a burrito. One practices layups on a basketball hoop affixed to the back of one of the buses.
"Did you know that butterflies retain memories from when they were caterpillars?" asks 32-year-old Steven Boutwell, Vagabus founder and motivator-in-chief to anyone within earshot as he spray-paints a wheel orange.
The Mississippi native looks his part — a modern day Shaggy, complete with scraggly beard, clad in knit beanie and sweater atop loud tie-dye pants. He goes on to recall what he can of an article he read about a study where biologists gave mild shocks to caterpillars while exposing them to various smells. After the caterpillars built their cocoons and metamorphosed into moths (turns out it was moths; we looked) they would still avoid the smells they associated with past discomfort, despite having essentially new brains and nervous systems.
"Look it up online," Boutwell told us. "The world is amazing."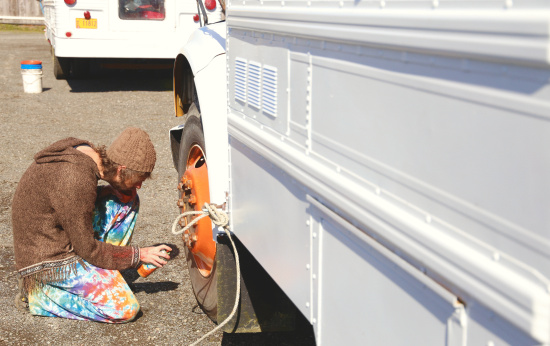 # # #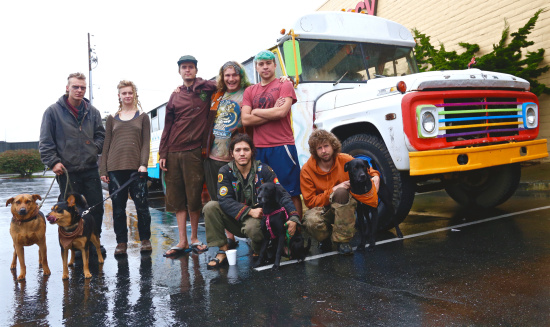 It's been over a month now, more than three times longer than they initially planned, since The Vagabus' kindness convoy rolled into Humboldt seeking volunteer projects to direct their enthusiasm at, while courting media outlets unable to resist the Ken Keseyness of it all. Boutwell's ability to scare up press extends beyond the Redwood Curtain: The Huffington Post jumped on the bus first, publishing a piece titled "An Introduction to Traveling on a Bus With Hobos" back in November; and a reporter from GQ signed up for a ride-a-long, though, according to Boutwell, he only lasted 11 hours before deciding the long, strange trip was not for him. Article pending? Unknown.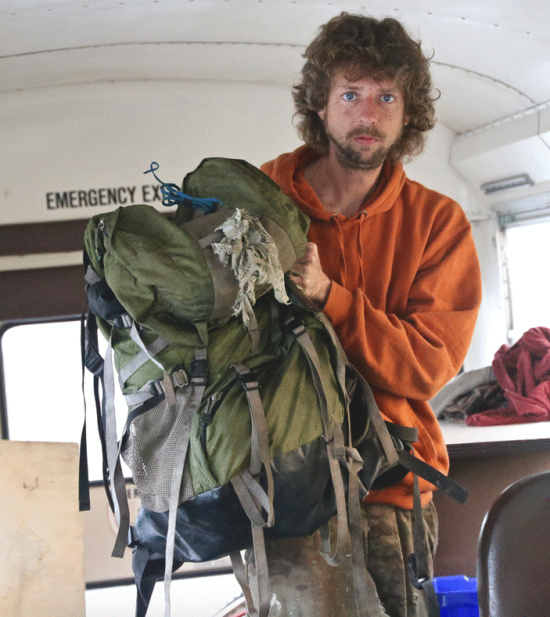 Needless to say, The Outpost was similarly wooed. In our initial writeup of the Vagabus chronicles we learned that the idea for the trip began with founder Steven Boutwell's posts on Reddit in which he laid out his e-dreams for travel and volunteering.
As we stated before, The Vagabus hopes to span the hemisphere, from Alaska to Tierra Del Fuego. After Eureka, though, they have their sights set on Fortuna. Then maybe Garberville — they're still working on figuring out consistent diesel funds. And their odometer and gas gauge needs fixing. It's a work in progress.
The good news is, should the Vagabus ever conquer the world with goodness, we all have access to the blueprint for how they did it — its DNA is sprinkled around the Internet in the form of messages posted to various corners of Reddit. Digging through Boutwell's deep Reddit history — he goes by /u/huckstah on the popular e-community and is quite active — a profile forms of someone no stranger to living by his own rulebook. His posts find him participating in numerous discussions with other rubbertramps about good farms where travelers can find work. Other times he provides tips to those seeking hitchhiking and train hopping advice.
"I've been living this lifestyle a lot of years," Boutwell tells the Outpost. "I got pretty good at it."
Then, about 10 months ago, Steven "/u/huckstah" Boutwell took the web to cast some vision:
I've been collaborating with /u/applecheek, /u/digimad, and other members of r/Vagabond, and we've come up with the idea to hitchhike from Alaska to Argentina. However, what started out as a plan for a 2-3 person trip, quickly evolved into TONS of people wanting to join us!

So hey, why limit ourselves, right? Let's all join together and make one massive Vagabond Army of volunteers and travelers!

Problem: A large group (10+ people) can't hitchhike together.

Solution: Get a Bus/Van/Whatever!
The seed was planted. There's a ton of information and logistical speculation contained in that initial 10-month-old post, some of which had to understandably be altered as plans became more fully formed. The core stated mission, however, seems to have remained intact:
The goal of this trip is NOT simply adventure, as we plan to stop and VOLUNTEER at all the communities we visit along the way. Volunteering on farms, animal shelters, sustainable eco-villages, helping build houses, or literally ANYTHING we can do to contribute and help out the local communities that we visit.
Boutwell launched the subreddit /r/Vagabus and asked the relative random people interested in making a transcontinental bus journey with him to fill out a form to gather basic information. By November of 2015 a bus was acquired in the Bay Area. After stints of varying length in both Coos Bay and Crescent City, The Vagabus arrived ready to lend Humboldt a helping hand on Jan. 21. Here they remain.
# # #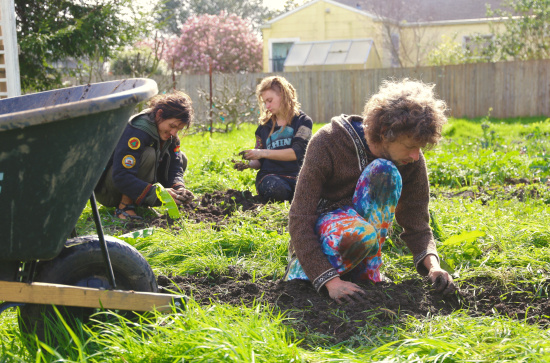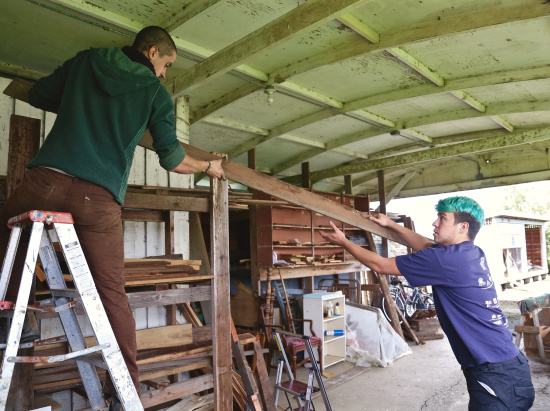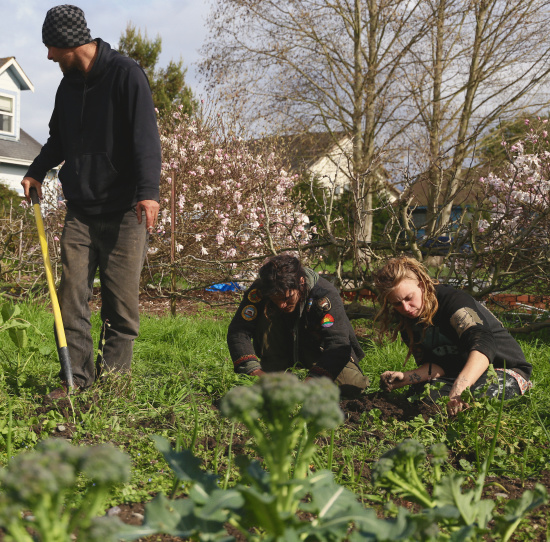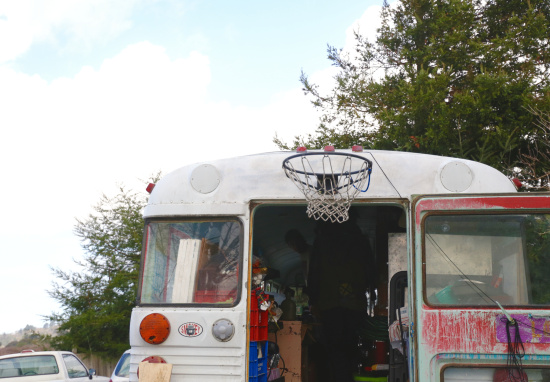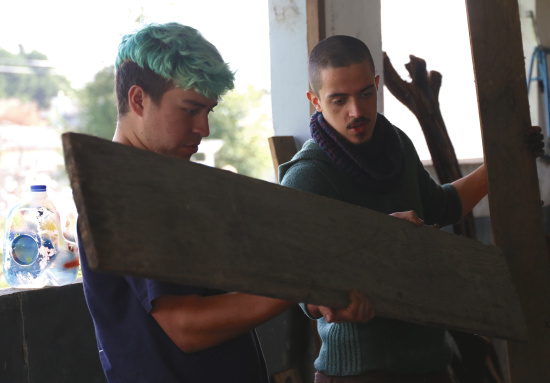 # # #
Part of the reason they've lengthened their stay in Humboldt County (aside from some mechanical failures) has been the "overwhelming" amount of requests for volunteer service the group has received.
"Once we got to Eureka and Arcata we realized we'd bitten off more than we could chew," Boutwell says of the volume of jobs they've been offered, some in exchange for supplies or donations. We'll list a few gigs they've tackled, according to Boutwell (some witnessed by the Outpost):
Assisted at the Food for People warehouse
Helped reorganize storage at the Salvation Army
Installed new fencing at Bless My Soul Cafe and did yard work for Sweet Mama Janisse (yes, she fed them)
Cooked food for the Anarchist Book Fair and Food Not Bombs
Eradicated invasive species at the Arcata Marsh
Labored to beautify Companion Animal's property
Provided muscle at the Arcata Community Garden
Volunteered at various other thrift stores, humane societies, residences and urban homesteads
"Angels of Hope gave us three filing cabinets and a didgeridoo," Boutwell told us, referring to the gifts they were given by the Arcata thrift store for their work.

On that didgeridoo (single) note, The Vagabus hauls with it numerous musical instruments — guitars and djembes are prominent — which are utilized for joyful noise purposes during evening down time. Several bussers expressed an interest in one day recording an album of songs chronicling their adventures. When asked about supplies they were lacking for their trip, while mechanical, financial and food-related items were listed, musical supplies seemed a significant priority. Specifically, if anyone has a small, acoustic wall piano that could be positioned into a seatless section of one of the buses, that would be just swell. There are also plans to convert the roof of one of the buses into a performance space if anyone out there is a savvy welder. Just sayin'.
(Disclosure: The Outpost kicked down a small, two-octave or so plugin organ to the cause, so they are not keyless.)
# # #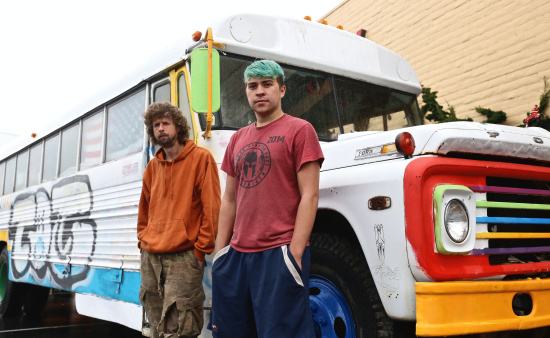 While most people on The Vagabus have had some practice at life with little, the siren's song of the nomadic lifestyle has drawn others. 26-year-old Will Uihlein was a junior at Mississippi State University studying biosciences — "I wanted to be a neurosurgeon" — when he read about the Vagabus on Reddit. He started communicating with Boutwell online and eventually made the call to travel to Humboldt to meet up. He says his parents were skeptical but supportive of his move.
"They were concerned, but they know my spirit," Will says, noting that mom and dad follow his journeys online. "They're happy for me."
"I think Will is the only one on the bus who didn't used to be houseless," Boutwell says.
After a month on the bus, Uihlein is most excited about all he's learning saying he's been in school most of his life but wanted a different experience.
"The reason why this works is the people on the bus," Uihlein says. "Everybody is so proactive and hardworking."
Uihlein entertains the idea of returning to school to pursue his studies — "That door is always open" — but has feels he's gaining important skills and loves the story he's living.
"I won't be on the bus forever," he says. "This is just the journey right now."
# # #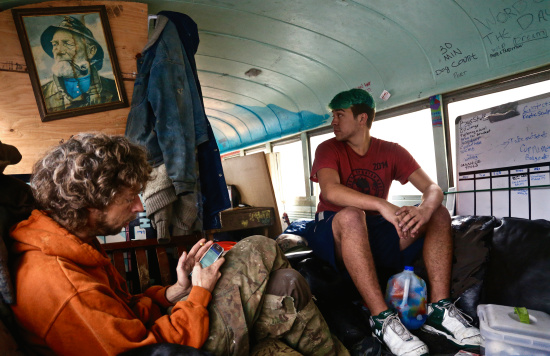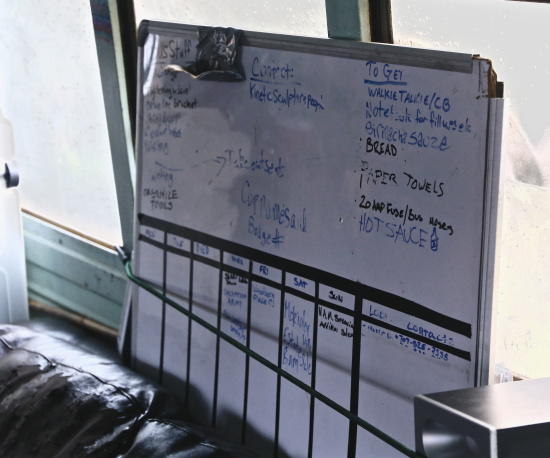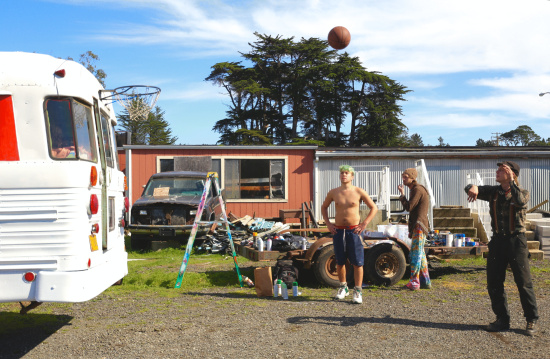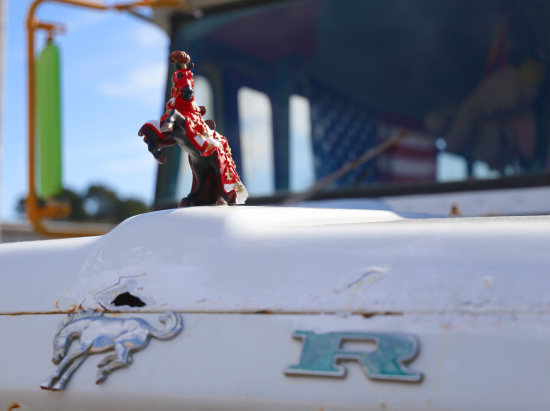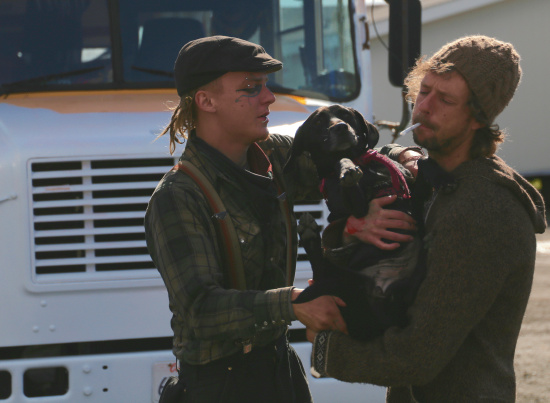 # # #
As is likely a surprise to no one who lives here, the Vagabus and Humboldt have turned out to be quite simpatico. While the group has stayed busy with its volunteer work, they've also been able to draw people and resources to their cause. Yes, thanks to Humboldt, their fleet and crew has expanded. The Vagabus entered HumCo's borders in January with four travelers and one bus. The movement has now grown to 11 travelers, two buses and a few other possibly operational ancillary vehicles.
"And five dogs," Boutwell tells us (we wouldn't be surprised if the number fluctuates some more before they leave us). One fact that should interest Humboldt residents: Three of the additions came about after a conversation with some houseless folk which took place in the Bayshore Mall parking lot adjacent the Palco Marsh. Boutwell explains:
"We went down behind the mall — you know where all the homeless camps are? — and there were a couple more 'rubbertramps' — 'rubbertramps' being people that live in their vehicles — who were parked in the back parking lot. They saw us and came aboard to talk to us about who we were and what we were doing and they all wanted to jump on and come with us."
And that's how that is done. One of the converts, a man named "Tumble," seemed more than willing to allow The Vagabus to take him where it will.
"I like to travel around, meet new people, help people, be productive." Tumble says. "It's better than just traveling the road and sitting on some hippie hill somewhere."
# # #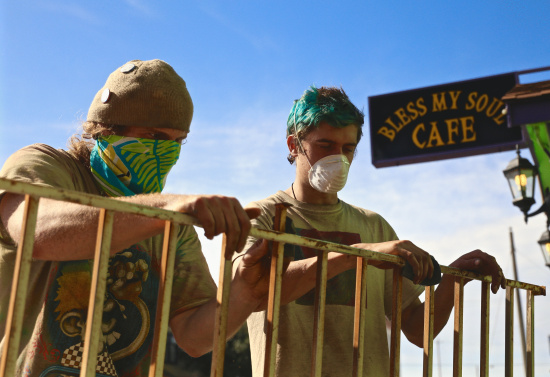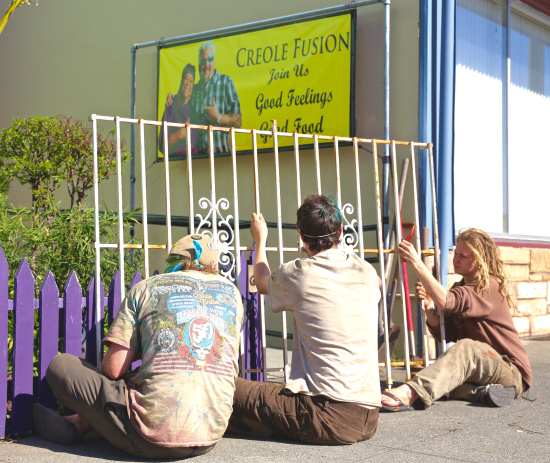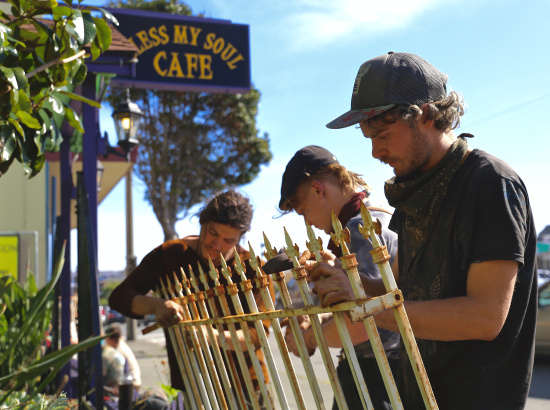 # # #
Currently the Vagabus caravan is a two-bus operation. One morning in Humboldt, while the bussers were starting their day, they were approached by a man who wanted to donate a bus he had to the cause as long as the crew would move along from in front of his business.
"He said that, as part of the agreement, if he gave us a bus, we must park somewhere else," Boutwell says.
And there is a third bus on the way! A woman in San Francisco who already runs a bus-encased roving food kitchen has elected to join the caravan. She will be piloting her bus north "within the next couple of weeks," according to Boutwell.
"She's converting it to veggie oil right now," Boutwell said.
You could also argue that The Vagabus has grown in legitimacy. The group finagled their way under the umbrella of local nonprofit The Ink People and is now one of many projects supported by the DreamMaker Program. This means The Vagabus, itself, is now an official nonprofit. Score.
"Libby Maynard is the most fantastic woman in Humboldt County," Boutwell said of the Ink People's executive director, adding that the group has discussed painting a QR code on the side of their ride for people to make donations to the Ink People.
# # #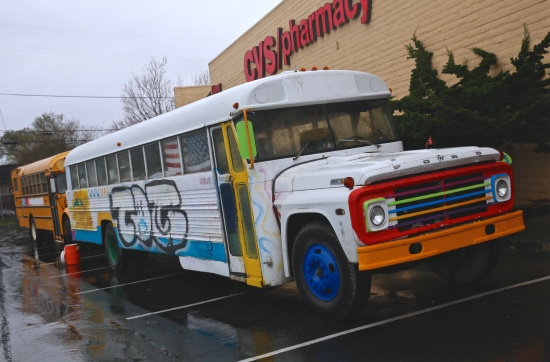 The trip has not been without its perils. As you might expect, business and property owners have had opinions about colorful bus folk parking wherever overnight. Still, Boutwell says law enforcement has been kind thus far.
"They push us from spot to spot. 'You can't park here, you can't park there.' But the cops have been friendly with us," Boutwell says. "I don't think a lot of people with painted buses can really say that."
One morning, with temporary residence having been established on the corner of 11th and N streets in Eureka the night before, the bussers awoke to discover that their home on wheels had been vandalized, on both sides, while they slumbered. The unimaginative tags (see above) were sprayed right in the middle of art provided by a group of ambitious "6 and 7-year-olds" who lived in a previous stop on The Vagabus journey. Bussers were bummed.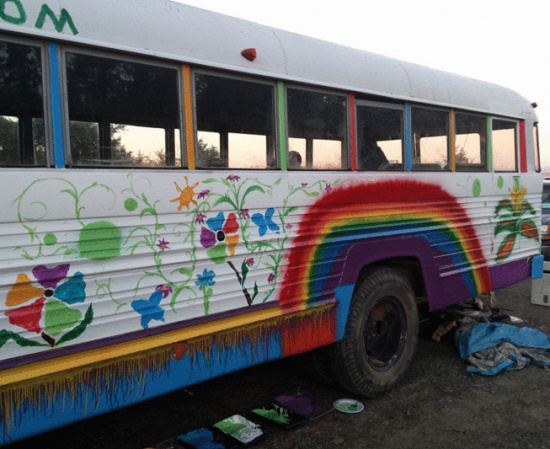 "I really liked the childish paint that we had," Boutwell says. "It's a shame that they did that since that was like a traveling mural for those kids."
But dark clouds sometimes come with rainbow colored linings, as the bummer of a situation gave Humboldt the chance to give back to the 'bus. Local artist Erik Riesenberger, whose work can be seen adorning walls in Arcata (commissioned) and Devil's Playground (not commissioned) spent the better part of a day applying his expertise with spray paints to the side of the bus.
"It's a pretty fun canvas to get to work on," Riesenberger says.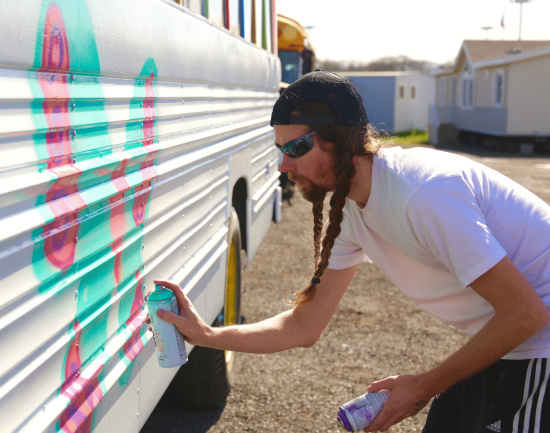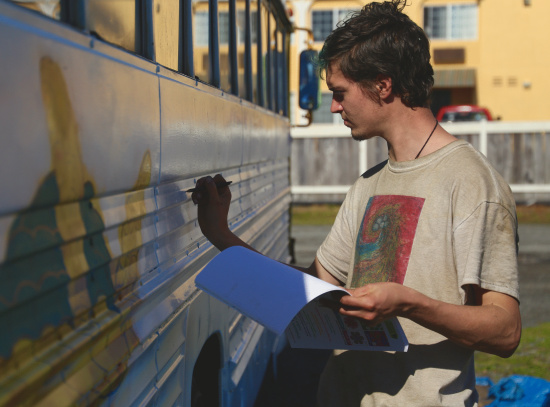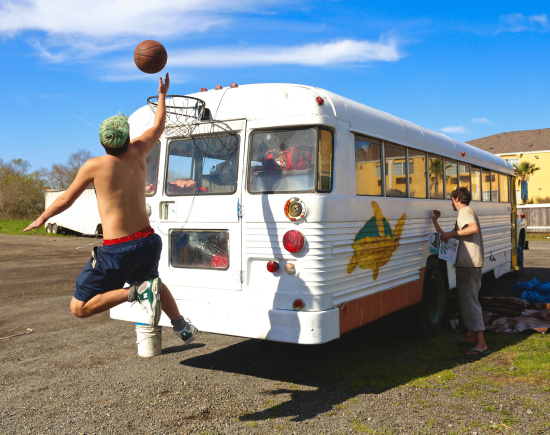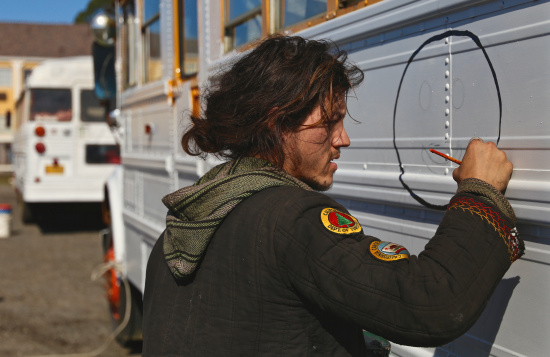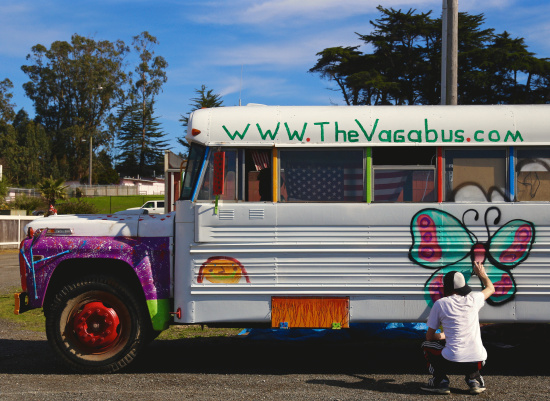 There's really no way to predict how The Vagabus saga will play out. Thus far its members have been content to roll with road life's punches, trials, errors, victories and setbacks. No matter what tensions arise, hanging with the group you get the sense that they're all invested in the story they're creating. We asked Pixie, one of the few female bussers, how long she intended to live The Vagabus life.
"As long as it stays wonderful," she says. Boutwell similarly, maybe, feels he's content living the Vagabus life.
"'Til the wheels fall off."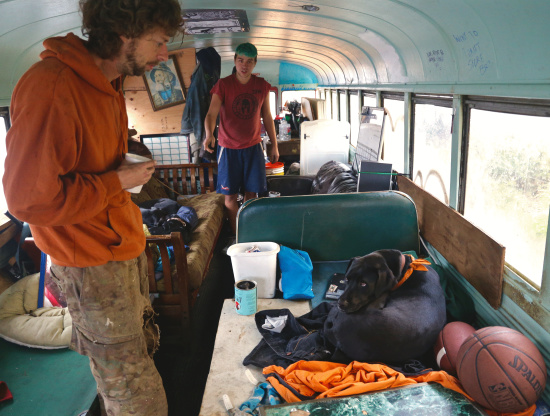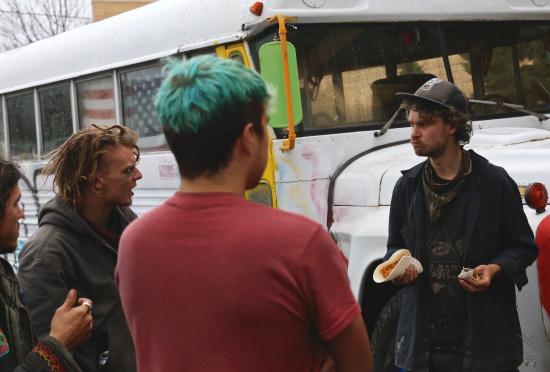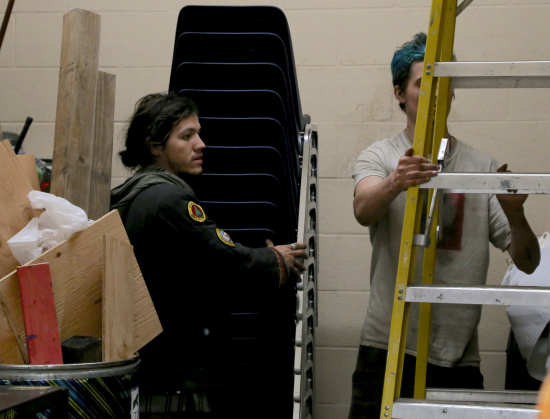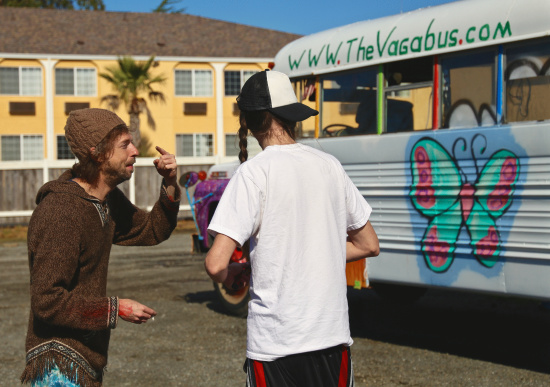 # # #
The Vagabus will soon start make its way south — before the Darien Gap, they'll attempt Fortuna. Do you have projects that are screaming for volunteers? Maybe you want to donate to the cause? Or perhaps this magical mystery tour sounds like it will provide the life's purpose you've so desperately been craving? Info addressing all those queries can be found at TheVagabus.com and/or you can just call Steven at 541-404-7218.