UPDATE!
###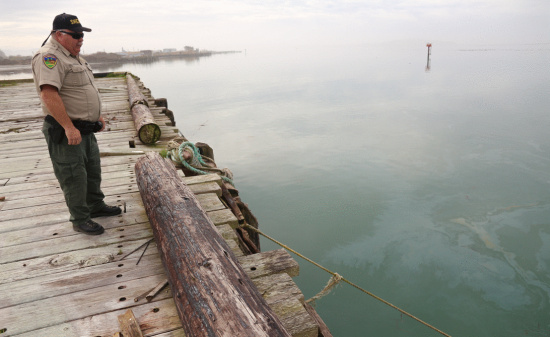 The Dennis Gayle, an old wooden vessel that is believed to have been the last surviving whaling ship to have worked out of Humboldt Bay, sank at its dock over the weekend, prompting a search for a missing person who is known to have stayed on the boat from time to time.
Deputy Roy Reynolds of the Humboldt County Sheriff's Office, who was down at the boatyard this morning, tells the Outpost's Andrew Goff that a semi-homeless man, Eugene Robinson, was caretaking the ship for its owner, and had permission to stay aboard it.
An official missing person report has not yet been filed, but Reynolds said that Robinson has not been seen since the Dennis Gayle sank. Law enforcement has asked around with Robinson's friends at the Palco Marsh without success.
Leroy Zerlang of the Zerlang & Zerlang shipyard was out at the scene this morning with law enforcement and others, looking down into the water while fuel and oil floated to the surface. An extension cord led from the dock down into the deep, where the Dennis Gayle lay.
"I think everybody's trying to figure out who will do what," Zerlang told the Outpost. "It's gotta get raised."
He said that the Dennis Gayle was, before it sank, the largest wooden ship left on Humboldt Bay, and the last of its whaling fleet. It was not in the greatest of shape.
"If she sprung a plank she could go down in 5-10 minutes," Zerlang said adding it would be difficult for divers to gain access to the inside of the ship due to small size of the living quarters.
(AUDIO UPDATE: While standing on the docks at the site of the Dennis Gayle's sinking, Zerlang spoke with Goff about the boat's history and what happens next.)
(AUDIO) Leroy on the Dennis Gayle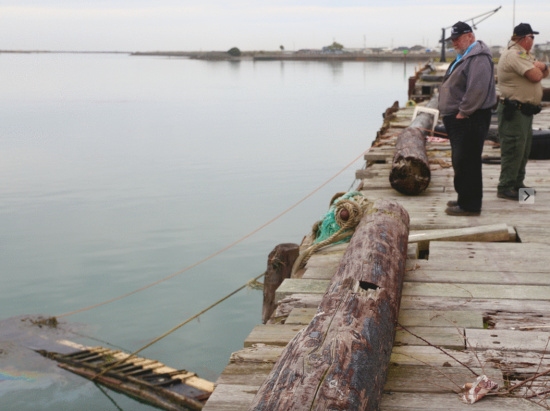 Press release from the Humboldt County Sheriff's Office:
On Sunday, February 28, 2016, at about 10:28 a.m. the Humboldt County Sheriff's Office received a call of a boat that sank at the dock in Fields Landing either sometime during the night of the 27th or early that morning. No one saw the boat sink, however, the boats caretaker, 50 year old Eugene Robinson, may have been on board. Witnesses saw Robinson leave the boat sometime on Saturday, February 27th, but is unsure if he went back onboard.

Robinson is described as a black male adult, 50 years old, 6' tall, 165 lbs, with black hair and brown eyes. He frequent 15th and Koster Street, Eureka.

If anyone has seen Eugene Robinson, please contact the Sheriff's Office at (707) 445-7251.'