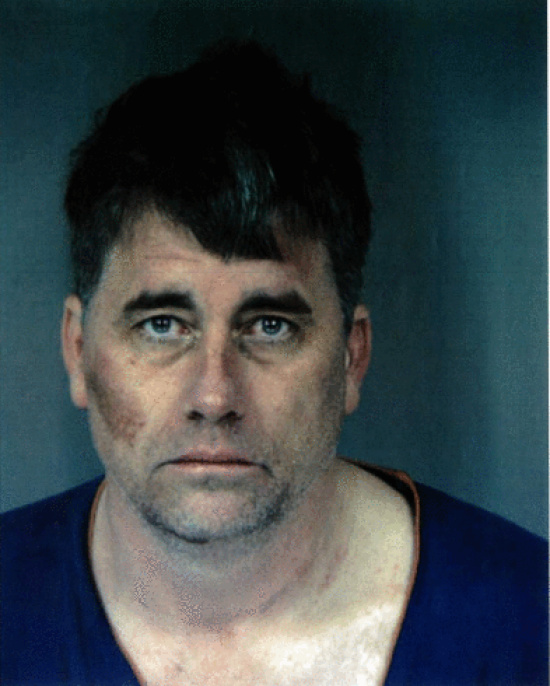 Gary Lee Bullock sat quietly in the courtroom this morning as Judge John T. Feeney began the process of selecting a jury for the case against him. Bullock, 46, stands accused of murdering Father Eric Freed, beloved priest at Eureka's St. Bernard Catholic Parish, on New Year's Day 2014, with special allegations of torture and carjacking. He has pleaded not guilty by reason of insanity.
Bullock is represented by Kaleb Cockrum, from Humboldt County's Conflict Counsel Office, with Deputy District Attorney Andrew Isaac leading the prosecution. The morning court session was occupied by Feeney working through a stack of jury questionnaires, dismissing people with obvious hardships and ultimately selecting 31 potential jurors to fill out long-form questionnaires.
"More than I expected," Feeney quipped after reaching the bottom of the stack — an "encouraging" sign for proceeding with the trial, he said.
Feeney said the jury trial is expected to end no later than Monday, April 18.
In previous courtroom appearances Bullock has been clad in the large orange jumpsuit provided inmates at the Humboldt County Correctional Facility. Today, however, the accused wore a baggy white dress shirt and gray slacks and sat at his attorney's elbow.
The trial has been delayed several times, most recently due to difficulties in arranging psychiatric evaluations of Bullock. Many locals are anxious for justice in a case that shocked the community and led to international news coverage.
Bullock is alleged to have broken into the rectory at St. Bernard Catholic Church in the early morning hours of Jan. 1, 2014. He had been released from jail just hours earlier after being arrested on drug intoxication charges, and officers with the Eureka Police Department made contact with Bullock near the rectory that morning but did not detain him.
Security camera footage shown during preliminary proceedings showed Bullock walking around the property for hours before eventually breaking in to the rectory, where Father Freed lived. Bullock is alleged to have beaten and tortured the Catholic priest before stealing his car and fleeing to his mother's residence in Southern Humboldt.
Today, many potential jurors were dismissed due to hardships. This included people whose employers wouldn't cover their wages during jury duty and those who had prepaid travel plans during the expected trial dates. Many of the potential jurors kept in the pool were retirees and public employees.
The case is scheduled to resume this afternoon with evidentiary hearings. Mr. Isaac plans to call District Attorney investigator Martin Perrone and former Eureka Police Detective Todd Wilcox, now a deputy with the Humboldt County Sheriff's Office.
Note: A previous version of this post failed to note that Mr. Wilcox is now with the Sheriff's Office.
PREVIOUSLY