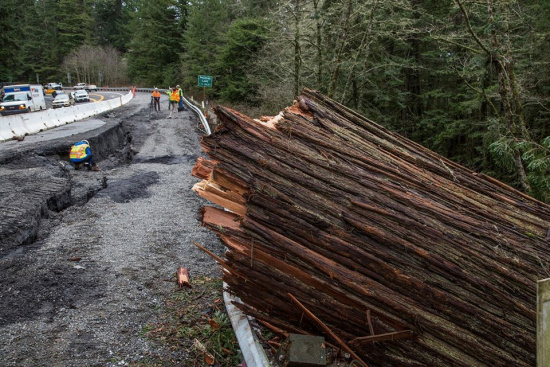 From Caltrans:
These photos are from a slide which has impacted U.S. Highway 101 at Cushing Creek, just south of Crescent City in Del Norte County.

The hillside on the southbound side of the roadway started to move in late December, but the recent El Niño rains saturated the slope even further and caused it to slide out from under the highway in earnest last weekend. The southbound #2 lane dropped on Sunday, and we closed it immediately.

The slide caused a redwood tree to fall uphill towards the highway, which sent it crashing onto the guardrail.
We've been working with a local contractor to shore up the highway and keep traffic moving through the area, and have since re-striped U.S. Highway 101 to allow for two-way traffic. Two-way traffic was restored this afternoon at 3:30 PM.

Our geotechnical and structure design offices will be working on more permanent fixes for this section of highway in the immediate future.