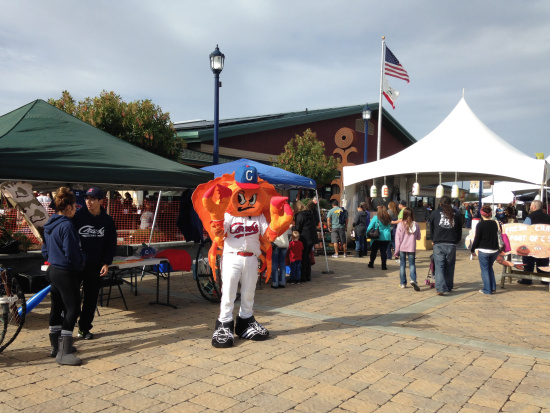 This might be the only local crab at this year's festival.
A message from Eureka Main Street:
The second annual Eureka Crab Celebration will take place throughout Downtown and Old Town, Eureka on January 29 & 30, 2016.

This year, as we were finalizing plans for the second Eureka Crab Celebration, the fishing industry faced the Crab Neurotoxin crisis, which has essentially canceled the entire Dungeness crab season in California. Working closely with Wild Planet Seafood, and talking with Ken Bates of the Humboldt Fishermen's Marketing Association we moved forward with an alternate plan, where education of the fragile balance a resource based economy faces would be our focus.

It is important that we continue to recognize how crucial commercial fishing for crab, a multi-million dollar industry, is to Eureka, and Humboldt County. We also want to reach out and honor our fishermen and their families, and thank them for all they do to keep fishing an active resource based economy.

On behalf of Eureka Main Street, the City of Eureka, the Eureka Lodging Association, the Greater Eureka Chamber of Commerce, the Humboldt Crabs, the Humboldt Maritime Museum, the Humboldt Wine Association, Jack's Seafood, 101 Things, Recology, the Times-Standard, and Wild Planet Seafood we invite the community to attend the Eureka Crab Celebration.
A Message from the Humboldt Fishermen's Marketing Association:
Special thanks to all of the folks that have concerns for California fishermen and their families during this year's delayed crab fishing season. It's a positive thing that the Eureka Crab Celebration continues in spite of the delay. By relying on Southern Oregon and Washington fishermen, crab is available in local stores and restaurants and the event helps keep our fishermen in the public eye.

Fort Bragg faced a similar problem a few years bac, when no local salmon were available for their summer salmon barbecue event. Other fishing ports stepped in to help, making their event a success.

Thank you for supporting our fishing fleet, on behalf of Ken Bates for the Humboldt Fishermen's Marketing Association.

For event details call 707-442-9054, visit www.eurekamainstreet.org or follow Eureka Crab Celebration on Facebook.
PREVIOUSLY: