UPDATE, 2:05 p.m.: Statement from HSU:
Humboldt State University student and football player Raul Sierra was arrested last night for a sexual assault that occurred last November in campus residence halls. His arrest for the alleged acquaintance rape follows an extensive investigation by the University Police Department.

The University and the Intercollegiate Athletics Department take this incident very seriously. In addition to the criminal charges, Sierra faces disciplinary action for violations of both the Student Code of Conduct and the Student-Athlete Code of Conduct. Given the seriousness of the charge, sanctions could result in being cut from the team and expelled from the University.

Sierra, 25, is a walk-on player who was on the roster for the Fall 2015 squad and was planning to participate on the Fall 2016 squad. He is a junior and transferred to HSU from Southwestern College in Chula Vista, Calif.
# # #
Original post: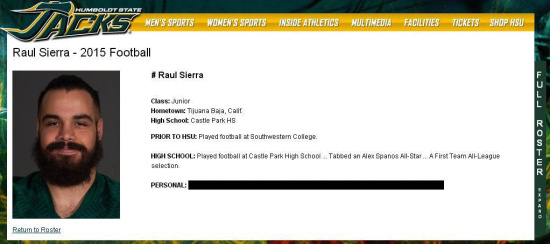 University police arrested a Humboldt State University football player for sexual assault last night around 9 p.m.
According to the Humboldt State Athletics department webpage, Raul Sierra of Tijuana, Mexico, played on the Jack's 2015 championship team.
Following inquiries to university personnel regarding Sierra's arrest, his name and profile mysteriously disappeared from the athletic's department's webpage.
HSU Public Information Officer Jarad Petroske said the deletion was a temporary reaction to Sierra's arrest.
"The Athletics Dept. took down Sierra's profile while they confirmed he was in fact still on the team — which he is, pending further action. His profile has been restored." Petroske added that since it's the off-season, Sierra's inclusion on the team is currently something of a formality. It remains to be seen if he'll return to the team this year.
As for the larger situation, Petroske said in an earlier email that "all students fall under the HSU Student Code of Conduct and Title IX regulations, which strive to create a campus free of sexual assault and sexualized violence. Students are open to prosecution by law enforcement agencies and can also face discipline by the university under the Student Code of Conduct, which can include suspension or expulsion from the University."
The junior defensive lineman previously played football at Southwestern College in Chula Vista California. He was not listed on previous HSU football rosters.
University officials plan to release a statement later today.