If you're looking for a vacation this summer on a limited timeline and budget, my recommendation is to tour the Marine Protected Areas of the Mendocino coast. Only a few hours away, the Mendocino coast offers completely different sights from Humboldt and will have you feeling like you have been transported to some kind of fairytale land. This recommendation comes from a recent first-hand experience, which I would like to share with you here. So hitch a ride with me, my friend Kaileigh, and Bu (the dog we borrowed for the weekend) on this virtual road trip, as we explore the Marine Protected Areas of the Mendocino Coast.
Immediately upon emerging from the forest of never-ending hair-pin turns on Highway 1, we were greeted by the appearance of the ocean and our first three MPAs. We pulled over at the first vista point directly overlooking Double Cone Rock State Marine Conservation Area. To the south we could just make out Rockport Rocks Special Closure, and Vizcaino Rock Special Closure. Special closures are small areas to protect specific populations. In this case, these two islands support more than 11,500 nesting sea birds including; Black Oystercatcher, Bandt's Cormorant, Common Murre, Pigeon Guillemot, and Rhinoceros Auklet.
Now on the coast, our drive felt like we were in a romantic movie montage. We marveled at the green hills that turn into shear cliff drop-offs where they meet the beach, and little towns that look as if they are stuck in 1950.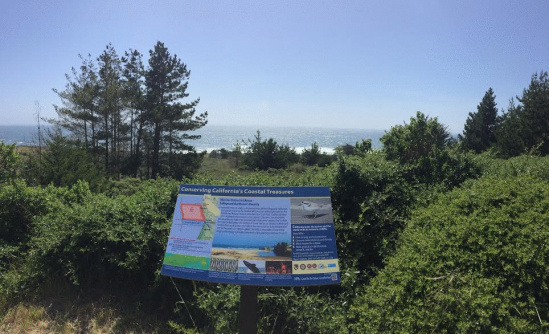 Our second series of MPAs was the Ten Mile complex which includes a State Marine Reserve, State Marine Conservation Area, and Estuary Conservation Area. This large area protects a variety of habitats including rocky shoreline, sandy beaches, offshore islets, surf grass, kelp beds, hard and soft substrates, and estuarine communities. We saw a quick overview of these ecosystems driving through, but there are plenty of places to park right off the highway to walk around and take a closer look.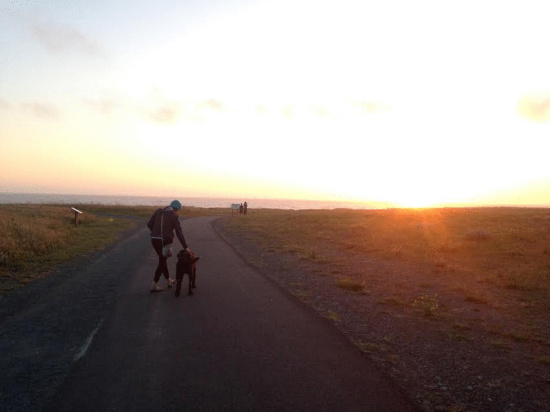 We stopped at the scenic overlook of Soldier Point in Fort Bragg for a picnic dinner and sunset walk. The point is part of the newly opened section of the California Coastal Trail, and perfect for a run or walk as mile markers are painted onto the pavement and the trail parallels the bluffs.
Being on a budget, we roughed it and camped rather than staying at one of many cute bed and breakfasts. The only challenge with camping in Mendocino is deciding which beautiful location to camp at. We decided on a Caspar Beach Campground just south of Fort Bragg, and were very pleased with our choice.The campground itself is just at the edge of the forest and right across from a little protected cove with white sand and aqua blue water.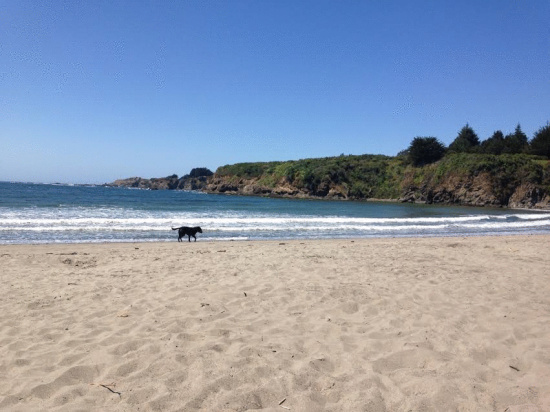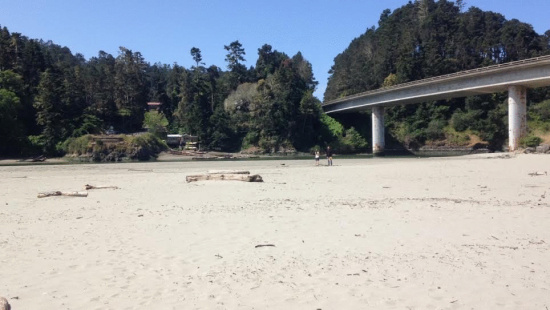 The next morning, to get powered up for a day of exploring, we searched around the town of Mendocino and stumbled upon the Goodlife Cafe and Bakery. This place has it all from breakfast burritos to danishes the size of your face! Everything is made from scratch and the menu changes depending on what is seasonally available. It definitely received our food critic stamp of approval.
Jittery from our Mexican Mochas, we hit the road again and almost missed the sharp turn right off the highway to the Big River State Marine Conservation Area. A short road led us down to a parking lot right under the highway bridge. Looking under the bridge we could see the river joining hands with the ocean. With its low banks, inlets, and marsh plants, this estuarine area was designated to protect spawning and nursery grounds, habitats for shorebirds and waterfowl, and a transportation corridor for river otters. Across the river there was a boat rental place that we wanted to check out if we had more time.
Driving farther south the highway parallels right by the Van Damme State Marine Conservation Area and State Park. This little bay-shaped beach offers the perfect place to launch a kayak or paddle board on small swell days. Camping and various aquatic vessel rentals are available right at the beach making it a easily accessible and family friendly place. The combination of rock gardens and sandy beach provides a rich habitat for lots of wildlife, so bring your camera and binoculars if you come here.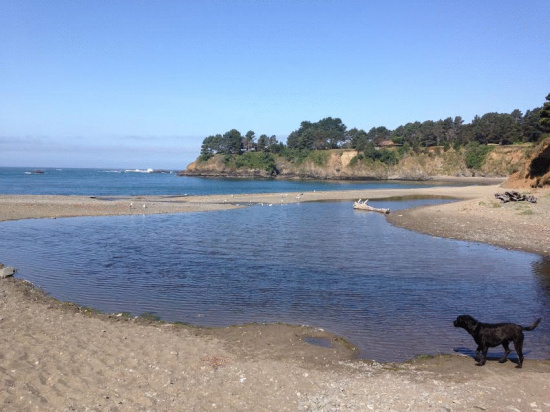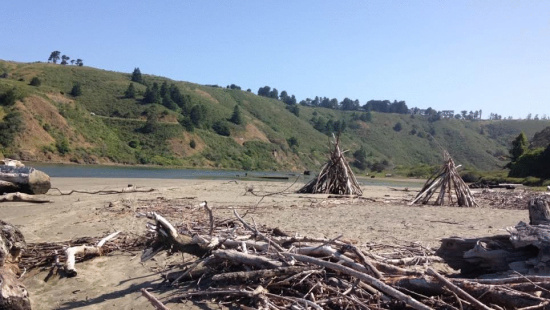 Our last stop was Navarro River Estuary State Marine Conservation Area, which also happened to be my personal favorite of the MPAs we visited. There was an overwhelming amount of scenery to take in at this beach! Piles of drift wood created a natural wall on the high tide line, and there was such a color contrast between the green hills and white sand. This area is protected because the mouth of the river mingles fresh and salty water providing a essential habitat for harbor seals, river otters, and sea lions. The estuarine area also protects bird communities such as kingfishers, grebes, mergansers, buffalo heads, egrets, herons, osprey, and raptors.
Nine MPAs in two days had us beat, especially Bu who slept the entire way back. The trip was the perfect mini-getaway and we will definitely be back to visit the remaining MPAs. I hope this travel log has been an escape for your mind or inspiration to pack up your gear and go explore for yourself!