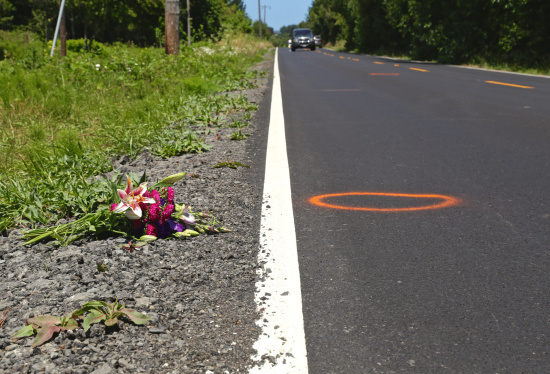 It's been nine days now since the hit-and-run deaths of two skateboarding teenagers in Fortuna. The tragedy has gripped the community due to the loss of young girls' lives, but also because the mystery that has surrounded the incident.
Today, as many have openly speculated, the CHP officially announced the mother of one of the victims, Marci Kitchen, and her boyfriend, Josh Pearlston, as parties-of-interest in the case. Full CHP release below:
Marci Kitchen | Facebook
The California Highway Patrol (CHP), Humboldt Area, has worked diligently to identify the driver of the gray 2015 Jeep Wrangler which was involved in last week's fatal hit and run traffic collision in Fortuna, on July 12, 2016.

After the execution of a search warrant, the Jeep was recovered by CHP investigators on Wednesday, July 13, 2016. The Jeep was located in a fenced backyard, behind a gate, at the registered owner's home. Investigators have made multiple attempts to contact Ms. Marcia Maelinda Kitchen, the registered owner of the Jeep, and her boyfriend, Mr. Joshua Wren Pearlston, for questioning. Upon the CHP locating the Jeep, Ms. Kitchen's attorney contacted the CHP to help facilitate her questioning. At this time, Ms. Kitchen and Mr. Pearlston have not made themselves available to investigators and their whereabouts are unknown.

The CHP is asking for the public's assistance in locating Ms. Kitchen and Mr. Pearlston as they are parties of interest in this investigation. As a reminder to the public, the CHP may file criminal charges on anyone who has provided aid in hiding or concealing evidence in this case. We ask the public to please be patient with us as this investigation continues to unfold; this is a very complex case and we have to be thorough to ensure those who are responsible are held accountable for their crimes. CHP investigators have been working day and night to bring this investigation to a close and we appreciate the public's assistance and support.
The Outpost reached out to the California Highway Patrol for some followup, due to the fact that their telling of communications between their agency and these parties doesn't exactly jibe with comments made to the North Coast Journal by Kitchen's attorney Ben Okin a week ago (see farther down). At the time, Okin said his client had been in contact with law enforcement. CHP public information officer Cy May says that is not the case.
"We've made ourselves very, very available. And they have not. We've tried, and we want a meeting more than anything. But they have not been as cooperative as we would have liked," May said.
# # #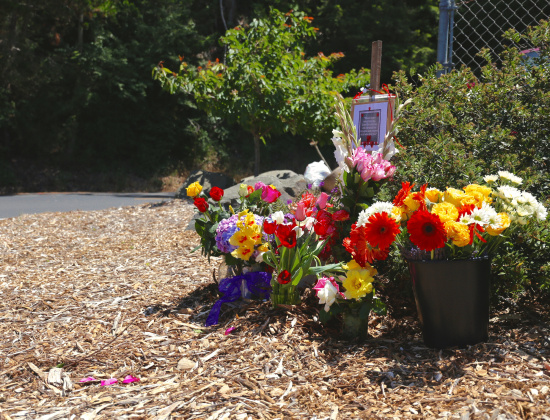 Here at the Outpost, we've received countless calls, emails and Facebook messages from members of the community pleading for an update like this. Most times we have to throw up our hands and say, sorry, we got nothing. But since interest in this case does not seem to be waning, what we want to do is try to gather much of the information available, published by us, law enforcement and other local media sources, to try and construct a timeline of how we got here.
# # #
July 12, The Hit-and-Run: On a Tuesday night, the Internet in its various forms lead the way gathering information about a hit-and-run incident on Eel River Drive near Drake Hill Road. Sandi Petersen, who heads up the very active Eel Valley Crime Stoppers Facebook group, was the first to put info provided by the police scanner online:

That Facebook report was quickly followed up with a post, "Hit and Run: Child Injured in Fortuna," by Kym Kemp that she continued to update throughout the night.
It sounded bad. It would end up being worse.
# # #
July 13, What was Lost, What was Found: The next morning CHP issued a press release confirming that two female teenagers had been skateboarding when they were struck by a "passing Light Gray colored Jeep vehicle." Some of the more pertinent information from the CHP release:
At approximately 9:16 p.m., an unknown driver was driving a light gray colored, newer model Jeep type vehicle southbound on Eel River Drive, s/of Kenmar Road at an unknown speed. Two young female teenagers were skateboarding northbound in the southbound lane of Eel River Drive, s/of Kenmar Road. For unknown reasons the Jeep struck the teenagers. The Jeep fled the scene and was last seen heading eastbound on Drake Hill Road. One teenager was pronounced deceased at the scene and the other was transported by ambulance to Redwood Memorial Hospital for major injuries before being flown to the Oakland Children's Hospital. On July 13, 2016, at 0630 hours, the second girl succumbed to her injuries and passed away at Oakland Children's Hospital.
While not part of the CHP's release, the identities of the victims started making their way around social media: Faith Lorraine Tsarnas and Kiya Kitchen, both 14 years old, both with ties to Fortuna.
The CHP's release made its way through Humboldt's various news media outlets and Facebook groups. Since a significant aspect of this case has been the community's reaction to it in the form of online comments, we'll mention that, while most expressed sadness and offered up prayers and condolances, some trollishly attempted to make an issue of the fact that the girls were skateboarding against traffic on the road. An example:

OK.
But the day after's most significant events would play out that afternoon. TV cameras rushed to Becker Lane — a short, gravel road that intersects Eel River Drive less than a mile south of where the collision occurred — on a report that law enforcement had located the suspect vehicle tucked away in the backyard of a residence there. (Contrary to earlier Jeep Cherokee reports, it ended up being a Jeep Wrangler.) The Times-Standard reported that damage to the vehicle was consistent with debris that had been found at the scene. After a warrant was acquired, the vehicle was taken as evidence.
But there was a twist to the story. As reported by Kym Kemp, the residence where the Jeep Wrangler was found was home to Marci Kitchen, mother of one of the victims.
No arrests were made. Internet commenters fiercely and confidently debated the meaning of it all.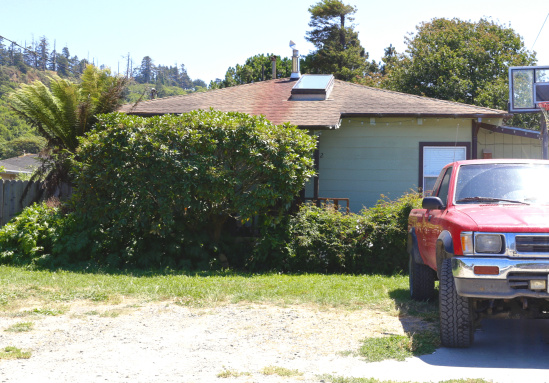 # # #
July 14, We Have a Suspect, We Have a Lawyer: Two days after the incident, the North Coast Journal confirms that CHP has identified a potential driver in the case but the agency has no idea where that person is. On top of that, the suspect's identity will not be released.
In the same post the NCJ interviews Eureka criminal attorney Ben Okin who says he is representing the mysterious suspect and that his client, who he confirms is female, was the one who initially contacted law enforcement. From the NCJ:
"We made contact with law enforcement," Okin said. "They didn't know who she was. We made contact with them. … As far as I know, at the time we made contact on the driver's behalf, law enforcement didn't have any information on the identity of the driver. That (call) is what led to them being able to serve the search warrant. It wasn't something they discovered, as far as I know."

"We offered to turn the driver in," Okin continued, "but law enforcement wants to do some more investigation before they make a formal arrest."
That night, mourners assembled in Fortuna for a candlelight vigil to honor and remember the dead.
# # #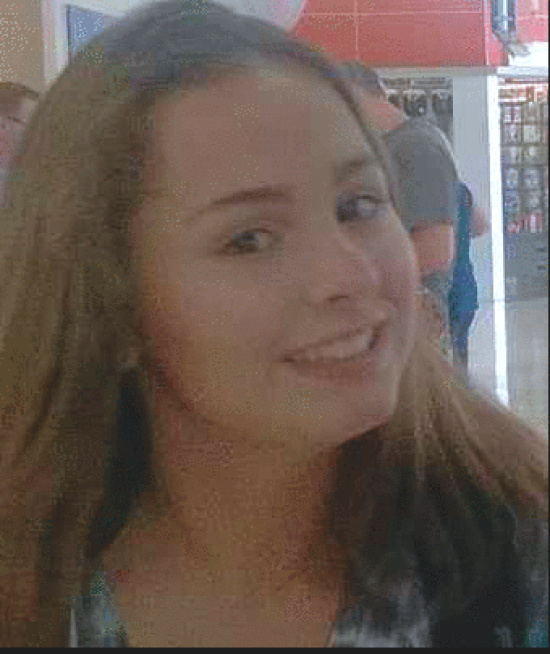 July 16, A Community Grieves: The Mad River Union's Paul Mann attended the packed funeral services held for Faith Tsarnas at Hydesville Community Church and noted Pastor Michael Delamarian III's comparison of the Eel River Valley's grief to that of Newtown, Connecticut's after the 2012 Sandy Hook Elementary School Massacre. Below, Mann quotes Delemarian quoting one of the Newtown first responders on the pain his town experienced:
"Here in Newtown, we're a small community … We can't get away. It's like a bell jar has been placed over the town, with all the oxygen pumped out. We can't breathe for the grief."

Pastor Delamarian spoke plaintively, "I believe that's where we are."

Without deploring who was responsible for the two girls' violent deaths, he told the congregation – which packed both the sanctuary and the vestibule with families, teenagers, children and the elderly – "Faith's leaving us [was] so sudden, so unexpected that you may be" feeling a torrent of emotions.

"I am feeling anger and rage!" Delamarian cried out to the mourners abruptly, referring indirectly to how the teenagers were senselessly killed.
(Read the full piece, published two days after the funeral, at the MRU, here)
###
UPDATE: Shortly after this story was originally published, attorney Benjamin Okin, who, along with colleague Patrik Griego, represents Marci Kitchen, sent an open letter to the California Highway Patrol reiterating that his clients stand ready to submit themselves to be arrested.
As stated above, the CHP currently categorizes Kitchen and Josh Pearlston as "persons of interest," and so apparently does not wish to arrest them at this moment, but rather to interview them. Apparently Kitchen and her attorneys do not want this. Hence the standoff.
Letter from Benjamin Okin:
As you know, Attorney Patrik Griego and I represent Ms. Kitchen in the case you are currently investigating.

On Wednesday, July 13th, Attorney Neal Sanders contacted your office on my and Ms. Kitchen's behalf within 60 minutes of her return to Humboldt County from her daughters' death bed in Oakland. That call was not returned for several hours prompting Mr. Sanders to again contact your office prior to the close of business. Mr. Sanders provided law enforcement with the location of the vehicle involved in the accident as well as the keys to the residence where the vehicle was located. Mr. Sanders and I also offered to immediately surrender Ms. Kitchen to law enforcement, which CHP declined pending further investigation.

I am troubled by the nature of CHP's continuing press releases that state that Ms. Kitchen is "in hiding" and, especially now, that that CHP asked for the public's aid to find/contact her (and Josh Pearlston). This misinformation has the potential of misleading the public and unnecessarily endangering people. Attorney Griego and myself have been in essentially daily contact with and available to CHP since July 13. We have consistently indicated that if you desired to arrest Ms. Kitchen prior to being able to complete our preliminary investigation that we would make her immediately available for arrest. I am also aware that you had in person contact with Josh Pearlston just yesterday and chose not to detain or arrest him.

I urge your office to release information to the public confirming the foregoing facts, and dispel the notion that either Ms. Kitchen or Mr. Pearlston are "in hiding" to avoid arrest or contact with law enforcement. This is simply not true.

We remain available to meet with your office and or the District Attorney's Office to discuss this tragic case. And our client remains willing to surrender herself to law enforcement immediately.