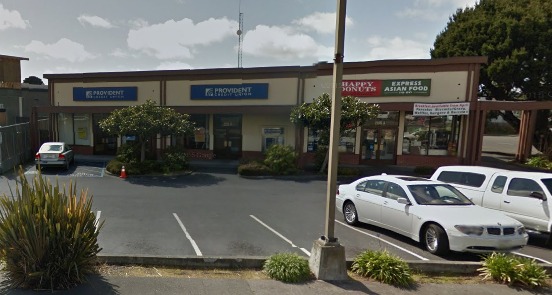 UPDATE, 1:59 p.m.: Eureka Police Release The Best Image They Have of This Morning's Bank Robbery Suspect

# # #
Eureka's Provident Credit Union branch was robbed at gunpoint this morning, and the suspect is still at large.
Brittany Powell of the Eureka Police Department tells the Outpost that officers are looking for a white male adult, between 25-30, about 6' 3" and of medium build. He was last seen wearing a black hooded sweatshirt, dark glasses, black pants and a light colored, fedora-style hat.
Powell said that police were called to the branch, which is between Harris and Henderson near the Eureka Mall, just after 11:15 a.m. They were told that the above-described suspect was carrying a black handgun, and made off with an undisclosed amount of cash. It's not known whether he left the scene in a vehicle or on foot.
Detectives are still on scene investigation the crime.