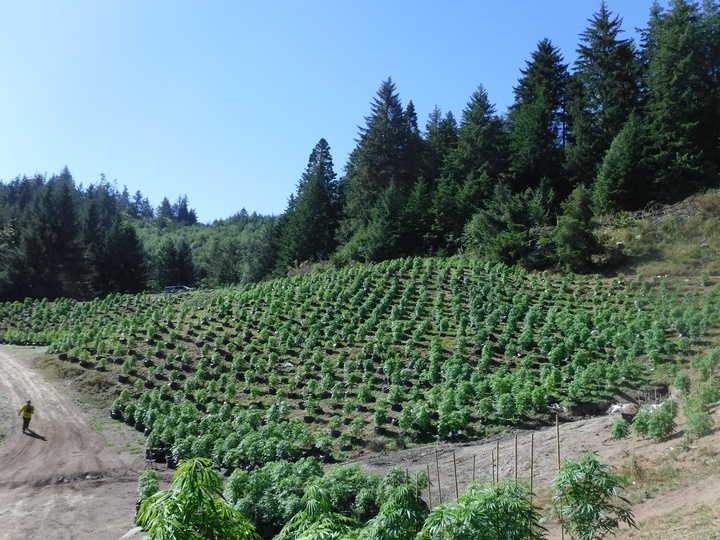 UPDATE, 2:51 p.m.: Lt. Wayne Hanson of the Sheriff's Office sends along this afterthought:
These grows were not permitted by the County of Humboldt.
###
From the Humboldt County Sheriff's Office:
On 07-26-2016 at 9:00 a.m. the Humboldt County Sheriff's Office assisted by the Humboldt County Drug Task Force, Humboldt County District Attorney's Office, California Department of Fish and Wildlife Services, Cal-Fire, Humboldt County Code Enforcement, California National Guard and the State Water Quality Board served a search warrant at the end of Crosby Road, Ferndale.

When Officers arrived on scene they detained (7) seven suspects. Officers located a large outdoor commercial marijuana growing operation on the property. Two of the suspect(s) located on the property were armed with loaded handguns on their person in the marijuana garden.

Cubero.

Cortez.

Officers eradicated over 3,000 outdoor marijuana plants that ranged in size from 3' to 7' in height. Officers located evidence of unpermitted road grading on the property along with water diversion. Officers arrested two suspects on the property, who were armed. Those two suspect were identified as, Oscar Ricardo Cubero age 31 and Vidal Ysidro Cortez age 26 both from Texas. Both suspects were arrested for cultivation and possession for sales of marijuana and for being armed in the commission of a felony. The other (5) subjects located on the property were questioned and released without charges.

Officers while at the scene developed information for a roll over search at property located in the 1000 block of Felt Road, Miranda. Officers then obtained a Humboldt County Superior Court search warrant for the property at 4:00 p.m. When Officers served the search warrant they did not locate any subjects on the property.

Officers seized over 3,000 growing marijuana plants that ranged in size from 2" to 4' in height. Officers seized over 350 pounds of processed marijuana and 350 individual one pound bags of processed marijuana. Officers located 9 firearms on the property.

Both of these cases are still under investigation and more arrests are anticipated.

Anyone with information for the Sheriff's Office regarding this case or related criminal activity is encouraged to call the Sheriff's Office at 707-445-7251 or the Sheriff's Office Crime Tip line at 707-268-2539.