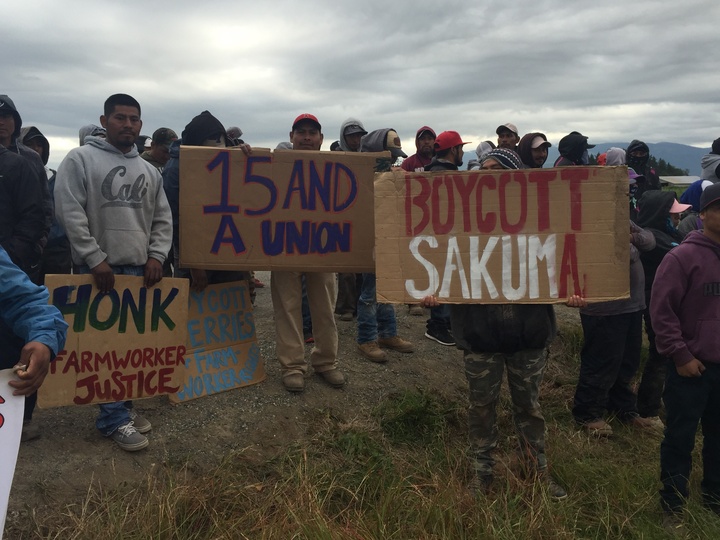 PREVIOUSLY: Farmworkers' Union on Protest Tour Hits Eureka, Asks Locals to BOYCOTT Driscoll's Berries
Press release from the North Coast Co-op:
The North Coast Co-op Board of Directors voted to participate in a boycott of products using berries produced by Sakuma Bros., a berry farm in Skagit Valley, Washington. The boycott is specifically focused on unfair labor practices. The multi-state boycott is organized by Familias Unidas por la Justicia (FUJ), an independent farmworker union with more than 450 members.

The issue was brought to the board's attention by a local group called North Coast Berry Boycott Solidarity Committee, several of whose members are also North Coast Co-op member-owners.

Sakuma Bros. sells the majority of their berries to Driscoll's and Haagen-Dazs; FUJ has compiled a list of all products containing Sakuma Bros. berries, available on their website, which they are requesting retailers and shoppers boycott. North Coast Co-op is joining a number of co-op grocers around the country in following that list.

The Co-op has purchased berries from Driscoll's and berry ice cream from Haagen-Dazs in the past, but will boycott all products from Driscoll's, and all berry ice creams and sorbets from Haagen-Dazs until working conditions at Sakuma Bros. are improved.

According to FUJ, Sakuma Bros. has not been negotiating in good faith with the workers. For nearly five years, FUJ has been asking for breaks during their shifts, an accountable method to measure the berries picked, a higher piece rate, and an assurance of a non-hostile and respectful work environment. FUJ's web site says that during that time Sakuma Bros. has defaulted on agreements made with the workers and retaliated by firing union leaders working in the fields, splitting up family housing by gender, hiring security guards to intrusively patrol worker housing and even bathrooms, and creating a hostile work environment.

FUJ kicked off this year's campaign with a West Coast boycott tour this spring, including stops in Crescent City, Arcata, and Eureka. The campaign has already had an impact. Earlier this month, Sakuma Bros. returned to the negotiating table after years of refusal. "The boycott is working. A couple of months ago Sakuma wouldn't recognize there even was a union. Keep up the pressure," reported Edgar Franks, a lead organizer with FUJ co-founding organization Community to Community Development of Bellingham, WA.

The North Coast Co-op Board of Directors did not take this decision lightly. The Co-op strongly believes that shoppers should be free to make their own purchasing decisions. In this case, however, the board felt that agreeing to the FUJ request was the best way to support their good faith efforts to improve the working conditions for farmworkers at Sakuma Bros.

North Coast Co-op is one of many west coast co-ops participating in the boycott. Other grocery stores, academic institutions and union groups are participating as well. A list of supporters can be found on the FUJ website.

In addition to boycotting the products, the Co-op is supporting the boycott through communication with various stakeholders. The Interim General Manager has written and sent letters to Sakuma Bros., Driscoll's, and Haagen-Dazs informing them that we will participate in a boycott against their berries and berry-flavored products until they come to an agreement on working conditions. The Co-op is also communicating with member-owners, shoppers, distributors and vendors, and the local community at large about the boycott.

More information about FUJ and the boycott can be found here. For more information about North Coast Co-op's participation, contact Cassie Forrington at (707) 822-5947, ext 235.