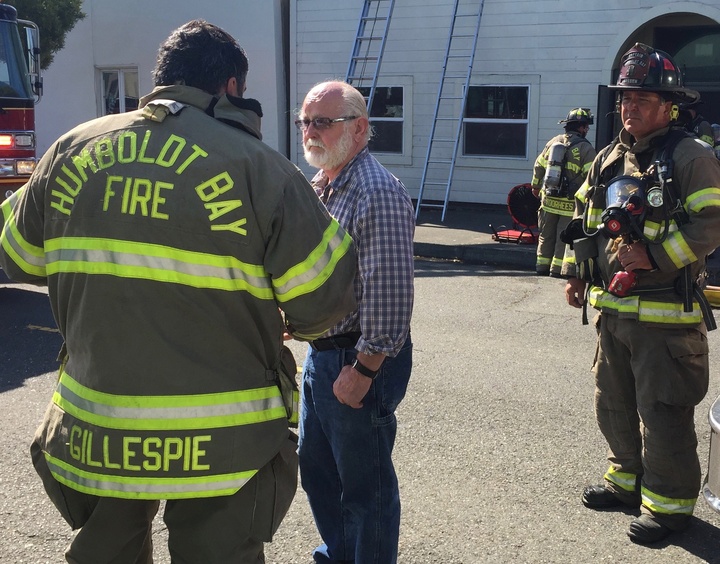 PREVIOUSLY

###
From Humboldt Bay Fire:
On July 29th at approximately 9:52 AM Humboldt Bay Fire responded to a residential structure fire at 216 Third Street. The fire was originally reported to be in the stairwell of the building. First arriving fire resources located the fire burning in a wall near the top of the stairwell on the Third Street side of the building.

Fire crews stretched a fire hose to the top of the stairs and began extinguishing visible fire while another crew cut open the wall to expose fire within. Additional fire personnel searched the two story apartment building to be sure all occupants were outside, and secured utilities. Eureka Police Department was requested to the scene due to uncooperative tenants in the alley to the rear of the apartment building. The fire was extinguished quickly, and crews remained on scene checking the wall space, apartment and area below the stairwell, and the attic and roof area above the fire location to confirm that fire had not spread into those locations. Fire personnel were on scene for a little over an hour.

Two engines, one ladder truck, one squad, and two chief officers responded to the fire as our normal first alarm structure fire response. The remaining fire engine provided coverage to the balance of the community from Harris and L, a central coverage location. Arcata Fire assisted with coverage from the Bracut area of Highway 101.

The fire cause is under investigation, but at this time the cause is undetermined. Damage to the structure and its contents is estimated at $10,000.
###

Shortly before 10 a.m. Friday, Humboldt Bay Fire responded to a structure fire at 216 Third St. in Eureka, where smoke and ash were blowing out of an upstairs window. Firefighters entered the building and found a fire smoldering at the top of the interior staircase, inside the building's west-facing wall. Fire Chief Bill Gillespie said firefighters were able to open up the wall and extinguish the blaze. All tenants were evacuated and nobody was injured.

"There's no obvious cause at this point," Gillespie said. "We haven't had a chance to look at it closely."
The 14-unit apartment building, owned by infamous local slumlord Floyd Squires, has a history of building code violations, including smoke alarm issues, plumbing and electrical problems, rotten walls and inadequate emergency exits. Squires himself responded to the scene roughly 20 minutes after the fire was called in. After speaking with Gillespie and other fire personnel, Squires told the Outpost he thinks a homeless person was responsible.
"The fireman told me where it started, and there's no electrical in that wall, or gas, so it's gotta be a transient," Squires said. "We throw transients out all the time. That's all I can say. But I haven't been in there to look at it yet. All of our smoke alarms and fire extinguishers, everything works around here."