UPDATE, WEDNESDAY MORNING: The Outpost just took a call from McKinleyville's Mike Bates, who told us that this is his kid's cow! The heifer, who goes by the name "T-Bone the 7th" is a 4-H project, and she's been on the lam for several days now.
Yesterday's sighting proved fruitless, Bates said. When law enforcement arrived the cow had already skeedaddled to parts unknown.
Bates is pleading for people who may spot the wayward bovine to contact the Sheriff's Office's McKinleyville substation ASAP — (707) 839-3857.
###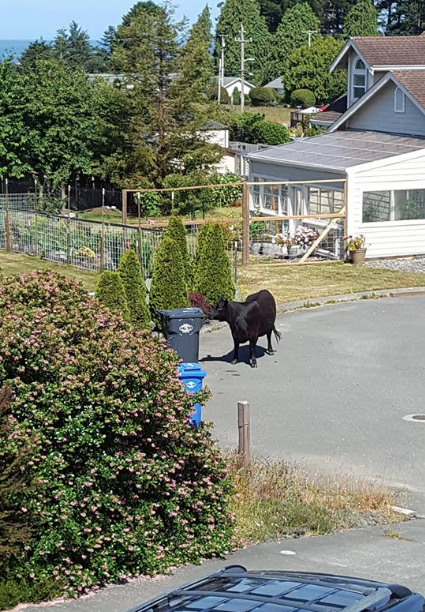 Wretched beast!
Oh moo! There is a cow roaming McKinleyville, most recently spotted near Bella Vista Road and Central Avenue — not a good place for wandering livestock — and LoCO readers are aghast!

Good news! Help is on the way! LoCO's CHP Watch notes that CHP dispatchers are aware of a "HEFER RUNNING IN RDWY" and scanner traffic indicates that the Humboldt County Sheriff's Office is bovine bound.
All will soon be normal again. We will not be cowed.