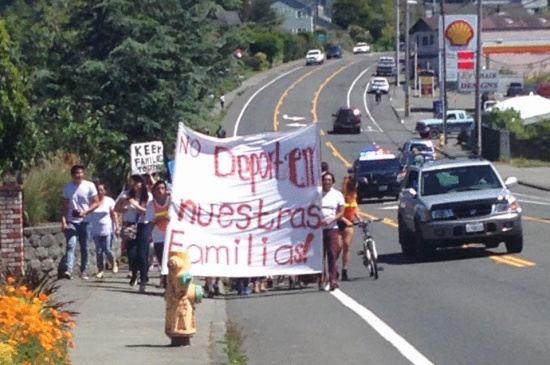 PREVIOUSLY:
###
Yesterday a deadlocked Supreme Court issued a one-sentence ruling that effectively crippled President Obama's immigration policy, which sought to shield certain classes of undocumented immigrants from the threat of deportation.
In response, the True North Organizing Network — a local coalition associated with the national, faith-based People Improving Communities through Organizing network — issued a press release to announce that it will sponsor a July 30 workshop to walk immigrants through the current state of play regarding immigration, and to urge citizens to vote in November. Sign-up details below.
Press release from True North:
Today's split Supreme Court decision on expanded immigration deportation relief in United States v. Texas is a temporary setback, and True North calls for all voters in our region, the state, and country to continue to push for immigration reform that upholds the dignity for all communities and families. In the meantime, True North is working to ensure that immigrants can access all available protections, including the original DACA (Deferred Action for Childhood Arrivals) program, and that California is ready for future immigration reform. On July 30th True North will host an immigration workshop to let folks know about Immigration programs, and the importance of civic engagement. If you are interested in attending please sign up here! That is also why we call on all those who are eligible to vote to do so in this election cycle. If you have not registered to vote you can register online at Humboldt County Elections Office or at their physical location at the Humboldt County clerk's office, 3033 H st. Room 20, Eureka, CA .

True North, a faith based community organizing effort working throughout California's Redwood coast, is striving to ensure that the maximum number of eligible people from our region benefit from DACA and DAPA, is dismayed by the U.S. Supreme Court's 4-4 split decision regarding United States v. Texas. This decision means that the expanded DACA (Deferred Action for Childhood Arrivals) and DAPA (Deferred Action for Parents of Americans and Lawful Permanent Residents) programs will continue to remain on hold. The programs, announced by President Obama in 2014, would have protected millions of immigrants – 1.5 million in California alone – from deportation while authorizing them to work legally.

The original DACA program, launched in 2012, continues to be available to more than a million qualified applicants and is not affected by the Supreme Court decision. Eligible undocumented immigrants can continue to apply for and renew DACA in order to access its many benefits, including a temporary reprieve from deportation, access to a work permit, and a social security number.

"Each day these programs are delayed means that millions of immigrants and their families are left to live with fear and uncertainty," said Sally Kinoshita, deputy director of the Immigrant Legal Resource Center. "Today's Supreme Court decision denies valuable members of our communities the opportunity to live and work without the constant risk of being torn from their families while more fully contributing to their local economies. When and if these programs become available, we are determined to help eligible Californians realize the full benefits of these critical immigration benefits and prepare for eventual immigration reform."

"This program would have helped me provide for a better future for my children and helped many of us be less exploited in our work." said local resident Marta Rocha. She would have qualified for the DAPA program as it is currently written. "A delay of DAPA (and expanded DACA) is a delay of our liberty to benefit and contribute to what makes our community a great place to live."

The Supreme Court had an opportunity to provide clarity and guidance for the nation. Instead, it failed to provide this service to the American people. We cannot forget the lengths some politicians went to rip our families apart and to demean our communities. As voters and as people of faith, we have a responsibility and duty to continue shaping the rules that affect our families and make things better for all people, and the only way that we make things better for all families is by voting. Remember to register for our July 30th event here and to register to vote at the Humboldt County Elections Office, 3033 H st. Room 20, Eureka, CA .