PREVIOUSLY
###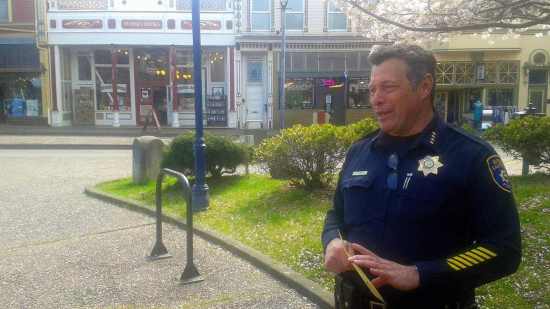 Eureka Police Chief Andy Mills walked the beat in Old Town this afternoon, talking to homeless folk, or to people panhandling, or to people who looked like they might be in the habit of panhandling. Or to anyone who would listen to his short presentation on the city of Eureka's new, more restrictive panhandling rules, which were approved by the Eureka City Council earlier this week and which will take effect next month.
Mills told the Outpost that the first guy he approached did not wish to engage in conversation so much, and said nothing beyond "Fuck you!" They guy also refused to take one of the helpful flyers he was handing out, Mills said.
The flyers list the six new rules that are scheduled to go into effect April 14, so long as a threatened legal challenge fails to gain traction.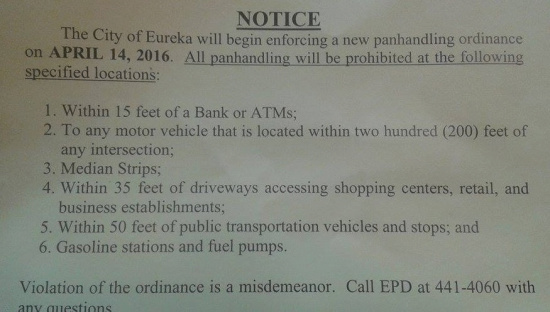 Not everyone declined to talk with Mills. At the Gazebo, he went over and had a nice conversation with a fellow whose housing status and probable sources of income were not clear, at least to the Outpost's reckoning. He did have quite a lot of gear with him.
He gladly accepted a flyer, and he and Mills had a brief chat. Finally he said: "You're the Chief, aren't you?" Mills allowed that he was. Then, after a moment of small talk with the LoCO, the chief wandered up toward F Street.