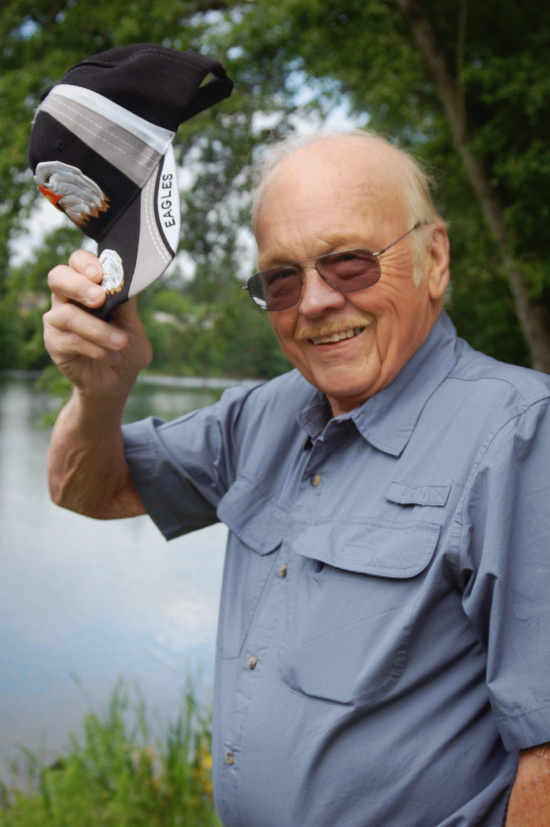 Dave's Place lost a loyal patron on February 29, 2016. Donald 'Ray' Parker died of natural causes.
Ray was born June 13, 1938 in Tuckasegee, North Carolina the oldest of three brothers. His family moved west to live in Sedro Wooley, Washington, Eureka, and Arcata, where Ray attended high school, graduating in 1956.
Ray married young is the father of three children, Teresa (Creech), Laura (Costa) and Steve Parker. His young family would eventually settle in Humboldt County, first in Arcata and eventually in Eureka.
Ray's early career took him through the electrical trades program. He started with Brizard Electric Construction as an apprentice working on the Humboldt County Courthouse. He worked on what were paydays back then, but are now historical sites such as the Titan/Minuteman Defense Missiles in Idaho, Arizona, South Dakota, and at Vandenberg Air Base on the VanGuard Missile. He also worked on the lower level lighting of the Bay Bridge.
Ray founded Parker Electric in the early 70s. At one time he had locations in Eureka and Redding. He would often be found piloting his own small airplane back and forth to job sites around northern California. Ray retired from Parker Electric in 2014.
Ray was a "joiner." He loved being involved. Even in high school he joined a car club, "The Redwood Kings". He was a 32 Degree Mason (Humboldt Lodge, 46 years), an Aahme Shriner (past president), Elks, Eagles, ECV, Moose and Ingomar. He loved the brotherhood, the friendship and the good that the clubs did for the community.
Ray never met a stranger. He has many friends in many places that will be miss him. Ray loved to fish and hunt. He went on many hunting trips that he couldn't wait to revisit, treasured the photos of, and tormented some of us with the tales of. He once spent the night on the ocean with disabled boat while he and his dad drifted closer and closer to the rocks at Mendocino, and yet he still went out fishing.
Ray loved motorcycles, old cars, and nice trucks. It seemed he was always trading something in for something new (or different). Ray also liked to examine any kind of new gadget. He was constantly finding some new and improved whatchamacallit to show people. He loved to figure out how they worked.
Ray is certainly having a reunion with family and friends he hasn't seen in a long time. He joins his mother and father, Mildred Ann Watson and Samuel Matthew Parker, as well as many close friends and extended family.
He leaves his brothers: Wallace Parker and his wife Pat, James Parker and his wife Joan. His children: Teresa Creech, Laura Costa and her husband Rocci, Steven Parker and his wife Marian. His grandchildren: Dana Creech, Carli and her husband Jordan Zizza, Edrie Black, Mavis Costa-Osborn and her husband Lewis, Rocci Costa, Courtney McRae-Zannone, Christian Burum. His great-grandchildren: Carmen and Dean Zizza, Thalia Costa, and Giovanni Juliano.
There will be a Masonic Service on April 9th at 2:00 at the Humboldt Masonic Temple, 517 G Street, Eureka.
###
The obituary above was submitted by Ray Parker's family. The Lost Coast Outpost runs obituaries of Humboldt County residents at no charge. See guidelines here. Email news@lostcoastoutpost.com.