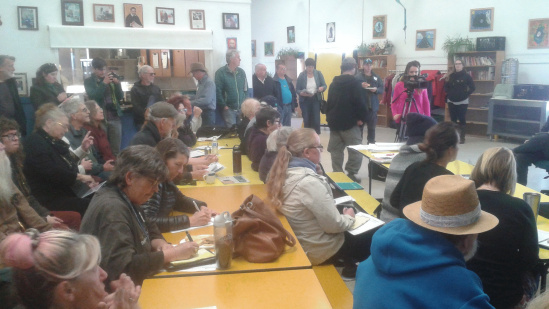 PREVIOUSLY:
###
This afternoon's presentation by Affordable Homeless Housing Alternatives — AHHA — was pitched as the the next step in answering the call, made by Mayor Frank Jager last week, to move all homeless camps out of the Devil's Playground/Palco Marsh area before summer trail construction begins.
In his speech, Jager called upon nonprofit groups such as AHHA to set up a temporary city-sanctioned homeless camp, probably on city-owned property, and with the help of city resources to fund things like garbage pickup and Port-a-Potties.
By the end of this afternoon's presentation, though, it became painfully clear that AHHA's "Sanctuary Camps in Humboldt County" plan will not be acceptable to the city, and the city's call for action will not be acceptable to AHHA. If a deal is to be worked, here, it still has a very long way to go, and not much time to get there.
About 70 people gathered in Eureka's St. Vincent de Paul free meal facility to hear AHHA Board Chair Nezzie Wade deliver a presentation on the group's Sanctuary Camps plan, which was distributed (in paper form) to all attendees. Supervisors Rex Bohn and Mark Lovelace were in attendance, as were Eureka City Councilmembers Kim Bergel and Marian Brady and Arcata City Councilmember Paul Pitino.
The basis of AHHA's plan is to develop many "sanctuary camps" around the county, each housing (ideally) between 25 and 30 people. The immediate camps needed in Eureka would serve as a "pilot project" for the camps to come in all corners of the county, Wade said.
The camps would involve some mixture of tents and "tiny houses," which residents would pay somewhere in the neighborhood of $40 per month to rent. The camps would include plumbing and electrical service, and residents would ideally be able to develop equity in the tiny house as they paid a month-to-month lease. The camps would serve men, women and families. People would be allowed pets. Drug and alcohol use would be permitted, in accordance with the theory of harm reduction — though perhaps some "dry" camps would also have to be established to respect the wishes of residents who did not want to be around such behavior.
Residents would have no set limit on the amount of time they could live in an AHHA sanctuary camp. Residents would not be asked to move "until housing or another transitional opportunity is available."
It became clear, as the meeting went on, that this was not at all what the city had been calling for. This was brought into sharp focus when Bergel asked a question of Wade. Bergel said that the one thing she hadn't heard, in all of this, was an exit strategy. The mayor, in his speech, mentioned a pretty hard-and-fast deadline for the existence of a city-sanctioned camp. "Where's the temporary in all of this?" she asked.
Wade said that the group's "exit strategy" was based on the ability of people to "exit" from the condition of homelessness.
"The plan is not a six-month camp," she said. "The plan is to keep going until we solve homelessness."
The text of the AHHA Sanctuary Camp proposal made the point even more clear:
Although AHHA would not suggest a SC [Sanctuary Camp] being only an interim or transitional facility it would often functionally act as one. In coordination with a Tiny House Village, not only could AHHA provide interim housing, but also a form of permanent supportive housing, allowing ongoing access to members of the communities by certain clinicians and case managers, along with other services.
After the presentation was over, Bergel told the Outpost that quasi-permanent sanctuary camps were not what the mayor had called for, and she forcefully rejected the possibility of ever pledging city property or funding to help set them up, or to run them. "Our city's moneys are much better spent on rents, deposits, those sorts of things," she said, in keeping with the city's official "housing first" approach to homelessness.
Bergel acknowledged that the Waterfront Trail construction that's due to begin this summer cannot happen with people still living in the marsh. Possibly barring a strictly temporary solution along the lines that Jager had called for, she seemed ready to show a stronger hand in moving people out of the area so that work on the trail can begin. Asked whether she was ready to deploy police to clear out the area, she took a long sigh and said, "Yes … BUT."
The "but" was that social service workers and numerous others have been down in the area every week for the last year, telling people that this day was coming. These efforts have produced some amazing success stories, Bergel said, and more than one marsh resident has used the opportunity to get back on their feet. Ideally, she said, the city could keep moving forward slowly, as it has done, person by person, until only the most recalcitrant cases remained. The city should have put down a hard deadline from the beginning, she said. That might have prompted people to get their act together more clearly.
So the AHHA plan — at least the one presented today — will almost certainly not happen. It's hard to see where things will go from here.