UPDATE, 7:26 p.m.: Captain Steve Watson sends an end-of shift statement to the Outpost:
All three arrests at the Econolodge are connected. Suspected gang involvement is still being investigated. Three suspected devices found so far. Preliminary evidence is at least one was a working explosive device/pipe bomb. It has been disabled. Two arrested and booked so far for possession of an explosive device. Bail is set at 500,000. Third arrest was an adult for a juvenile probation warrant and violation. We are still securing the scene. A search warrant has been obtained for their room.
###
UPDATE, 6 p.m.: Two more people have been arrested at the scene, on "very serious charges," reports EPD Captain Steve Watson.
Were the suspected pipe bombs actual pipe bombs, in the end? "I can tell you preliminary signs are pointing that way," Watson told the Outpost. The Eureka Police Department will be on the scene for several more hours, Watson said, "going through the room with a fine tooth comb." Among other things, the department will be investigating possible gang connections in today's events.
Busy day for the EPD, worthy of several emoticons:
@Eureka_Police almost every EPD officer on duty right now. Thank you to the hardest working team in the North Coast🔫🚔💰🤖💣

— Andrew Mills (@ChiefAndyMills) March 8, 2016
###
UPDATE, 5:15 p.m.: LoCO's Andrew Goff reports that a second, much louder bang! was heard around 5:15 p.m. He also reports that it is unclear if the bangs were from devices being detonated, or if they were the result of bomb bot's mechanism for detonating devices.
###
UPDATE, 4:57 p.m.: The Outpost's Andrew Goff tells us that a loud bang! was heard from the Econo Lodge moments ago, shortly after onlookers had been pushed back a way from the vicinity. The bomb-bot rolled out of the room, victorious, moments later.
Lt. Steve Watson, still on scene, said that one person was arrested at the scene of the Econo Lodge today on outstanding warrants, not in connection with this incident. Police still have two people detained on scene, and it's not yet clear what they're going to do with them.
###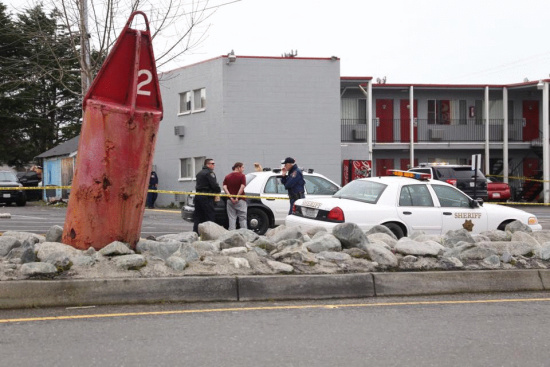 UPDATE, 2:33 p.m.: The bomb-bot has entered and exited the suspect motel room three times, and is now back in for a fourth, conducting its mysterious magic on the suspicious parcels. There is not yet a lot to say about what it has found.
Meanwhile, two people remain detained by the Eureka Police Department at the scene.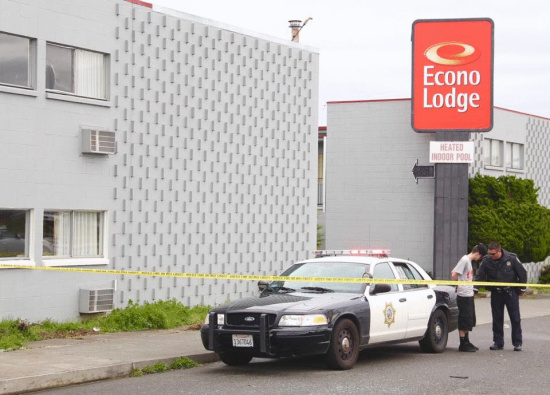 ###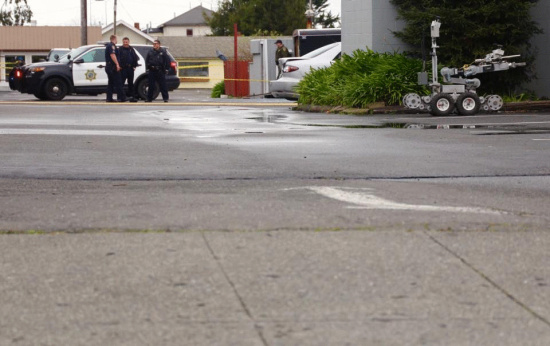 UPDATE, 1:39 p.m.: There has been a lot of hurry-up-and-wait, as there always is at such scenes, but the Outpost's Andrew Goff tells us that the bomb-bot has made entry into the suspect room.
Also, at least two people are chilling out in the back of a cop car for the nonce.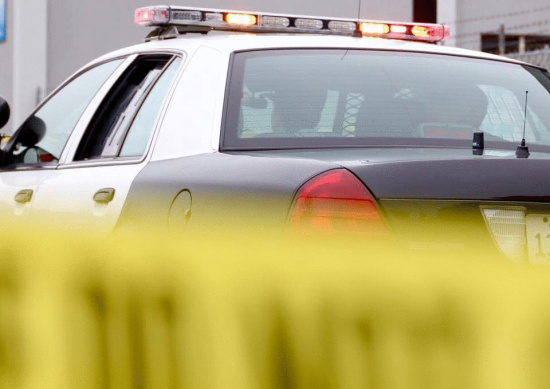 ###
UPDATE, 1:15 p.m.: The Humboldt County Sheriff's Office bomb-bot gets off to a bumpy start:
Bomb-Bot Rolls

The Humboldt County Sheriff's Office bomb-bot gets off to a bumpy start as it gets ready to snoop out three possible pipe bombs inside Eureka's Econolodge Motel. Full story here: https://lostcoastoutpost.com/2016/mar/8/three-possible-pipe-bombs-found-downtown-eureka-mo/

Posted by Lost Coast Outpost on Tuesday, March 8, 2016
###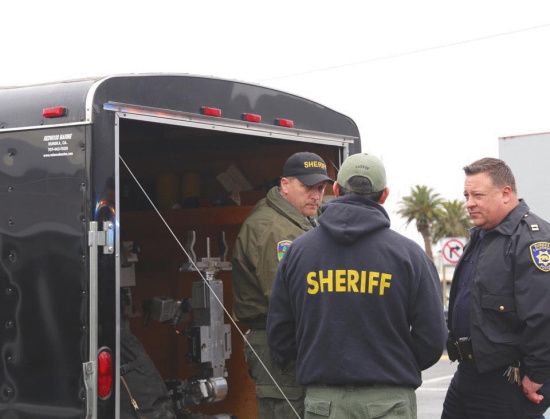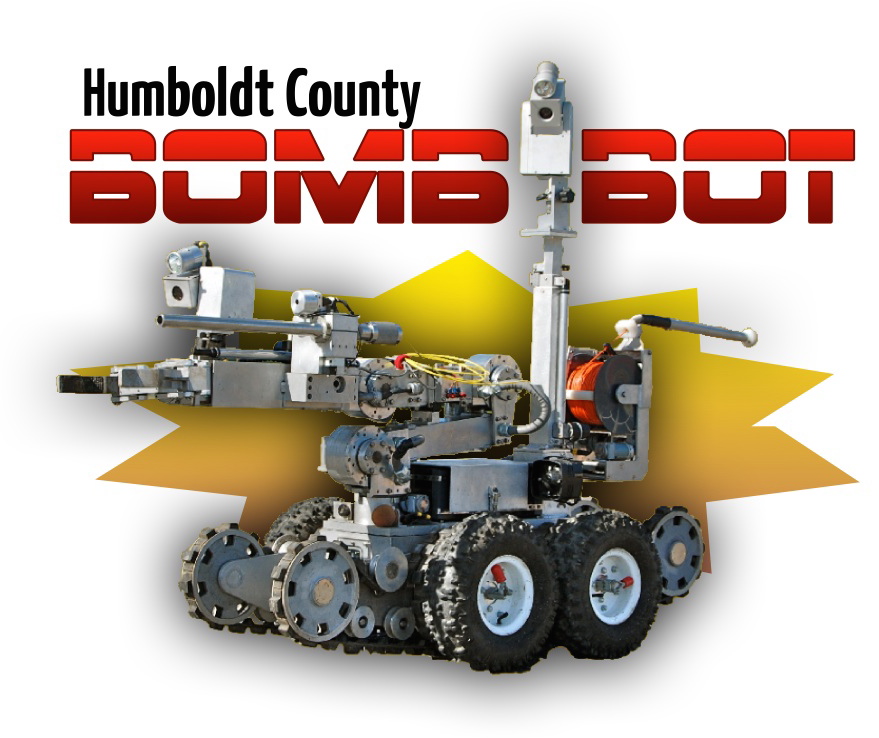 UPDATE, 1 p.m.: The Humboldt County Sheriff's Office's bomb squad is now on scene, as is preparing to deploy the bomb-bot.
Meanwhile, the Eureka Police Department has in recent minutes been going room-to-room in the motel, attempting to ensure that no one has been left inside.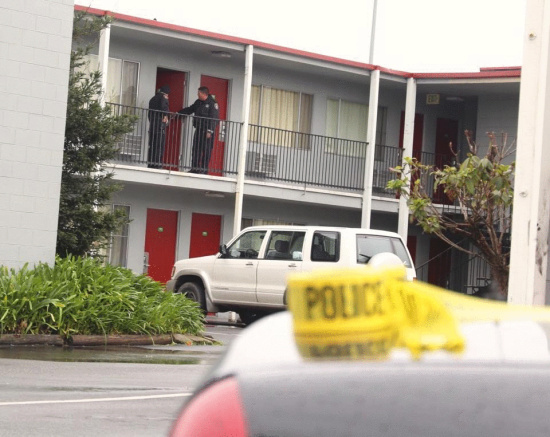 ###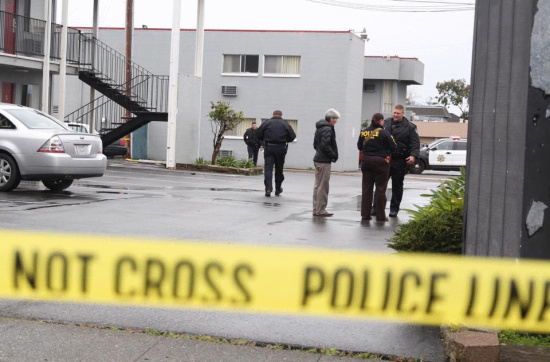 The Eureka Police Department has taped off and evacuated Eureka's Econo Lodge motel, on the corner of Fifth and Myrtle, after an officer discovered possible explosive devices inside the building
According to EPD spokesperson Brittany Powell, the situation began when an officer conducted a field interview with a person on probation staying at the motel, at which point he discovered the suspicious devices.
Police are currently dealing with three possible pipe bombs found inside the probationer's room, Powell said, along with five people, who have all been detained.
The Sheriff's Office's bomb unit has been called to the scene.
We will update this post when we get more.