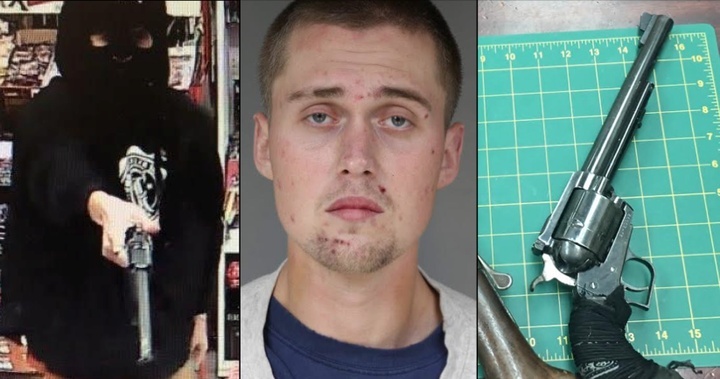 PREVIOUSLY

The tall, thin man suspected of robbing nine local businesses at gunpoint pleaded not guilty today to charges that could put him in prison for decades.

Christian James Shepard, 26, was arraigned on one count of attempted robbery and nine counts of robbery. Eight counts include personal use of a firearm, with two alleging personal discharge of a firearm. Judge Timothy Cissna set his bail at $1 million.
During the arraignment Shepard looked slightly agitated, shaking his head a few times. He told the judge his monthly income was "$2,000 maybe." He wasn't asked about his occupation.
Eureka police say Shepard's slew of hold-ups spanned 15 days.
The first escapade occurred Nov. 3, when, sporting phony facial hair and packing a shotgun, he allegedly tried to rob a gas station on Fourth Street. That robbery failed when the station clerk noticed the gun was unloaded and told the intruder to leave. Within minutes, a shotgun-toting man wearing a black ski mask held up a motel on West Wabash. That time the person got away with some cash.
Shepard allegedly went on to successfully rob Winco Foods, a Fortuna motel, the Union 76 gas station in McKinleyville and the Benbow Inn south of Garberville. At Winco and the Benbow Inn the robber fired one round into the floor. The suspect in those incidents wore either a mask or bandana on his face. In all cases the perpetrator was described as tall with a thin build.
Other victimized businesses have not been identified.
Personal use of a firearm can add up to 10 years to a potential prison sentence, while discharging a firearm can mean 20 additional years.
Police nearly caught Shepard during a car pursuit on Saturday, but stopped the chase because he was driving so fast and recklessly. That night Shepard apparently spent the night in a forest. He was treated for hypothermia before being taken to jail.
Before being jailed on Sunday he was treated for hypothermia.
After Shepard's arrest police searched his car and seized two firearms, masks and some clothing. Today Shepard was wearing the traditional orange jumpsuit.
Cissna appointed the Public Defender's Office to represent Shepard, and Deputy Public Defender Kelly Neel entered not guilty pleas on his behalf. The preliminary hearing was scheduled for Dec. 8.
Shepard also is being held on a warrant out of Sacramento County, where he is wanted for probation violation.
The Humboldt County Sheriff's Department and Rio Dell Police Department assisted EPD in the search.