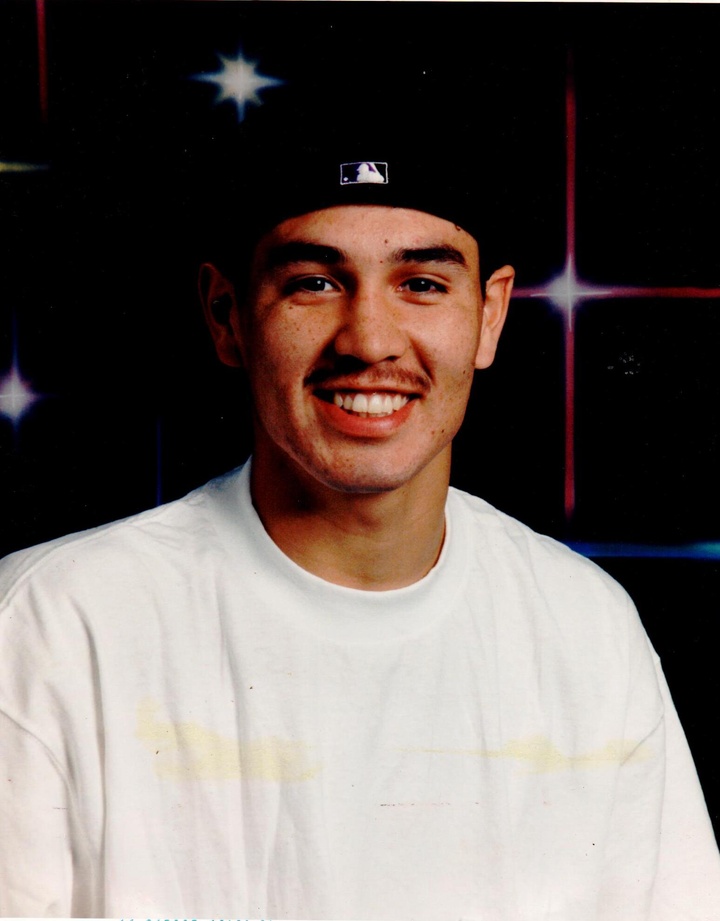 Nandayehi Omar Thunder Dean IV "Baby O" was born August 29, 1980 in Eureka, California to parents Omar M. Dean III and Darla Dean Marshall. He crossed over to the other side, tragically on September 9, 2016 in Hoopa, California.
Omar was preceded in death by his son Running Bear Dean, great grandparents Alfred and Mabel Colegrove, Anita and Frank Murdock, grandparents Lola and Robert McGahuey, Alfreda Dean Pratt, Omar Dean Jr, and cousins Julianna and Stephanie Ferris.
Omar is survived by children Na-res, Lorece, Omar, Natayah, Summer, and Morning Star; parents Omar Dean III, Darla and Emil Marshall; grandparents Matthew and Sue Painter, Alex Pratt, and Kathy Dean; siblings and their spouses are Matthew Swanson (Sah-sup), Lonnie Dean (Brandy), Al Kenny Dean (Ashley), Marcus Rowe, Sonny Jim Dean, Bradly Hostler, Joseph Marshall (Nelia), Jude Marshall (Windy), Amber Joyce, and Monica Marshall; and numerous aunts, uncles, nieces, nephews, cousins and good friends.
Omar graduated from Hoopa Valley Elementary and Hoopa High School, attended HEOS Heavy Equipment School where he earned a Heavy Equipment Operator Certification, attended Feather River College, DQ University, College of the Redwoods, and was one English 1A class shy of earning his Associate of Arts Degree. He was a natural born athlete who excelled in basketball, baseball, and football, and was recruited to play basketball at Feather River College after graduating from high school. Omar earned many Most Valuable Player and All-Star recognitions from his peers and coaches throughout his athletic ventures.
His employment history includes BLM-Yurok Tribe GPS Surveyor, Hoopa Valley Public Utilities Transfer Site Attendant, Trinity River Farms laborer, and California Indian Manpower Consortium Summer Worker.
Omar was a Yurok tribal member. He enjoyed fishing at the mouth of the Klamath River with his family and friends and found solace in the wide open space there. His biggest joy in life was spending time with his children, and working towards meeting their needs; he deeply regretted not being with them more. Omar will be remembered dearly for being friendly, courteous, respectful, and always willing to offer a helping hand, all with a smile on his face. He had a great sense of humor with a never-serious attitude, always joking and laughing. His mother Darla mentioned that Omar's kind and easy going outlook often times helped his peers settle disagreements.
A wake will begin at 6:00 P.M, Sunday, September 18, 2016 at Emil and Darla Marshall's residence in Hoopa, California. The funeral services will be 11:00 A.M, Monday, September 19, 2016 at the Neighborhood Facilities, burial at the Colegrove Family Cemetery, and reception following shortly thereafter at the Hoopa Wildland Fire building.
Officiating will be Diane "Dee Dee" McKinnon. Honorary pall bearers are Gary Colegrove Sr, Lonnie Colegrove, Robert "Bobby" McGahuey, Matthew Painter, Emil Marshall, Frank "Sonny" Murdock, Greg Cano, Gary Jordon, Eugene "Dun Dun" Marshall, Melvin Marshall, and Bob McConnell. Pall bearers are brothers Matthew Swanson, Marcus Rowe, Lonnie, Al Kenny, and Sonny Jim Dean, Bradly Hostler, Joseph Marshall, Jude Marshall, cousins Tsewenaldin Van Pelt, Robert McConnell Jr, Stuart McConnell, David Billy Jr, Dale Ferris, Stanley and Joe Ferris, Wally and Wesley Scott, Bering C Sienicki, Robert Woods, Delmar Allen Jr, Shan Allen, Jake Blake, Lance and James McCovey, uncles Pride and Anthony Painter, nephew Sebastian Swanson, and friends Gabriel Tom, Josh, Lester, and Travis White, James and JR Bowen, Willy and Alec Lamebear, Lorency Myers, Cory and George Tracy.
The family would like to extend a heartfelt thank you to the K'ima:w Medical Center Ambulance, Rod Johnson, and Gobel's Fortuna Mortuary for their assistance during this difficult time.
###

The obituary above was submitted by Omar Dean's family. The Lost Coast Outpost runs obituaries of Humboldt County residents at no charge. See guidelines here. Email news@lostcoastoutpost.com.