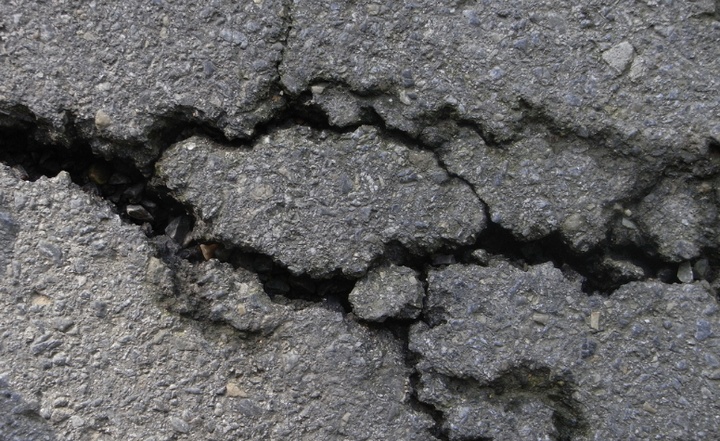 Our local roads and streets need fixing. That's the opinion of more than three quarters of likely voters countywide, according to a recent poll. The question this election cycle is whether that sizable voter majority is willing to approve a sales tax hike to finance those repairs.
Among the numerous candidates and proposals facing local voters this November will be Measure U, a 20-year, half-percent countywide sales tax to finance road maintenance and repairs, plus improvements for existing trails and transit operations.
The tax would be applied in all seven of the county's incorporated cities as well as the unincorporated areas, including McKinleyville, Garberville and Redway. With the half-percent sales tax hike approved by county voters in 2014 with Measure Z, the addition of Measure U would bring the county's total sales tax rate to 8.5 percent. That would place Humboldt County even further above the state average of 7.7 percent.
Meanwhile, the hike would bring the total sales tax rate in Eureka, Arcata and Trinidad to 9.25 percent. Ferndale, Fortuna and Blue Lake would all go to 8.5 percent, though Fortuna is also proposing a separate sales tax hike of three-quarters of a percent, which would bring the city's total rate to 9.25 percent. Rio Dell's rate would jump to 9.5 percent, the highest in the county.
The half-cent tax proposal was approved by all jurisdictions in the Humboldt County Association of Governments (HCAOG), a joint powers agency that has noted a "transportation funding crisis" developing in recent years. Transportation projects, the agency notes, are primarily financed through the gas tax, which has remained unchanged for the past two decades as gas consumption has dropped thanks to decreased driving and increased fuel efficiency: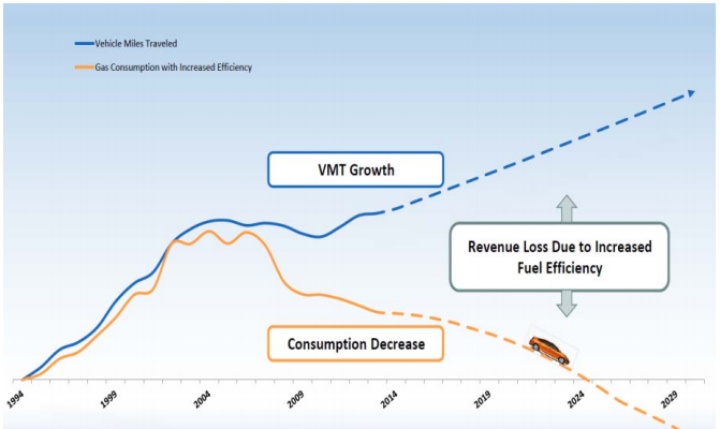 In a brief report on the tax proposal, HCAOG says existing funds from local, state and federal governments are insufficient. "A new, reliable source of transportation funding is needed to maintain our communities and quality of life," the report says.
Because the measure would create a new tax it has to clear a higher hurdle than most ballot initiatives: In order to pass it has to be approved by two-thirds of voters. Marcella Clem, the executive director of HCAOG, said that 20 counties in California have already approved similar measures, though they're mostly located in urban regions such as Los Angeles and the Bay Area. At least eight other counties have similar transportation tax measures on their ballots this year.
Clem noted that if it passes the measure will come with a number of safeguards, including:
A Measure U oversight committee

Annual audits by an independent auditor

Separate interest-bearing accounts so that every penny is spent on eligible uses on the expenditure plan

A cap of 0.5 percent on administrative expenses such as audits, staffing and the oversight committee

A 10-year comprehensive review of progress and performance

Eligibility requirements (If the cities and county spend funds on things not consistent with the expenditure plan, they have to pay it back.)

Certification that agencies are not supplanting funds

Any changes to the expenditure plan will require a 2/3rds vote of the HCAOG board
If approved, the tax is expected to generate about $10 million per year, including $4.2 million for county coffers, according to Humboldt County Public Works Director Tom Mattson. That would represent about a 50 percent increase in the county's road funds, he said. While a detailed report on planned spending won't be delivered to the Board of Supervisors until Sept. 13, Mattson told the Outpost that about half the funds would be used for preventative maintenance and "a significant chunk" for routine road maintenance, with other funds going toward trails and airports.
In Eureka's monthly newsletter City Manager Greg Sparks said Eureka's share of the tax revenues would be about $3.3 million. He encourages passage of the measure due to the city's countless potholes, broken asphalt and other problems. "The solution to improving streets in Eureka and throughout the county is a dedicated funding source for transportation," Sparks writes.
The newsletter also offers visual comparisons of what might be funded over the next five years with and without the tax measure. Here's the city's estimate of what happens if the tax fails: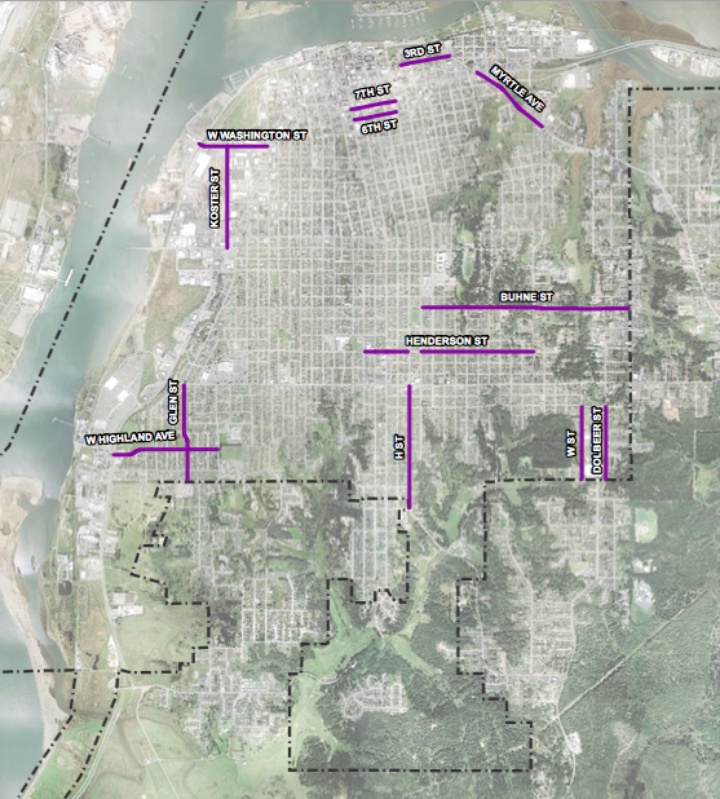 And if it passes: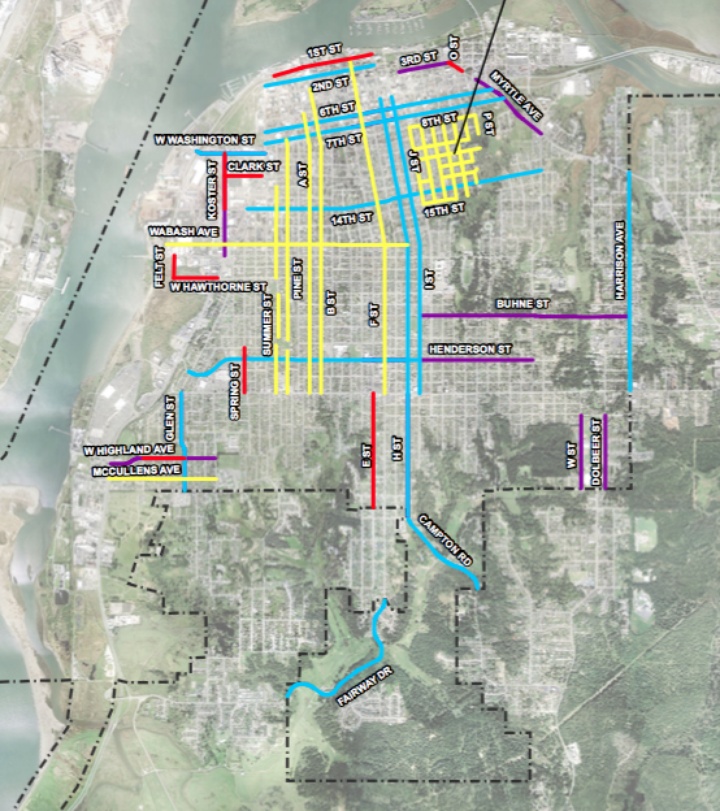 Fortuna has done the same thing: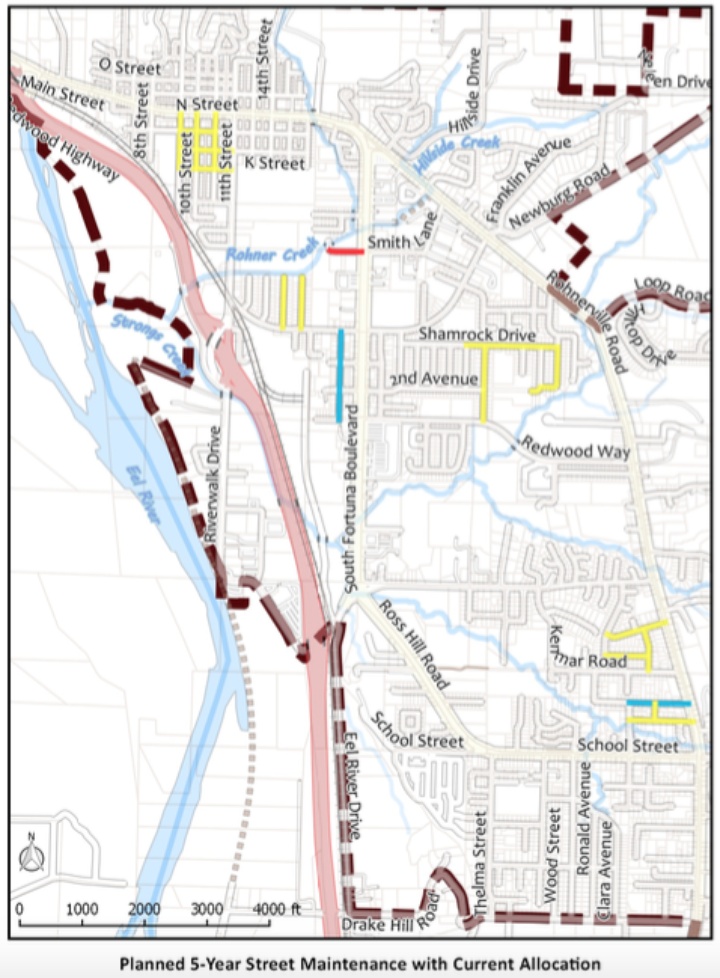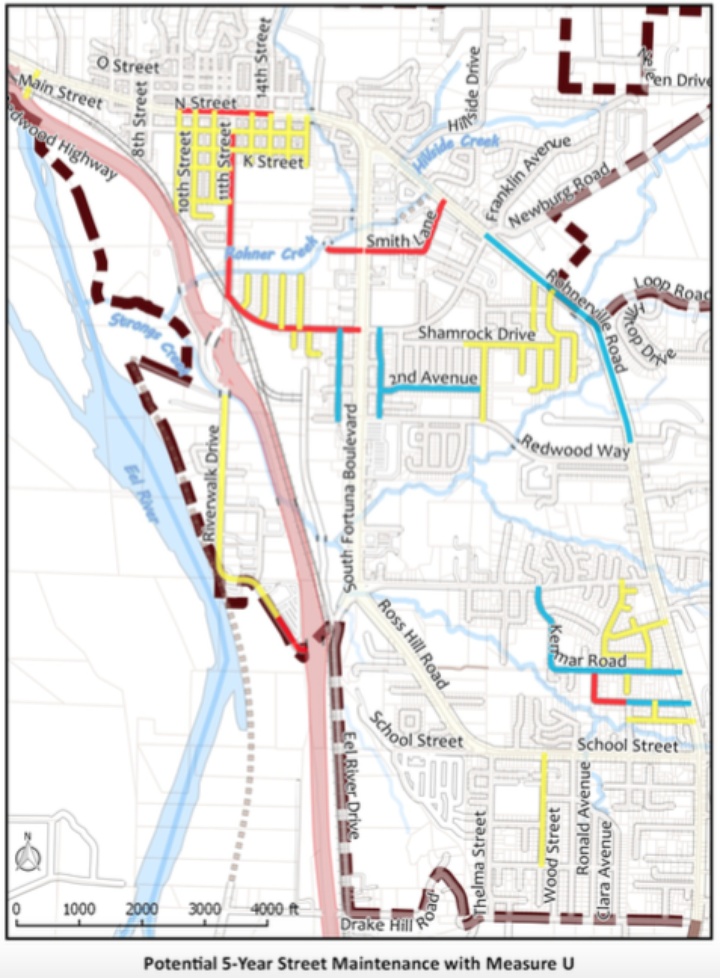 Fortuna Public Works Director Merritt Perry said that according to a 2011 report commissioned by HCAOG it will cost Fortuna $1.5 million each year just to maintain city streets in their current condition, which is not very good. (Nearly 30 percent of Fortuna streets were rated "poor" or "very poor/failed" in the 2011 report.)
"Measure U would give us almost half of that," Perry said. He added that the city would spend 100 percent of the funding on road improvement projects and none on extra staff or other expenses. In a follow-up email he noted, "The City needs to protect its investment in roads by investing in maintenance now rather than letting roads deteriorate and requiring reconstruction at a higher cost."
Arcata officials did not immediately respond to a request for specific proposals.
For all these jurisdictions it comes down to the will of the voters. Back in May HCOAG did some polling, conducting 401 phone interviews with likely Humboldt County voters, spread fairly evenly across the county's five supervisorial districts. The results? Seventy-six percent of voters either strongly agreed or somewhat agreed that the county needs a stable source of local funding for transportation projects.
That may be cause for optimism among advocates of Measure U. On the other hand, just over half of respondents (55 percent) said they had either some confidence or a great deal of confidence that the revenue would be well spent. Forty-three percent said they had little or no confidence. Again, the measure requires support from two-thirds of voters.
Note: This post has been updated from a previous version to include information on safeguards and to clarify the priorities expressed by Tom Mattson.