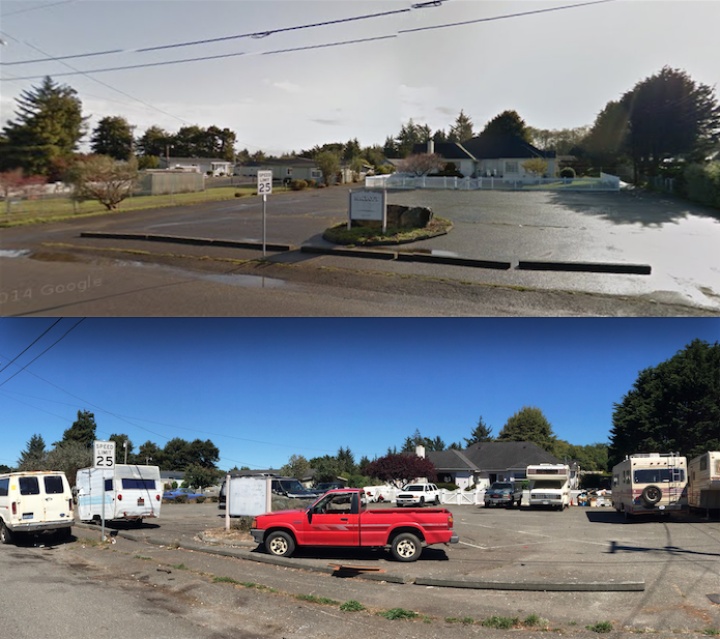 On Monday afternoon, more than a dozen exasperated residents of Eureka's Pine Hill neighborhood filed into Judge Dale Reinholtsen's courtroom at the Humboldt County Courthouse. They'd shown up, along with Supervisor Rex Bohn, hoping that the court system can help solve the problems at 4565 Lewis Avenue, problems they say have transformed their family-friendly neighborhood into a dangerous crime zone.
Over the past few years, and especially in recent months, neighbors say, the property has been overrun by transients, drug abusers and criminals. The main building, formerly home to a senior living facility called Mycroft Supportive Care, now houses roughly two dozen people each night, none of whom have the owner's permission to be there. More people live in the vehicles scattered around the parking lot — RVs, vans and pickups, many with flat tires and broken-out windows.
The property that formerly housed Mycroft Supportive Care is located in the middle of Eureka's Pine Hill neighborhood.
On a recent sunny afternoon Bohn drove his full-size pickup through the parking lot as he's done many times in recent weeks. Residents often come out and yell at him to get off their property, he said, but on this day one man wandered out the front door and glared at him. Another peered through the window from behind a curtain.
Bohn stopped his truck, letting it idle as he gazed casually around the premises. "Oh, they've hauled two of the cars away," he said. "But look at the trailers, the motorhomes. See? They've got no license plates."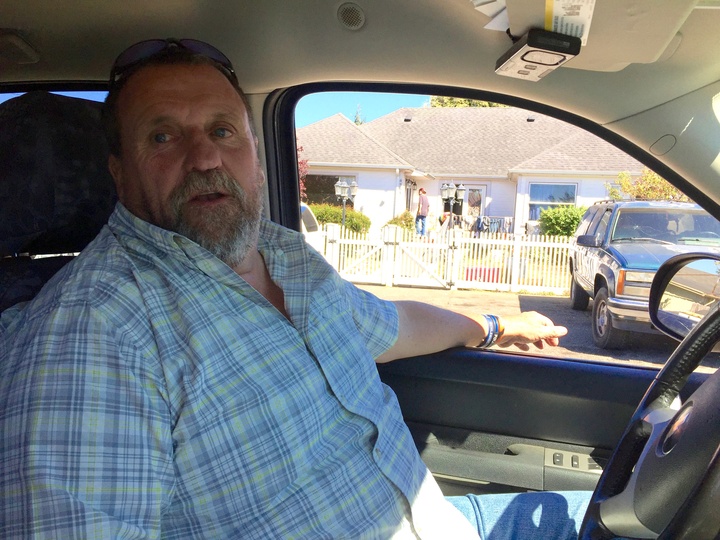 The neighbors of this property, which lies just outside city limits, have been giving Bohn an earful. "I'm getting eight to 10 phone calls a day complaining," he said after driving away from the property. "I've been up there eight days in a row."
One resident, who's lived next to the place for the past four years, sent Bohn a letter early this month enumerating the problems. Here are a few of the 25 items on the list:
Physical fighting, yelling and screaming, many curse words at all hours of the day and night.
Being woken up at night to glass and furniture breaking …
My 16-year-old child being offered to smoke crack with them while my son was on his own property.
Graffiti spray-painted on the plywood fence in the back yard.
Breaking down our wooden fence many times to cut through the field …
Trash everywhere consisting of car parts, tires, clothing, food garbage … washers, dryers, chairs, furniture, etc. etc.
Different people coming and going ALL hours of the day and night. …
Hearing gun shots coming from the residence.
Someone actually being shot two weeks ago there, ambulance was dispatched …
Seeing Sheriff vehicles at the residence very often.
Obvious drug activity …
The letter-writer concludes by saying the situation has her "feeling like I often am a prisoner in my own house. … PLEASE HELP!"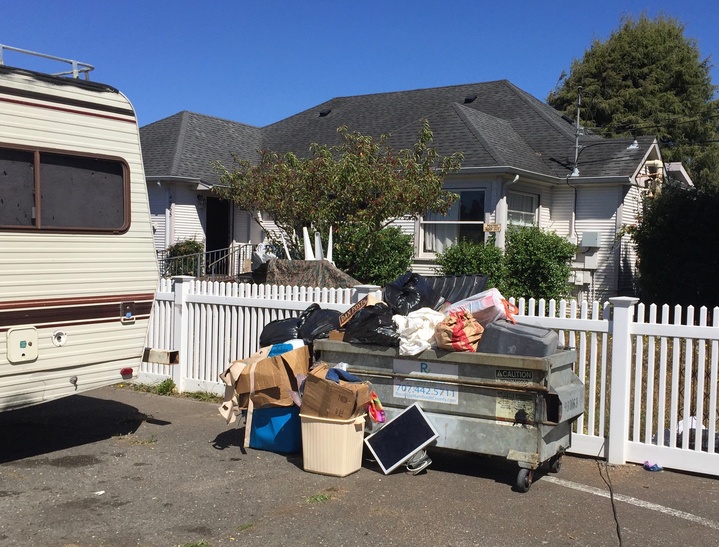 The property is owned by Eureka resident Sandy Popko, though she tells the Outpost that in January 2014 she handed management over to local construction magnate Robert Figas through a lease agreement with a purchase option. Figas has been subletting the building, which has numerous bedrooms and a common kitchen, to a variety of tenants, many of whom have been unsavory, according to neighbors.
Earlier this year, while Figas's family was occupied by a family medical emergency, things went from bad to worse when tenants stopped paying rent. This was around the time of the mass evictions of homeless encampments at Palco Marsh, or "Devil's Playground," and the number of people living on the property kept growing. Popko says the tenants are relying on technicalities in the law — "squatters' rights" — to remain on the property. "It's an insane situation," she said.
Figas and his brother have been trying to evict 15 of the current tenants — every one whose names they know — for months. "They kept trying and trying and trying, and everything failed," Popko said. While talking about the situation — both on the phone and at the courthouse — Popko sounded pained, struggling to express her angst. She sympathizes with people who are down on their luck and need a place to stay. "We're not a bunch of non-compassionate people," she said of herself and the Figases. "All of us are willing to help. But this is different."
In July Figas served tenants a 30-day notice, and on August 18 his attorney, Neal Latt with local firm Matthews, Kluck, Walsh and Wykle, filed an unlawful detainer suit against 15 named defendants in an effort to have them evicted. In response, the tenants retained pro bono representation from Legal Services of Northern California, a regional nonprofit dedicated to serving the poor. Attorneys with the group are fighting the eviction.
Which brings us back to this week's hearing. Courtroom Eight was uncommonly full for a Monday afternoon, with Popko and her husband seated near Bohn and close to 15 Pine Hill residents. Gregory Holtz, a bearded young attorney with Legal Services of Northern California, argued to the judge that the complaint should be thrown out, in part because the eviction notice was missing some legally required language about a tenant's right to reclaim personal property.
Holtz also objected to the plaintiff's attempts to bring up the condition of the property and allegations that rent hasn't been paid. And he argued that since Figas is merely leasing the property he doesn't have standing to evict his clients — any more than than they have the right to evict each other. After all, they, too, are lessees, Holtz said.
Latt countered that the complaint was about "one thing and one thing only" — returning possession of 4565 Lewis Avenue to his client, Figas. The current tenants' attempts to maintain possession, he said, are "unlawful and frankly shameful." He acknowledged that the eviction notice was missing some required language but he called that a "trivial defect" that should have no bearing on the case.
Latt noted to Judge Reinholtsen that neighbors were present and ready to testify to the abuses of the property, but Reinholtsen reminded him that witness testimony is not allowed at such preliminary civil proceedings. After listening to the two attorneys volley arguments back and forth for about 10 minutes, Reinholtsen said he'd decide within the week whether the case can proceed.
The Outpost has reached out to Legal Services of Northern California via phone calls, which have not been returned. Outside the courtroom Holtz declined to comment.
Neighbors, who'd been denied an opportunity to voice their frustrations, milled about in the courthouse hallway. "I took time off from work today," said a neighbor named Leslie, who didn't want to give her last name. She called the situation "bullshit," adding that with children and a bus stop in the neighborhood something needs to be done.
Another neighbor, who gave the first name Terri, said most of the people living on the premises arrived in a sudden wave. "A good dozen of 'em live in the parking lot," she said.
Latt, meanwhile, said he believes in the mission of Legal Services and has even volunteered his own services for the group, but he thinks their attorneys should ask some basic questions before agreeing to take clients. "I support Legal Services but I don't think they should be enabling the abuse of a neighborhood," he said.
Popko, standing with her husband on the outskirts of the group, said that this process has been deeply frustrating, but above all she wants Pine Hill to stop suffering. "The neighbors need this break more than anybody," she said. "This has been hard enough on us, but the neighbors — to have to live around this is just terrible."
None of the tenants of 4565 Lewis Avenue were present at the hearing.