###
###
###
###
###
###
###
###
###
###
###
###
###
###
###
###
###
###
###
###
###
###
###
###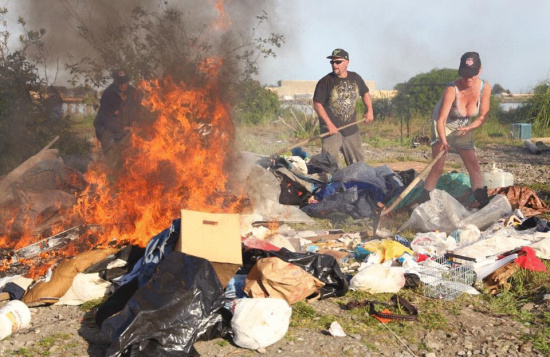 As of this writing things have yet to really get underway at the Palco Marsh, where upwards of 100 people will be forcibly evicted from a longstanding homeless encampment. This morning, at around 7 a.m., perhaps a dozen marsh residents were moving their camps out with baby carriages, bikes, dollies and anything else that would roll. Others walked out with the clothes on their backs.
Erich Schimps and another blue-vested member of the "Independent Observers Program," which you may remember from tense police interactions with protestors during the timber wars, stood sentry at the entrance to the marsh on the Bayshore Mall side, in the "North 40" parking lot where today's interagency operation will stage. No police had arrived yet, though a garbage truck pulled up and dropped off some cans.
Schimps said that he and his colleague had taken a spin through the marsh this morning, talking to people. While several people were packing up and moving out, several others they had spoken to — "Vietnam vets," he said — were dug in.
A scuffle broke out between a man and a woman who had moved their stuff out early. The woman screamed at the man to get away from her stuff, which was loaded into a pickup truck. The man screamed back and picked up a metal baseball bat while the two screamed at one another. They backed away from each other then darted toward each other, still screaming, while the policeless parking lot watched.
"Keep doing heroin, you dumb bitch!" screamed the man, still wielding the bat.
"Fuck you, tweaker!" the woman shouted back.
Eventually the man got on a small bicycle and pedaled to a different part of the lot.
In the marsh, fires broke out. Bystanders stopped what they were doing to put out one pile of stuff that someone put the flame to. Elsewhere, at another fire, something exploded — a propane tank, it seems.
The police have now arrived. A Coast Guard helicopter is circling. The Outpost has several reporters at the scene. We'll be updating this post throughout the day. Stay tuned.