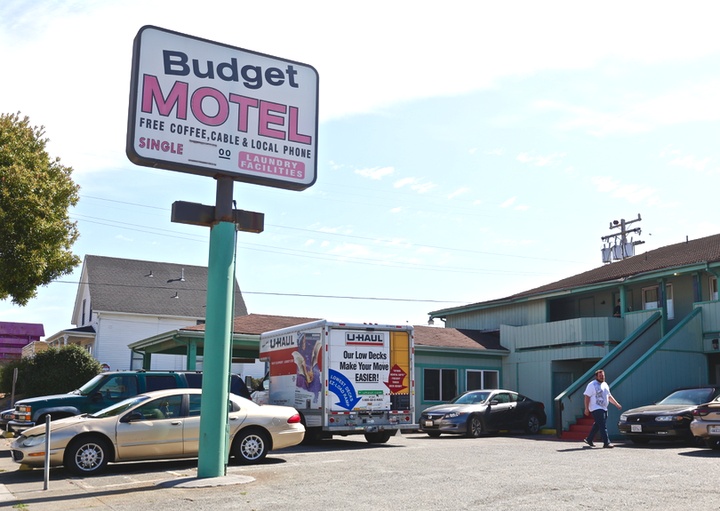 While evictions didn't come today as initially planned, residents of the Budget Motel, long-identified by numerous government agencies as a problem spot on Eureka's Fourth Street, will soon be forced to vacate. After hearing from all involved parties Thursday, Humboldt County Superior Court Judge Dale Reinholtsen denied the motel's last-minute application for a preliminary injunction.
The morning hearing was scheduled after local attorney Carlton Floyd, acting on behalf of his client, Budget Motel owner David Kushwaha, was able to secure a temporary restraining order to stop the city's planned tenant evictions. Floyd, Kushwaha and a few motel employees appeared in court Thursday morning as did Eureka City Attorney Cyndy Day-Wilson.
Floyd argued that Kushwaha, a resident of Oxnard, CA, had not received any written notices within the last year indicating that the Budget Motel had code violations and should be given more time to improve the issues with the property. Specifically, Floyd asked that Kushwaha be given 45 days noting that his client was in talks with an engineer, a plumber, an electrician and pest control to address the motel's issues. He's also purchased new mattresses for the rooms and is in the process of swapping them in for the old ones.
"We're just trying to give them a fair shake," Floyd said.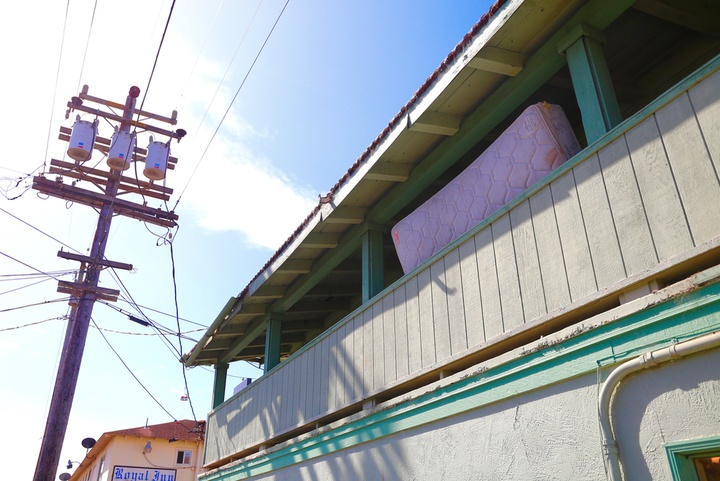 Last week, the City of Eureka served an inspection warrant on the Budget Inn going room by room to document possible fire, safety and health code violations. During the inspections, Director of Public Works Brian Gerving told the Outpost that crews found numerous problems — fire damage, water damage, poor wiring, mold, bedbugs and cockroaches.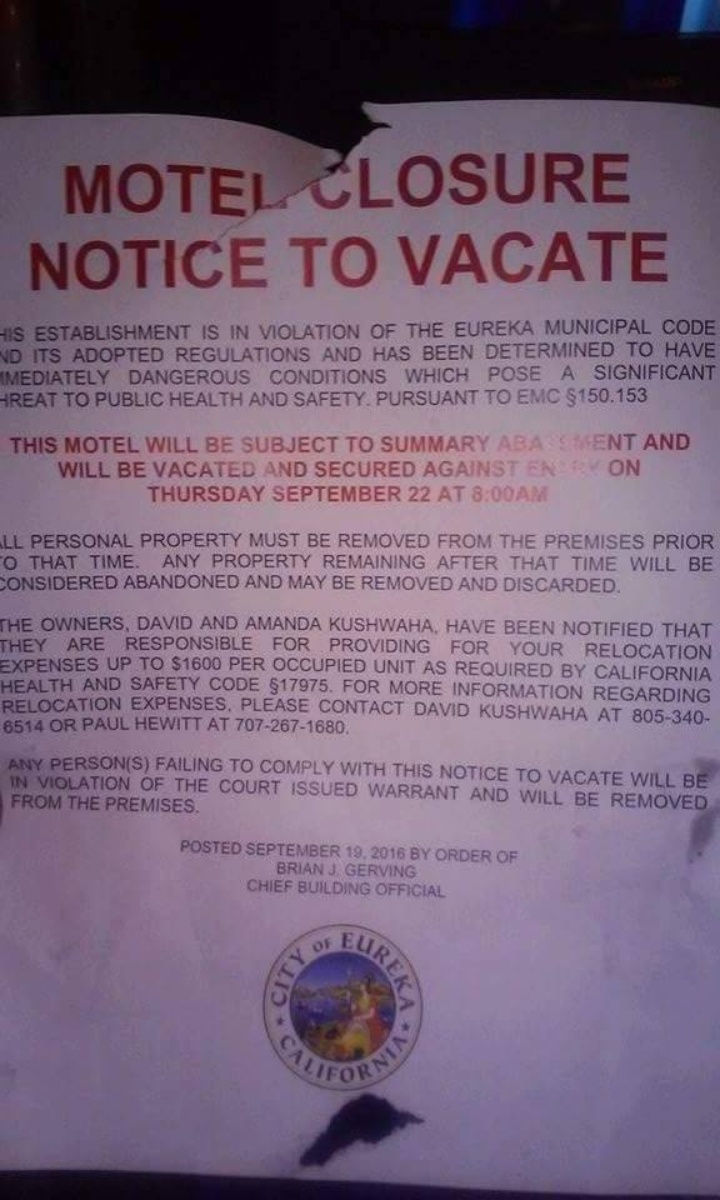 Ultimately, the inspections turned up 348 violations, according to Day-Wilson. Thus, Monday evening the city served Kushwaha with a notice that said all tenants would need to vacate by Thursday at 8 a.m. They posted the sign, at right, which notes that the Budget Inn's owners are legally responsible for providing relocation expenses to the tune of $1,600 per occupied unit which would set his client back around $60,000. That money, Floyd argued, would be better spent improving the motel.
"The owner of the Budget Motel has had more than a fair shake," Day-Wilson said going on to list numerous actions the city has taken against the motel over the past 10 years including nine cases that remain open since 2010. She urged Judge Reinholtsen to review numerous photos taken by the city documenting living conditions at the motel saying they illustrate a clear threat to the safety of the tenants. Besides, she was skeptical that Kushwaha could address the problems, even with the extension, while the tenants remained living there.
"I have no doubt that these violations can't be addressed in 45 days," Day-Wilson said.
Floyd again asked for more time arguing that since the city has known the motel has had problems for as long as it has, a little more time won't hurt.
"They've waited so long to do something, what would 45 more days matter?" Floyd said.
"Another 45 days? He's had five years!" Day-Wilson replied.
With Reinholtsen's decision, the city will now regroup and decide how to move forward with evicting the Budget Motel's tenants.
"It won't be today," Gerving told the Outpost this afternoon. A press release with more details should come later today.
PREVIOUSLY: City of Eureka Cracks Down on 4th Street Budget Motel with Inspection Warrant