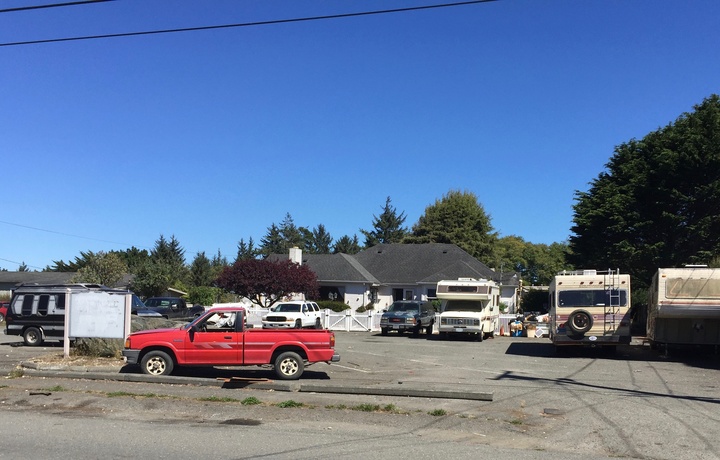 The landlord of a former senior living facility at 4565 Lewis Avenue, just outside Eureka city limits, can proceed with his attempts to evict a group of unsanctioned residents, a judge ruled this week. Local construction magnate and business owner Robert Figas, who is leasing the property, had filed an unlawful detainer against the current batch of residents, who neighbors accuse of destroying their peaceful neighborhood with violent crime, drug activity, trash and vandalism.
Figas and property owner Sandy Popko say the property, which used to operate as Mycroft Supportive Care, has been overrun by transients, with people living in the building and in unlicensed vehicles scattered around the parking lot.
The residents, however, have been fighting the eviction. (The Outpost reported on the initial court hearing last week.) With pro bono representation from Legal Services of Northern California, the tenants filed a demurrer, hoping to get the unlawful detainer order tossed from court. Legal Services attorney Gregory Holtz, representing the tenants, argued in part that the original eviction notice wasn't valid because it lacked some legally required language. He also said the tenants couldn't be sued as a group since they each have different circumstances.
On Monday, Judge Dale Reinholtsen rejected those arguments and said the case can proceed. In doing so, however, he noted that one of the complaints actually did have merit. The original eviction notice did indeed lack some required language notifying tenants of their right to reclaim personal property, he writes in his ruling. But he goes on to say that the point is moot because the defendants' lawyer filed the wrong type of motion.
The unlawful detainer summons was open to complaint, Reinholtsen notes. "However, that challenge must have been raised by a motion to quash, not by a general demurrer." By filing the latter motion without the former, he says, the defendants inadvertently waived their objections to the eviction notice.
Read the full decision below. Neal Latt, the attorney representing Figas, told the Outpost that defendants must file their response to the unlawful detainer motion by this coming Monday, "after which I will be asking for a trial to be set immediately."
DOCUMENT: Ruling and Judgment on Demurrer, Figas v. Seymore-Davis, et al.