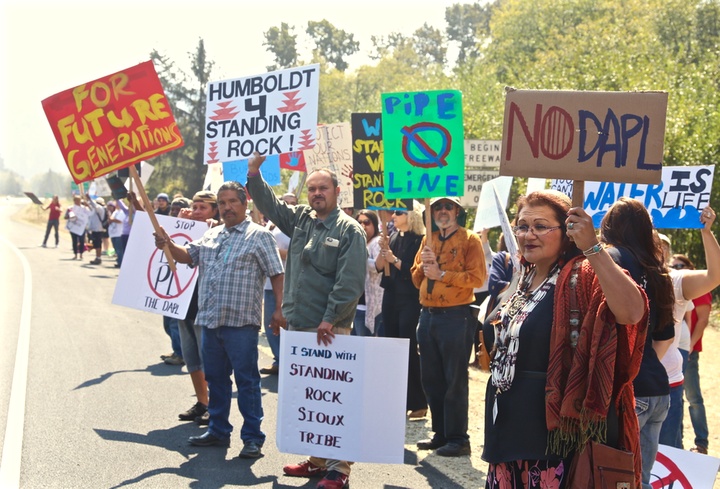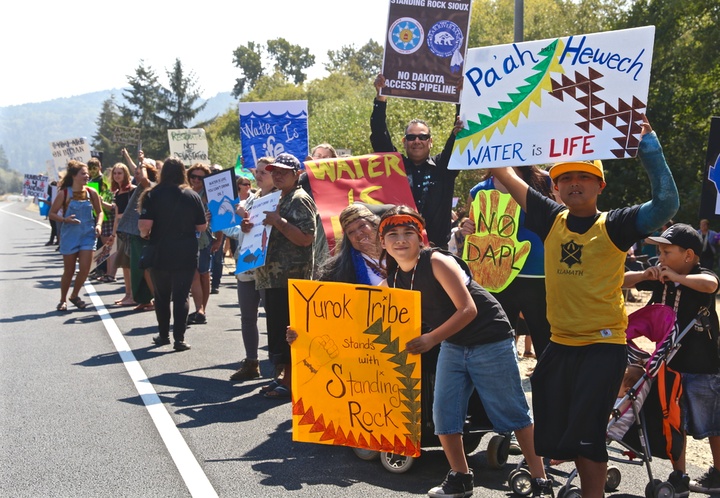 Friday turned out to be a big day in the Standing Rock Sioux Tribe's fight to stop construction of the four-state Dakota Access oil pipeline in North Dakota, a battle that has gained the attention of Native American tribes and environmental groups across the nation and has sparked intense protests. First, to the tribe's dismay, a federal judge denied the tribe's request to halt construction. That decision was quickly followed up by an announcement by the Obama administration that construction would pause near Lake Oahe, a major water source for the tribe at the center of much of the debate. (For a more in-depth look at the Dakota Access Pipeline struggle, go here.)
While these decisions were being handed down, locally around 200 people gathered along the side of Highway 101 in Klamath to stand in solidarity with the Standing Rock Sioux. The rally was organized by local community-organizing nonprofit True North and was attended by Yurok, Karuk, Hoopa, Wiyot and Tolowa tribal members. As cars zoomed past honking support, attendees waved signs and ran through a series of pro-water, anti-pipeline chants before settling in for some speechifying from local tribal leaders.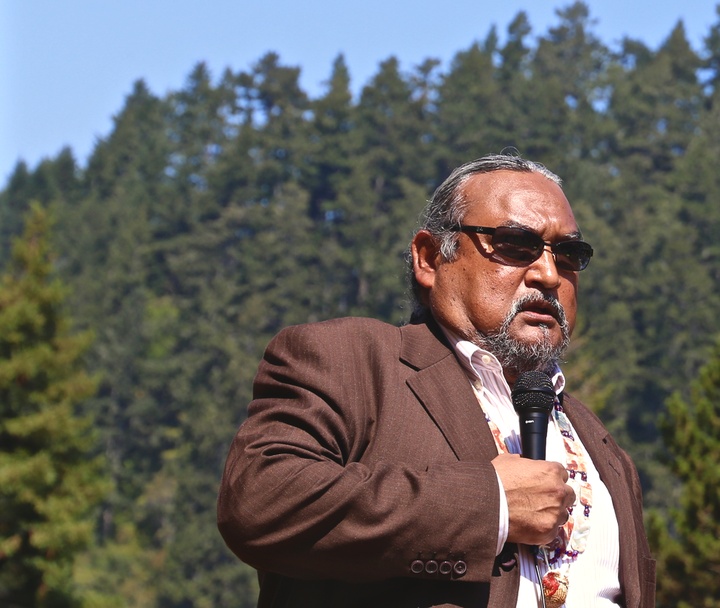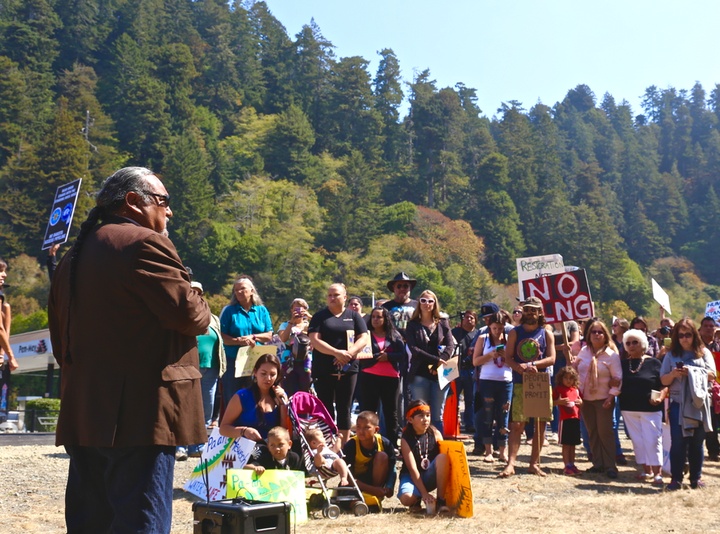 "The Yurok Tribe stands in solidarity and support of the Standing Rock Sioux and all the tribal communities that are out there fighting against this destructive pipeline," said Yurok Vice Chairman David Gensaw. "These big oil companies — they couldn't care less about what they do to Indian country. They couldn't care less [about what they do] to our rivers, our streams, our lakes, our oceans. They couldn't care less about what they do to sacred grounds or burial sites … All they care about is the almighty dollar."
If completed, the $3.7 billion, 1,100-mile Dakota Access pipeline would carry crude oil from Montana and North Dakota to an existing pipeline in Illinois and then on to the U.S. Gulf Coast. It would run within half a mile of Standing Rock Sioux tribal lands and, the tribe says, could potentially leak oil into rivers the tribe depends on for water. With the Obama administration's Friday announcement, construction will halt until more environmental impact studies can be completed.
ELSEWHERE: