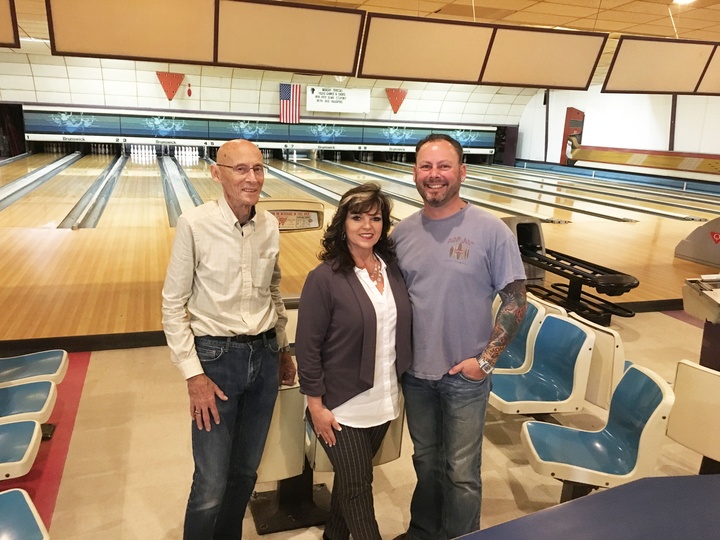 The rumors were circulating. That iconic bowling alley on Glendale Road just west of Blue Lake, E&O Bowl, was being sold and the buyers were going to turn it into a mega-industrial grow.

The rumors had quite a few grains of truth. Buyers were ready and willing.
The current owners were not.
They accepted a lower bid — yes, that means less money — from someone who would keep the bowling balls rolling.
André Carey and his wife, Carla Kendrick, closed the sale on St. Patrick's Day. They, and André's dad, John, are keeping up the tradition of bowling for friends and families from the coast to Willow Creek.
Last weekend, the bowling alley hosted six birthday parties. That's a lot of happy kids and parents.
The new owners are mindful of tradition because they have so much family history in the place themselves.
André Carey was telling the story of how he bowled his first perfect game in 1988 when he was a senior at Arcata High School. He stopped and said, "Let's ask my dad, he really knows more of the history."
John Carey told a story about his son's mother that even surprised his son.
"I met my ex-wife right over there," he said, pointing towards the lanes. "She had a blonde wig on and I said, 'Oh my God, I want that!"
"You met her here? I didn't know that," André Carey responded.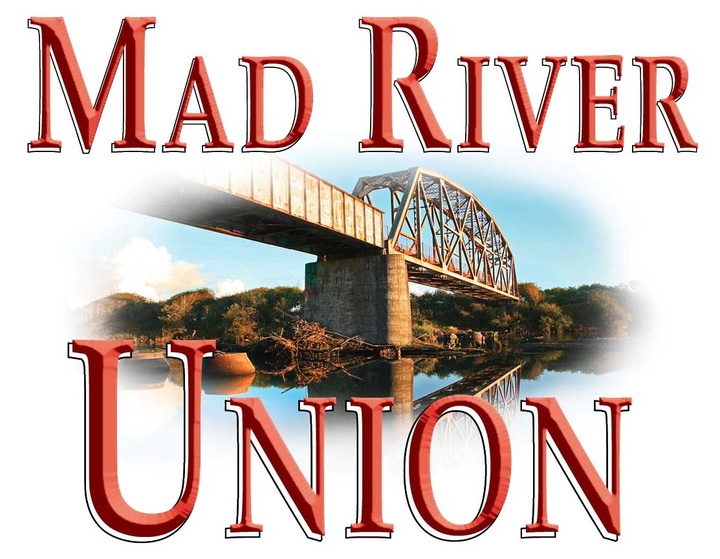 The history of the building is vivid and varied. The entire upstairs was used at different times as a dance hall, a slot car track and a beauty salon. It's closed now but André Carey hopes to open it as a music venue "with a city vibe" in the next two years. That would be 5,000 square feet of dancing room.
"The grownups kept us out of the upstairs by telling us kids it was haunted," he said. "I remember sitting at the bottom of the staircase."
"It was rock 'n' roll in the '60s and '70s," John Carey said. "People came from out of the area to dance, even from over the hill in Willow Creek."
Even the name is going back to the original, E & O Lanes.
"Two brothers, Lester and Lee, opened it in 1960," André Carey said. "One used the last name Larsen but the other brother changed it to Larson. That's why it was E & O." (Humboldt County folks of Scandinavian extraction are particular about their names being spelled correctly, either -en or -on, as this reporter has learned under fire.)
Subsequent owners changed the name to E & O Bowl but the new owners are going with the original.
They are doing some work to the building but are keeping tradition in mind. Most importantly, they are keeping manual scoring.
A complete bathroom remodel is in the works and the bar area has been repainted.
"We are freshening up but keeping the same feeling," Kendrick said. Kendrick worked as a labor delivery nurse for 27 years.
"She's been delivering babies of babies she delivered," her husband said.
She worked as a travel nurse in every state of the continental United States and was working as a nurse here when she met her husband-to-be.
Kendrick and Carey were both at a Brodie Stewart Band concert at the Blue Lake Casino. That was three and a half years ago and now other states will just have to find another nurse.
"We're bringing the Brodie Stewart Band to play at our grand reopening on May 20," André Carey said.
They'll have a stage in the parking lot, tents and a barbecue to celebrate.
Customers are celebrating, too. "We've exceeded our expectations," André Carey said. "We've had wonderful community support."
There have even been waiting lists for people to bowl and reservations are recommended.
"We've had a tremendous amount of positive feedback," Kendrick said.
Carey said he felt lucky to "be able to inherit the previous staff. We have a really good team. We had a team meeting last week and it was a total positive vibe."
After that first perfect game, André Carey "continued bowling six nights a week." He traveled out of the area for tournaments. He worked in the automotive industry, building custom hot rods at his shop in McKinleyville and was a past president of the McKinleyville Chamber of Commerce, "the youngest they ever had."
It was his positive experience with getting a loan in 1999 from the Redwood Region Economic Development Commission that made buying the bowling alley possible.
"I went to them then with a business plan and got the loan for the body shop," he said. "I want to give a shout-out to the RREDC for funding our new project. They can help with business planning and marketing seminars."
One group that really benefits from the bowling alley staying open is the Junior Bowlers program.
Young people from the ages of 7 to 21 from all over the county bowl Saturday mornings.
"Darcy Malson, our general manager, runs the Junior Bowlers program," he said. "She was just inducted into the Humboldt County Bowling Association Hall of Fame. And," he continued, "one of the neat things at the awards banquet was seeing Adam Huschle being awarded the Ogilvie Award, a $4,000 scholarship which he'll use to attend Lineman's school. He qualified for the scholarship because he was in Junior Bowling for four years."
The Ogilvie scholarship is from the Agnes & Kenneth Ogilvie Memorial Fund, administered by the Humboldt Area Foundation.
Birthday parties are another way E&O keeps kids bowling. Families can bring their own food and decorations. Many parents order pizza to be delivered to the party.
"We supply the tables and chairs and suggest two hours – one hour for bowling and one hour for the party," Kendrick said, "but they can extend the bowling."
The cost is a family-friendly $30 per hour per lane for the bowling time with five people per lane, including shoes.
"We have lots of kid's shoes," André Carey said. "The business came with an inventory but we will be buying new backups. They are retro looking shoes from a vendor back east."
John Carey's new title is party host. "I'll help them with scoring and with bowling," he said. "We watched a 2-year-old bowl yesterday."
The senior Carey had a long career in retail, working "for the Larsen's at the E&O Market, at Greenview Market, as assistant manager at the Ray's in Valley West." He ran a Christian Bookstore in Eureka, worked in Sacramento for the Department of Education, and "spent five years in Costa Rica."
His affable personality is perfectly suited for his new job as party host.
Kendrick has the right idea for what bowling can be about for many folks. "I'm a fun bowler," she said with a smile. "I have fun bowling and I'm no good at it."
So whether you are a serious bowler, aiming at perfect scores, or just want to have a fun game with friends, be glad that E&O Lanes will remain open. E&O is open seven days a week from 9 a.m. to 2 a.m.

Website: e-olanes.com
Phone: (707) 825-9160
###

Janine Volkmar writes for the Mad River Union. Subscribe here.