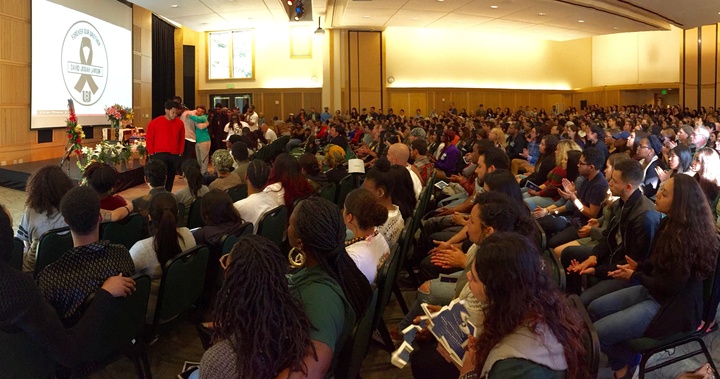 Humboldt State University President Lisa Rossbacher stood at the lectern Thursday evening, looking out at the hundreds of mournful people who'd crammed into the university's Kate Buchanan Room, filling every available seat, lining the walls and overflowing through the doors into the next room.
"We're here this evening to celebrate the life of David Josiah 'DJ' Lawson," she said. On behalf of the university community she expressed sorrow for death of the 19-year-old student who'd been fatally stabbed at an off-campus party five days earlier. She acknowledged Lawson's mother, grandmother and other family members seated in the front row. They'd arrived the previous day, having driven up from Southern California, where Lawson was raised.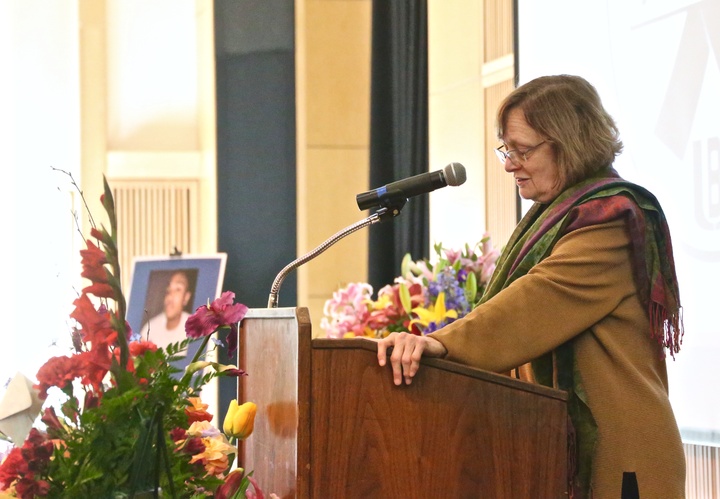 "Josiah touched so many people's lives," Rossbacher said. "His smile, his positive and supportive attitude, and his friendship."
That smile would be a recurring image throughout the evening as friends and family struggled through raw emotions, trying to articulate just how special Lawson was, how he'd inspired them and made them laugh and how his death should not be in vain. Words often failed, but nearly everyone mentioned that goofy, infectious smile.
Many of the night's speakers were members of Brothers United, the campus cultural club for which Lawson had served as president. Early on these young men presented Charmaine Lawson her son's black BU hoodie, mounted in a frame and signed by all the club's members. Several of them were crying as they leaned it against the stage in front of "Moms," as they called her.
"You lost one son," Brothers United member Katauri Thompson told her during his turn at the microphone, "but you gained 15 more."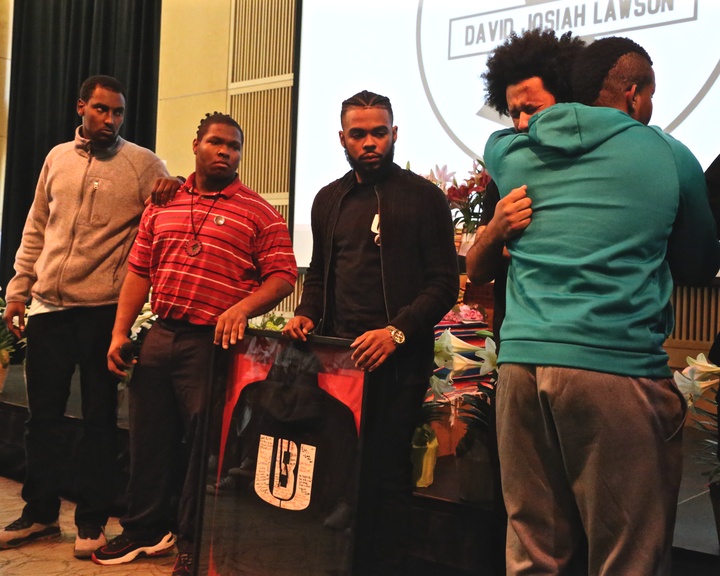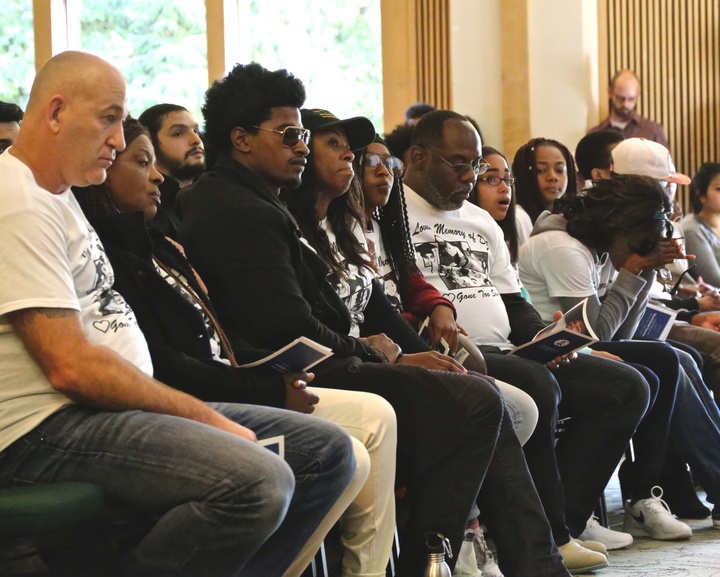 Lawson's uncle, Matt Weaver, addressed the crowd at one point, telling them that the support shown for "DJ," as the family knew him, has been overwhelming.
"The family is still asking for support," he said. "Any witnesses that were at the party, we'd like you guys to come forward and help out the investigation. There have been plenty of witnesses that came up, but we want to cover all the bases. … Don't be afraid. If you were underage drinking, the university [and] police department's not gonna hold you accountable."
On the previous afternoon, Kyle Christopher Zoellner, a 23-year-old man from McKinleyville, was charged with Lawson's murder. He pleaded not guilty.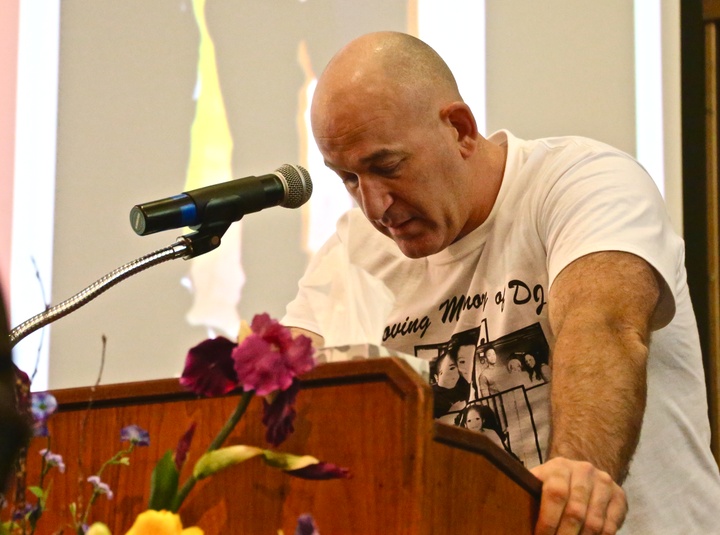 The family's pastor, Phil Griggs, delivered a stirring address, drawing people's attention to the tiny dash between Lawson's dates of birth (May 20, 1997) and death (April 15, 2017).
"That dash is your life," said Pastor Phil, as everyone called him. The question, he said, is what people would do with their own dash. "Are you gonna allow racial tensions or anything like that matter? To cause you to now stop and throw your hands up and say you can't continue on? If you do you've missed the purpose of Josiah's life. If you do you've missed the purpose of your life."
Like Lawson's uncle, Pastor Phil remarked on the welcome they'd been given. "I've never seen in my many years of ministry the outpouring of love I've seen since arriving in Humboldt," he said. "This is a community."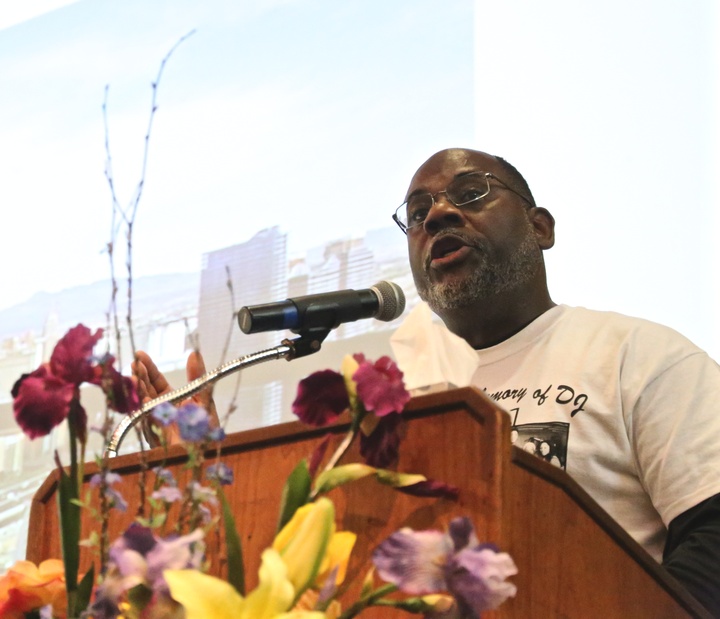 "Take a look at this room," the pastor continued. "Look around. This is how well he got it. I see every mix of race in this room. He impacted lives. Are you gonna do the same?"
Arguably the most emotional moment of the evening came when Lawson's mom, Charmaine, took the stage to a standing ovation. When she began speaking her voice was low and controlled, but her grief soon took hold.
"Thank you so much, Humboldt family, for being here and celebrating my son," she said. "My son," she repeated with emphasis. And then, wailing, "My baby! My baby!" But just as quickly she regained her composure. "Thank you so much," she said.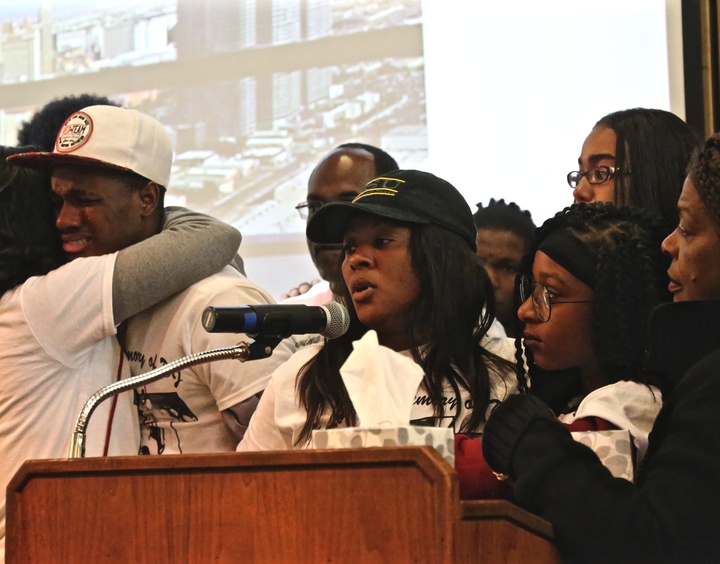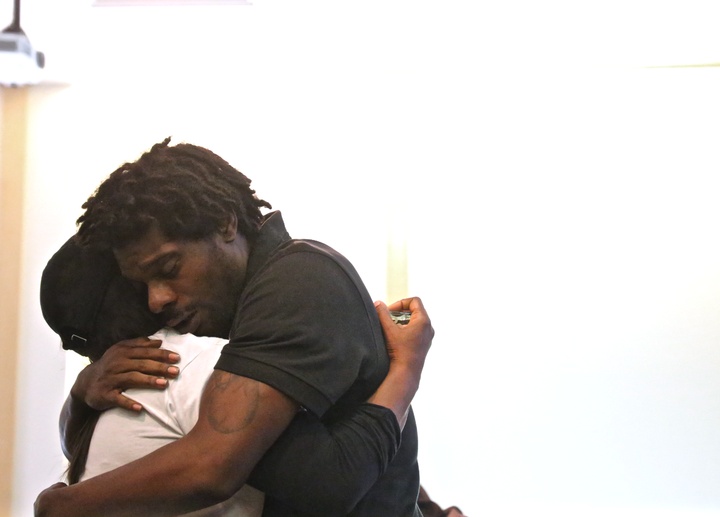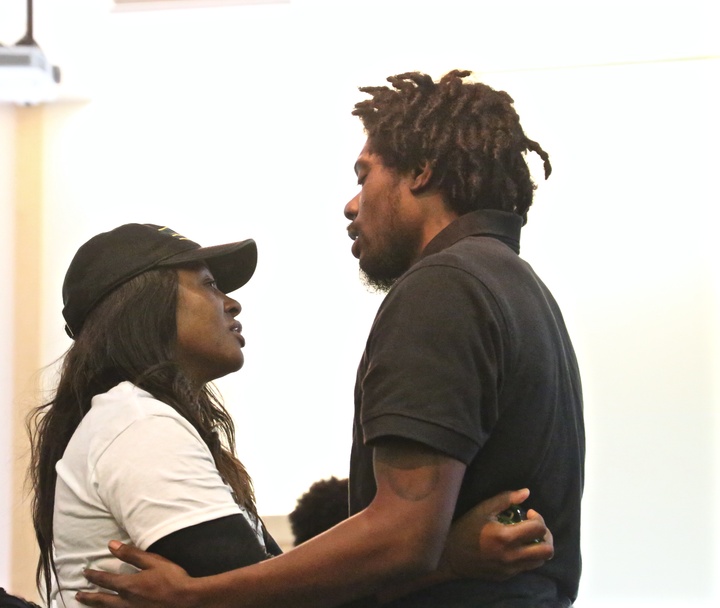 Charmaine Lawson recalled the day when her son decided he wanted to come to HSU. He'd shown up to a college fair at his high school, Rancho Verde High, outside Riverside, straight from football practice to find his mom standing in front of the HSU table.
"The representative from Humboldt just spoke so highly about this school," she said. "DJ had so many questions. He's like, 'Mom, this is where I wanna go!"
She was hesitant due to the distance, but he was adamant. So in Fall 2015 she brought him here. They toured the campus "and everybody was so welcoming," she said. "It was so warm. I knew he was in a good place. I knew he was gonna be taken care of."
She grew emotional again when she remembered that Lawson had been planning to drive his younger brother, Anthony, to his own college next year. She asked the members of Brothers United, her "new children," to escort him in Lawson's place.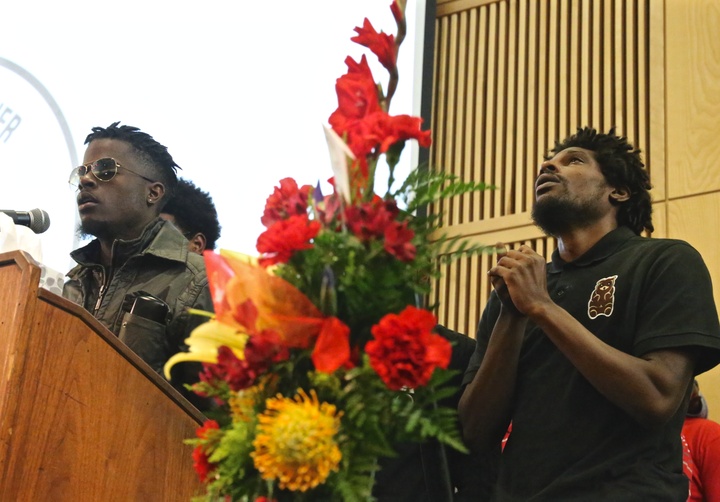 The members of Brothers United enthusiastically agreed to do so, and a few of them took turns talking about Lawson.
Elijah Chandler, the BU member who administered CPR on Lawson in an attempt to save his life last weekend, said he tries to be strong and refrain from crying, just like his dad had after his grandma died. But he's been struggling with that. "I find myself waking up crying most nights," he said. "I just keep thinking about how strong Josiah was. Even to the end. Y'all don't know how hard that boy fought, yo."
Another BU member remembered how Lawson would often leave him speechless with his "crazy" comments. "He'd actually have something to say that was sarcastic but too intelligent for me to even try to think of something," he said, and the crowd laughed in appreciation.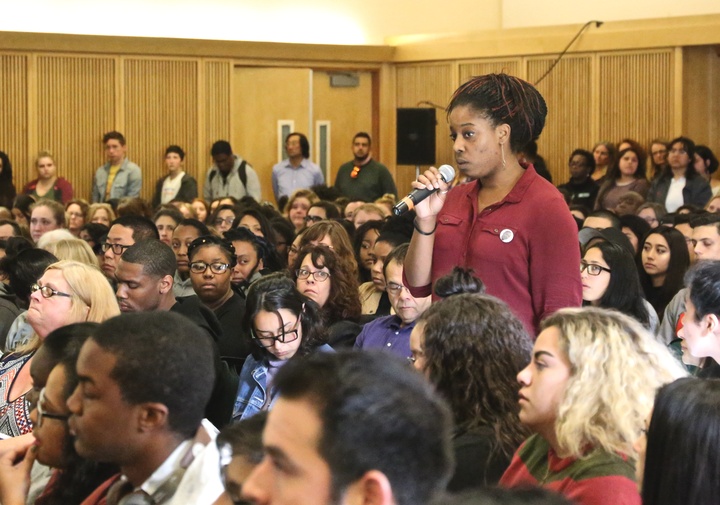 HSU's residence life coordinator, Tina Okoye, sang The Cure's "Lovesong," saying afterward that the lyrics, which include the refrain "I will always love you," transcend romance.
Following a slideshow of Lawson's time on campus, the evening seemed to be wrapping up. But as one Brothers United member spoke to the crowd, another came up and whispered in his ear. The first one returned to the microphone and said that, at the request of "Mom," Charmaine Lawson, he'd like to invite Arcata Police Chief Tom Chapman to speak.
The room was silent for a few moments as Chapman, who was seated toward the rear of the room, stood up and started making his way to the stage to the sound of lukewarm applause.
Once at the lectern he spoke tentatively, his voice quavering. "My name's Tom Chapman. I'm the police chief in Arcata, and Charmaine asked me to speak," he said. Looking down to Charmaine in the front row he said, "You have my deepest sympathy. You sent your son here to Arcata to get an education and to be a part of our community. To grow. To be a man. And that was extinguished. Senseless."
A few people shifted uncomfortably in their chairs as Chapman paused. "I'm sorry, I'm at a loss for words," he said. "I just, I want you to know … I want you guys to know …" — and finally, emphatically: "we will have justice for David." The crowd started to applaud. "It will happen," Chapman said, and the room filled with thunderous applause and cheers, everyone standing on their feet.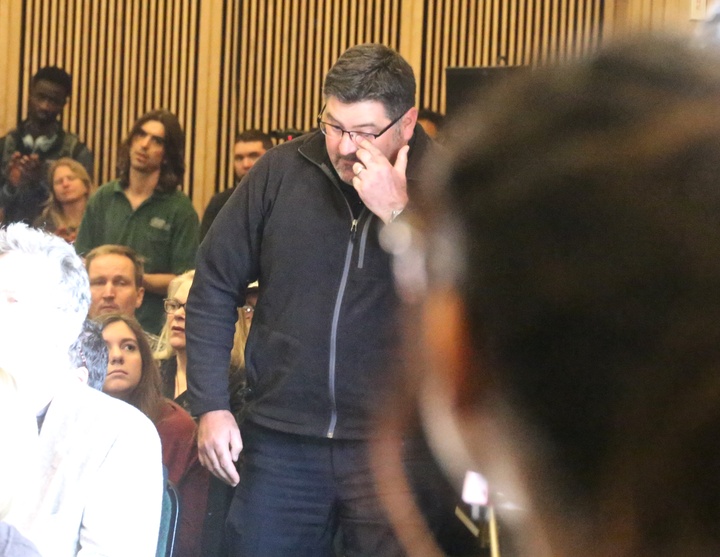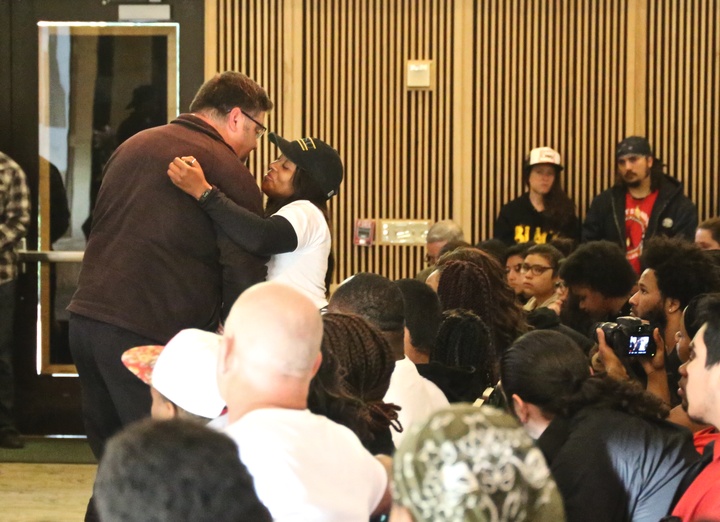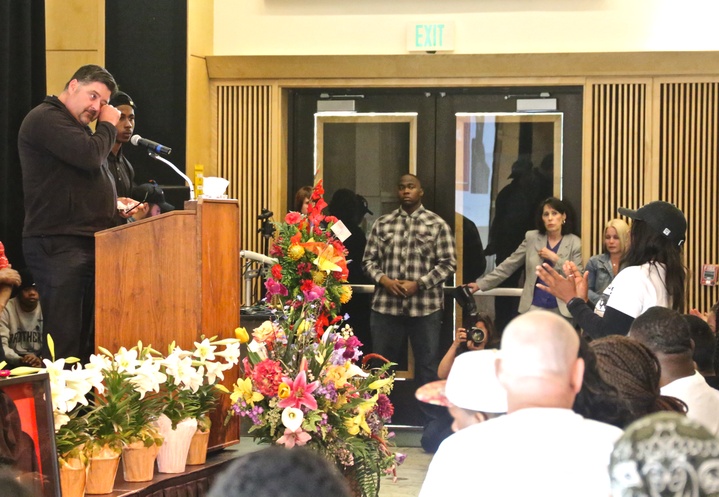 Afterward, Pastor Phil returned for a few closing remarks. He told everyone in the room to stand up and grab the hand of the person next to them, and he waited until every last person had clasped the hand of someone else. Then, addressing God, he asked for help to do what Lawson had done, help to make a difference, help to change not only his own life but the lives of others, too.