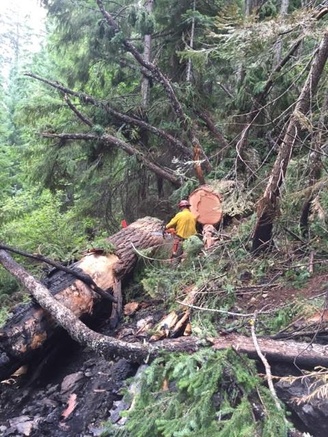 A flurry of lightning pummeled the Shasta-Trinity National Forest this week.

The U.S. Forest Service reports that 800 lightning strikes his the area in the past six days. As a result, roughly 30 fires were ignited — 20 of which have since been contained.
Firefighters are actively trying to contain nine of the lightning fires in the area. These fires are have been named the Pickett, Bear, Union, Tomhead, Logan, Van, Middle, Hawk and Kerlin Fires. Aircraft are also keeping an eye on two fires burning at high elevations in the Trinity Alps Wilderness Area that are showing little sign of spread. As of today, these fires are estimated to have burned 35 total acres.
Far less lightning strikes were reported in Humboldt County this week. Meteorologists from Eureka's National Weather Service office tell us that roughly eight strikes were recorded in Eastern Humboldt on Thursday. About 25 strikes were also recorded around the Eel River Valley the same day.
As of yesterday, the Orleans Complex Fire burning near northeastern Humboldt is estimated to be 5,264 acres in size and 14 percent contained.
Read more from the U.S. Forest Service press release below:
Lightning activity over the past week ignited a number of wildfires in the Six Rivers National Forest, from the Gasquet Ranger District to the north and the Mad River Ranger District to the south.

The Young Fire is on the Gasquet Ranger District. It is approximately 200 acres (0% contained) located east of Gasquet in a remote area within the Siskiyou Wilderness. Local district staff are actively monitoring this fire to ensure a confinement strategy is being met.There is no current threat to structures or communities from this fire.

The Ruth Complex, located on the Mad River Ranger District, is 1870 acres and 10% contained. The largest fire in complex is the Dutchman Fire, approximately 815 acres (0% contained). The Secret Fire is at 55 acres (10% contained) with structures potentially threatened.

The Willie Fire, also within the Ruth Complex, is at and 1000 acres (10% contained). The Ruth Complex is currently being managed by a Type 3 Incident Management Organization under Incident Commander Duane Franklin.

Northern California Incident Management Team 1 (Type 1) under Incident Commander Mike Minton will take command of the complex over the weekend.

Other fires on the Lower Trinity and Orleans Ranger Districts have been detected and are being monitored by local district staff. More information will be provided as circumstances develop.The forest's first priority is to provide for firefighter and public safety, along with protecting property.

The Six Rivers National Forest remains under fire restrictions. Details about these restrictions can be found on the forest website at www.fs.usda.gov/srnf.

Forest visitors need to be extremely careful when camping, hunting, driving in the backcountry and when cutting fire wood to not accidentally start a wildfire. For more information on how wildfires can be prevented, remember "One Less Spark, One Less Wildfire" and visit http://preventwildfireca.org/OneLessSpark/