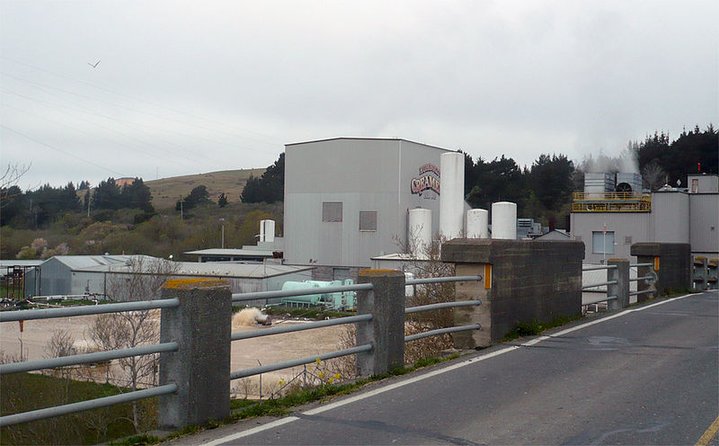 Humboldt Creamery, the storied local dairy collective that was purchased by Foster Farms-owned Crystal Creamery after a 2009 fraud scandal, will stop processing fluid milk at its Fernbridge factory. As a result, the company will be eliminating 10 local jobs, a spokesman told the Outpost this afternoon.
The company's milk processing will now be based entirely in Modesto, according to public relations professional John Segale, though he added that local dairy farmers should not be impacted.
"[T]his does not affect them as production of organic ice cream, butter, sour cream and cottage cheese, in addition to organic milk, continues," he said via email. Milk produced locally will be shipped to Modesto for bottling and then shipped back north for sale on local shelves.
In his initial statement, sent in response to an Outpost inquiry, Segale attributed the company's decision to losing one of its primary milk customers. Here's that statement:
Unfortunately, one of our principal customers of fluid milk informed us they have entered into a supply agreement with a large national milk provider. Because we are a small, family-owned dairy, their decision directly impacts our business in the short term as the loss of fluid milk production reduces our staffing needs. As a result, we will be forced to eliminate 10 positions. Looking ahead, we are actively pursuing other possible products and customers to offset this loss of business. Most importantly, we remain committed to Fernbridge playing an important role in our business today and in the future.
Asked which customer was lost, Segale said the company considers its accounts proprietary. Humboldt Creamery's route delivery operations in Fernbridge will continue.
Local dairy farmer Andy Titus, who has supplied Humboldt Creamery for years, agreed that this decision will likely not impact farmers like him, and he expects the move to make Foster Farms more profitable. His own dairies' milk has long been processed in Modesto. "For the local farmers, nothing is gonna change," Titus said.
But he noted that times are tough for dairy farmers. Overproduction nationwide has made prices plummet. "And for us, here, we just went through worst winter in, like, 120 years." Partly as a result of that weather, Titus's fields are now being eaten by armyworms, he said.
When told of the development at Humboldt Creamery, Humboldt County First District Supervisor Rex Bohn said, "I'm obviously worried about the 10 jobs." But he believes there's some room for optimism. "I hope [the jobs] come back as they ramp up ice cream and other production at this facility."
Asked when the 10 jobs will be eliminated, Segale said there has been "no decision" on timing.