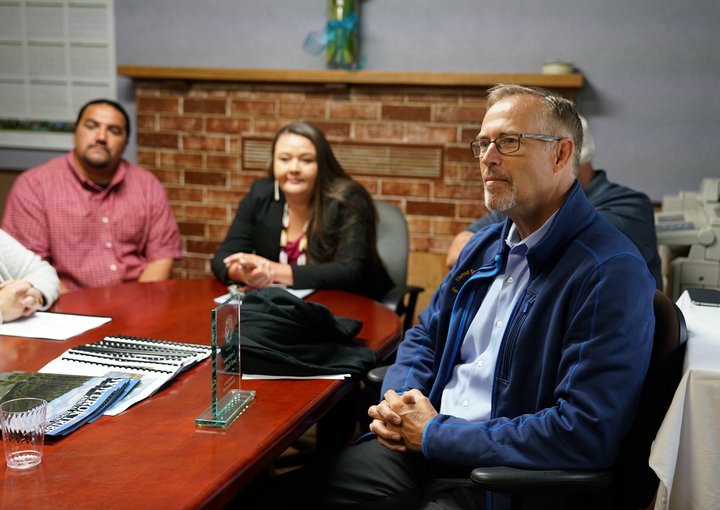 From the Yurok Tribe:
Today, the Yurok Tribal Council honored US Representative Jared Huffman (D-San Rafael) with the first-ever Excellence in Partnership Award.

"Congressman Huffman has a proven track record of being a powerful advocate for the Yurok people," said David Gensaw Sr., the Yurok Tribe's Vice Chairperson. "We selected the congressman to be the first recipient of this award, because of his enduring commitment to restoring the Klamath River, increasing our land base and protecting our natural resources."

The Yurok Tribal Council's Excellence in Partnership Award honors non-Tribal leaders who have, through their collaboration with the Tribe, worked toward the betterment of the Yurok populace. The Yurok Tribal Council is charged with serving the Yurok tribal membership and managing a wide-range of natural resources. These complicated tasks necessitate the development of strong relationships with partners that share our ideals.

Huffman, the 2nd District Representative, is a longtime supporter of the Tribe's effort to remove the lower four Klamath River dams, an action that will open up hundreds of miles of historic, salmon spawning habitat and drastically aid in the recovery of struggling fish stocks.

Congressman Huffman recently introduced a package of two bills for the purpose of appropriating nearly $140 million to assist commercial fishers, including Yurok Tribal fishers, impacted by the 2016 fisheries disaster. At the time, the 2016 salmon run was the lowest on record.

The meager number of fish forced the Tribe to cancel the commercial fishery on the Klamath, which caused serious economic hardship for Tribal fishers and the businesses that support the annual fishery. The Tribal Council also canceled the 2017 commercial fishing season in response to this year's Klamath River forecast. Even fewer fish than ever before are forecast to return to the Klamath later this summer.

As the sponsor of the Yurok Lands Act last year, Congressman Huffman introduced the pivotal piece of legislation to address land inequities within the Hoopa-Yurok Settlement Act and increase land management partnerships between the Tribe and the federal government. The bill, which will be reintroduced later this year, intends to take the Yurok Experimental Forest into trust for the Tribe and expand the reservation to include approximately 45,000 acres, located within the Tribe's territory. It will also make the Tribe a joint lead agency for all major federal actions, pursuant to the National Environmental Policy Act, for certain areas anddesignate the Bald Hills Road, which runs from US Highway 101 to the Klamath River, as a Yurok Scenic Byway.

"The Yurok Tribe would like to sincerely thank Congressman Huffman for his tireless service on behalf of the Yurok people and the people of Northern California," concluded Vice Chairperson Gensaw.