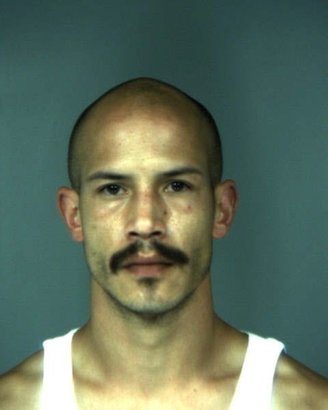 Nicholas "Nick" Leigl, once accused of murdering a 14-year-old Eureka boy, was released from jail this morning on his own recognizance.

"It does appear to me that he has served his full sentence," Deputy District Attorney Luke Bernthal told visiting Judge Bruce Watson today. That statement ended a long, hard-fought battle on both sides.
Leigl, 34, of Eureka was arrested along with three other men for the December 2014 murder of Jesus Romero Garcia. The boy was stabbed three times in the chest while staying at the apartment of Carolyn Snow, Leigl's girlfriend at the time. Leigl was in another room when the others came in and Garcia was knifed, but the prosecution was convinced he let the men into the apartment and knew what they were planning.
Three times the District Attorney's Office tried to get murder charges to stick, and three times they were thwarted by skeptical judges who said the evidence wasn't there. Leigl, who had disputed the claim that he belonged to a gang, finally pleaded guilty to participating in gang activity. He has been in jail about 18 months.
"I'm just glad it's almost over," Leigl's father Dan Leigl said outside court this morning. "He did a lot of time for being in the wrong place at the wrong time." He said he hopes his son has learned "to pick better friends."
The case is "almost over" because Nick Leigl will now be turned over to the U.S. Marshal's Office to deal with a federal misdemeanor drug charge from years back. Because he was in custody and couldn't attend his probation hearing, the federal government has him on a probation hold.
Defense Attorney Michael Acosta said after court that he hopes Leigl can attend a federal hearing within a couple of days, and that matter will also be resolved. He is represented in that case by a federal public defender.
The felony gang-activity charge Leigl admitted to is a "wobbler," meaning it can be reduced to a misdemeanor. Leigl is scheduled for sentencing in December. Provided he has behaved well, and provided he has removed all gang-related material from his social media accounts, he will earn a misdemeanor.
Leigl's undisputed role in the Garcia slaying was to put the boy in his car and drive him to the hospital. For unexplained reasons Garcia got out of the car about halfway there. He was found nearly dead the next morning on someone's front lawn. His heart and liver had been punctured, and he had lain all night in a cold, heavy rain.
Witnesses testified during Leigl's preliminary hearing that Garcia insisted his wounds weren't serious and he didn't want treatment. He was a runaway on probation and apparently feared being arrested.
The alleged stabber was 19-year-old Joe Daniel Olivo III, who reportedly was furious at Garcia for telling people he had requested protective custody while in Juvenile Hall. The prosecution says Olivo III was accompanied to the apartment by his father Joe Daniel Olivo Jr. and Mario Nunez. All three are confirmed gang members, and all await jury trial on a murder charge.