Daniel J. Meaney III
October 27, 1959 – August 4, 2017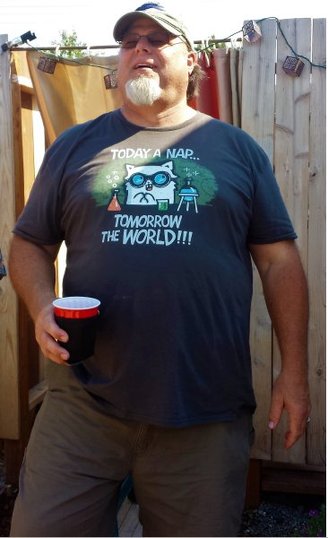 Daniel J. Meaney III, age 57, died at his home in Fortuna on the night of August 4, 2017. The cause of his death was Glioblastoma, Stage IV, a type of brain cancer, which was diagnosed last October, and which he fought valiantly for over nine months. Dan had the constant support of his wife, Donna, who was with him as he passed peacefully and he had intermittent help of family members. Dan received supportive care from staffs at the Neuro-Oncology Department at UCSF Medical Center and at the Jewish Home of San Francisco for rehabilitation, plus the staff St. Joseph's Hospital-Eureka Oncology Center and Home Health Program, Hospice of Humboldt and his primary care physician, Stephanie Dittmer with Open Door. Humboldt Patient Resource Center and Humboldt County Collective also provided caring service that increased Dan's quality of life. The love and compassion of Dan's wide circle of friends increased Dan's hope and sense of support, especially during his last month.

Dan was born in St. Paul, Minnesota, and he lived in Minnesota until 1971, when he moved with his parents and five siblings to Santa Barbara. Dan graduated from San Marcos High School in Santa Barbara in 1977, and after graduation he immediately enlisted in the Navy. Dan trained and served with honor for six years on the Nuclear Submarine USS Permit. After discharge from the Navy, Dan worked at Diablo and then Humboldt Bay Nuclear Plants as a nuclear chemist, retiring in 2015. Prior to retiring, Dan oversaw Radiation Protection for the Humboldt Bay Nuclear Plant. He also served as shop steward for I.B.E.W. at the plant.
Dan is survived by his wife of three years, Donna Matthews Meaney, and by his two brothers, Douglas (Susan) Meaney of Green Bay, Wisc. and by Shawn (Robin) Meaney of Cayucos, Calif., as well as by three sisters, Michelle (Glenn) LeBlanc of Nipomo, Calif., by Marcia (Tim) Little of Tempe, Ariz., and by Bridget (Dave) Myers of Boulder, Colo. Dan's father, Daniel J Meaney, Jr., died in North Oaks, Minn., in 2008, and his mother, Kenlyn Blecker, resides in Scottsdale, Aroz. Dan is also survived by his dog, Koby, whom he loved dearly.
Dan loved living in Humboldt County, near redwoods and the ocean, where he enjoyed his many friends, music festivals and an evening campfire whenever possible. Dan's passion was to enjoy life in the present, and this included gardening and traveling with his wife, home-brewing, backpacking with his best friend and taking his dogs to the beach. At the local brewery, Dan was well-known for his laughter and the camaraderie he shared with others. Dan also served on the Planning Commission for the City of Fortuna. He will be greatly missed by his wife, large family, and many good friends.
A celebration of his life will take place on August 19, 2017 at 527 Stillman Way in Fortuna. Donations (tax deductible) may be made in memory of Daniel Meaney to Americans for Safe Access, 770 L Street, Suite 950, Sacramento, CA 95814 or via their website.
The obituary above was submitted by Dan Meaney's family. The Lost Coast Outpost runs obituaries of Humboldt County residents at no charge. See guidelines here.