---
OBITUARY: Dennis (Denny) Michael Wendt, 1948-2017
---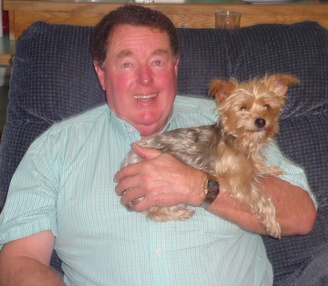 Dennis (Denny) Michael Wendt
Born in Scotia, CA May 11, 1948 and passed away in a car accident July 21, 2017.
Dennis was a lifelong resident of Fortuna, attending Toddy Thomas School and graduating from Fortuna High School in 1966. His first job was sweeping the wooden sidewalks in front of his father's barber shop on Rohnerville Road as a young boy. He continued his habit of working hard at White Grocery while attending high school. After graduating he attended a survey class at College of the Redwoods while working at a local plywood mill at night. From there had a 10-year stint with PG&E and ran the Speed Shop (his auto parts store) in his spare time.
He started helping his dad, Emil Wendt, the founder of Wendt Construction, build houses in Lawndale and separated from PG&E in 1977 to go into construction full-time. He partnered with his good friend Laurence Hindley and did concrete work with a cement mixer, shovels and a lot of back breaking labor. Laurence jerry-rigged an old tractor with a scoop so that they didn't have to use hand shovels. They were pretty proud when they were able to purchase an old dump truck and a backhoe.
In 1987 Emil retired and Dennis took over the reins of Wendt Construction and became more diversified to meet the needs and demands of the community including trucking, underground work, subdivisions and more. The company became a one-stop shop for all construction needs. He "lived to work and worked to live." He would jokingly tell the crew we were working a half-day today and ask if they wanted the first 12 hours or the second 12 hours. He enjoyed "making things happen," getting people into homes and being out in the field. He was like a kid in a candy store when surrounded by excavators and dozers digging in the dirt. He built a legacy in Wendt Construction and had a succession plan to ensure that the company would continue to serve the community long after he was gone.
Dennis was named Construction Person of the Year by the Humboldt Builder's Exchange in 1994, Citizen of the Year by the Fortuna Volunteer Fire Department in 2005, and the Fortuna Chamber of Commerce Business of the Year in 2007.
Dennis actually did relax at times. He was an avid participant in the drag races in Samoa in 1969 into the early 1970s. He raced a 1927 roadster dubbed "The Undertaker." He loved Corvettes and always had a least one in his possession. He loved auto racing and attended NASCAR events at several tracks over the years, as well as being involved in the stock car races at Redwood Acres in Eureka. He could be found at the baseball field at Newburg Park many nights and weekends watching the local kids play ball or at a Crabs game in Arcata. He was an avid Giants fan and managed to squeeze in a few games at AT&T park each year. When the seasons changed he attended basketball games at the high schools, Humboldt State University and College of the Redwoods.
He loved going to lunch with the Wendt crew or close friends and would often talk on his phone through most of the lunch hour while his food got cold. Going to the movies was relaxing, and it didn't matter how much he had eaten prior to getting there, popcorn was a must. Auctions and "getting good deals," were a daily occurrence and he kept the traditional annual abalone trips to Fort Bragg, which started with his parents when he was just a youngster.
Dennis loved to give and help others to the point that he was often taken advantage of, but he still continued his generous ways. He loved his community and was known for always willing to lend a helping hand to various youth organizations or during a disaster by donating labor, equipment or finances. He was humble and liked to stay in the background, but he was always only a phone call away when someone needed something. Fortuna is a better place because he was a part of it for all of his years.
His favorite events of the year were Rodeo Week and AutoXpo (these were the only two weekends that the Wendt Construction crew did not work) and the July 3rd fireworks festival. He gave out more than 100 passes for wristbands for the carnival every year, and loved to just walk through and see the smiles on the faces of all the children riding the rides. He was enthralled with anything that had an engine and could tell you the year and make of almost every vehicle he saw.
Dennis was preceded in death by his parents, Emil and Eleanor Wendt, and numerous aunts and uncles. He is survived by his daughter, Renee Capellini; his sisters Kathy Heuschkel and Vickie Collins; niece Dana Heuschkel; nephews Sean Collins and David Collins; great-nephew Draven Boyd; uncle James Meade; and numerous cousins, aunts and uncles.
Many people called Dennis a friend, but there were those that were privileged to interact with him on a daily basis for over 30 years, including Sue Long (Brandon, Derek, and Jayme), Ron Brown, Steve Murray, Kenny Demello and Tracy Dunaway. He will be missed by his close friends Laurence and Lisa Hindley, Wally Wright, Ross and Julie Rundell, Lester and Betty Phelps, Mike and Kathy Morgan, Mike Noah, the entire Wendt Construction crew, and his "group" family, which included Roger Harwood. There will be an empty seat at the sporting events that he attended with Joe, Tom and Gary.
A Celebration of Life is planned for August 13, 2017 at 2 pm at Fortuna High School. In lieu of flowers donations may be made to American Legion Southern Humboldt 76ers, P.O. Box 583, Fortuna, CA, 95540.
###
The obituary above was submitted on behalf of Dennis Wendt's family. The Lost Coast Outpost runs obituaries of Humboldt County residents at no charge. See guidelines here.
---
SHARE →
---
---