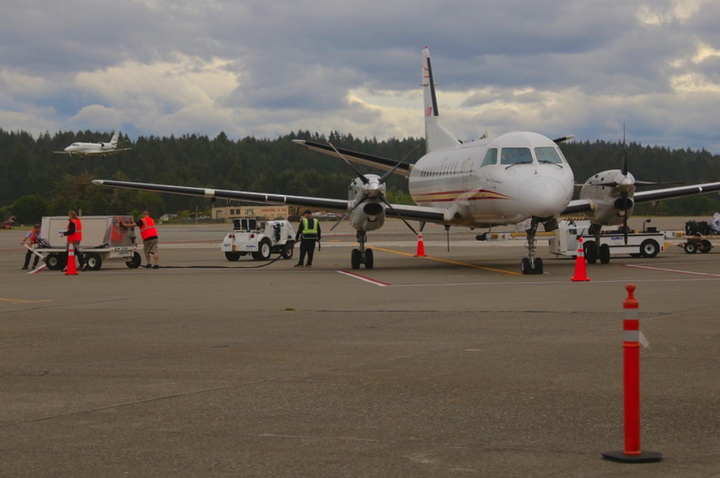 PREVIOUSLY: A New Era: LoCO Flew Direct From Humboldt to Portland This Morning (UPDATING: And Now We Are Stuck Here) (PHOTOS)
# # #
Humboldt's soaring woes continue. After just over a year, our fastest escape route to Portland is no longer an option.

PenAir quietly informed local airport officials today that it would cease its services between ACV and PDX. The last flights will be this coming Monday.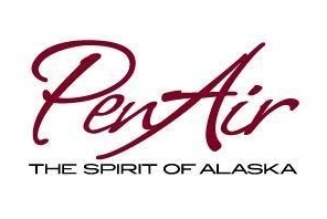 Emily Jacobs, program director with the Humboldt County Aviation Division, told the Outpost that she learned of PenAir's decision in a phone call this afternoon around the same time as did PenAir's locally based employees.
Humboldt is not the only airport PenAir is quitting. Jacobs said she was told that the airline told her they would be leaving all non-essential air service markets in the lower 48 states — for those keeping score, that means Crescent City will keep its cheap flights to Portland.
"We're definitely disappointed," Jacobs said. "It was a very successful route, and they were pretty full. But we'll keep on going and keep presenting our data on passengers to the airlines, and try to find something else."
Jacobs said one of the main issues affecting PenAir is a national pilot shortage.
"The mandatory retirement age for pilots is 65. It's such a large population that pilots are retiring – hundreds by the day. The major airlines are hiring pilots from the regional airlines."
# # #
UPDATE: A press release from PenAir below:
Alaska-based PenAir cancels Pacific Northwest area air service
Effective Tuesday, August 8, 2017, PenAir will cease operations of all non-EAS routes in the Pacific Northwest. This includes air travel on PenAir between Portland and Redding, Eureka/Arcata, North Bend/Coos Bay or Klamath Falls. The last scheduled flights in and out of Portland will be Monday, August 7. Flights operated by PenAir between Portland and Crescent City will continue as scheduled.

"The steps we are taking with closing Portland area routes will allow PenAir to cut costs, while management continues its focus on financial stability and safe operations," said PenAir CEO and Chairman Danny Seybert.

PenAir flies to eight destinations within Alaska, as well as the Denver and Boston areas. Passengers on all other routes can expect continued operations with no changes to flight times or services.

Passengers scheduled to fly out of the Portland markets after August 7, may contact the airline at 800-448-4226.
# # #
In other news, this from the Humboldt Crabs website about a special event happening at tonights game:
Also, on Aug. 4th — Crabs PenAir Sweepstakes: One lucky Crabs fan will win a pair of airline tickets courtesy of PenAir, Humboldt Beer Distributors, Dave's Place and the Crabs. Click on this LINK to learn more. Winner announced at the game.
(UPDATE: KIEM-TV GM and friend o' the LoCO J Warren Hockaday reaches out to the Outpost to assure us that his station — co-sponsors of tonight's PenAir Ticket Giveaway which concludes at this evening's Humboldt Crabs game — will "do the right thing" for whoever wins tonight's big contest.
Trust in J Warren.)