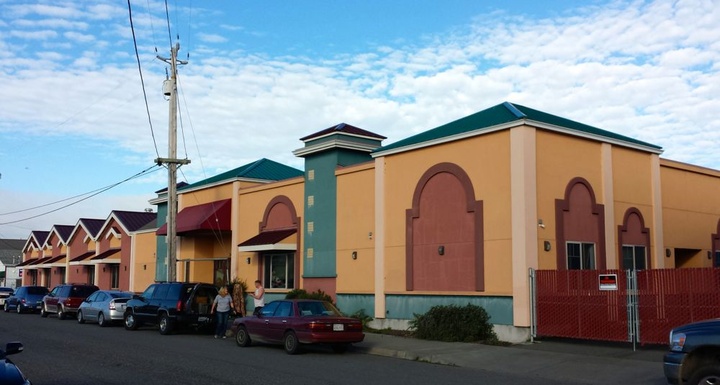 Two years after Eureka's Multiple Assistance Center — aka "The MAC" — was repurposed as a rapid-rehousing facility for the chronically homeless, the building is again being adapted for a collaborative new approach at solving the city's most intractable problems: homelessness, mental health and substance abuse.

In its new incarnation, called Waterfront Recovery Services, the building will include both residential treatment services and an in-house, medically monitored detox program, making it the county's first and only dual-diagnosis facility. The agencies collaborating on this effort hope that by simultaneously confronting the intertwined issues of mental health and substance abuse they'll be able to have an impact where previous efforts have fallen short.
"Currently we're fighting an elephant with a pea shooter," said John McManus, director of the Eureka nonprofit Alcohol and Drug Care Services, Inc., a detox facility located on C Street in Eureka. His organization will soon be offering treatment from the larger, ADA-compliant confines of Waterfront Recovery Services.
McManus said it has been a challenge to afford the employees clients need, but thanks to this new collaboration his organization was recently certified through the state's Drug Medi-Cal Organized Delivery System, an important benchmark that "will bring a lot more treatment dollars to the area," he said.
Waterfront Recovery Services will function as a 56-bed residential substance abuse treatment program, with 20 beds slated for detox and the remaining 36 for residential treatment (16 for women and 20 for men). That's a significant upgrade from the 29 beds currently available at Alcohol and Drug Care Services. Resident stays at Waterfront Recovery Services will vary from 72 hours up to six months.
The combination of medical detox and residential treatment may be exactly what the local homeless community requires. Roughly 90 percent of residents in The MAC over the past two years were diagnosed with either mental illness, substance use disorder or both, according to Eureka staff, and many struggled to find permanent housing due to their addictions. McManus is confident that the new facility will be more effective.
"Basically it's a significant upgrade in residential treatment and detox services," he said.
Funding for the first 18 months will come primarily through a $1.6 million grant recently awarded to Providence St. Joseph, the faith-based parent organization of St. Joseph Hospital. Julie Malvey, vice-president of mission integration at St. Joe's, said the grant was awarded by the state because of the collaboration on this project, which also includes involvement from the Redwood Community Action Agency (RCAA), the North Coast Health Information Network, the City of Eureka (which leases the building to RCAA) and the Humboldt County Department of Health and Human Services.
Martha Shanahan, St. Joe's area director of community benefits, said the new facility's staff will include a physician overseeing services and a psychologist "who's qualified and trained to treat behavioral health issues and prescribe meds for the detox process."
The facility is tentatively scheduled to open on Sept. 11. All the residents who had been at The Mac have since been placed in permanent or transitional housing, according to the City of Eureka, whose staff call the changes an "evolution of the facility."
RCAA will manage the facility and provide staffing and case management services to people both during and after their stays, including help finding housing and building careers.
"That's what's unique," said RCAA Community Services Director Lori Keele. "We really want to make sure they have everything they need once they leave to continue to do well and be successful." Staff will help clients deal with a variety of issues, "not just substance abuse," she added.
Keele said the collaboration on this endeavor needs to extend beyond the agencies involved to include area landlords, the county's employment training division and anyone else "who can guide people into a healthy lifestyle."
While many in the area have grown frustrated with Eureka's persistent problems with homelessness and addiction, McManus is confident that this new collaborative approach will be effective in addressing the issues.
"It's going to work," he said. "I have full confidence that it's going to work."