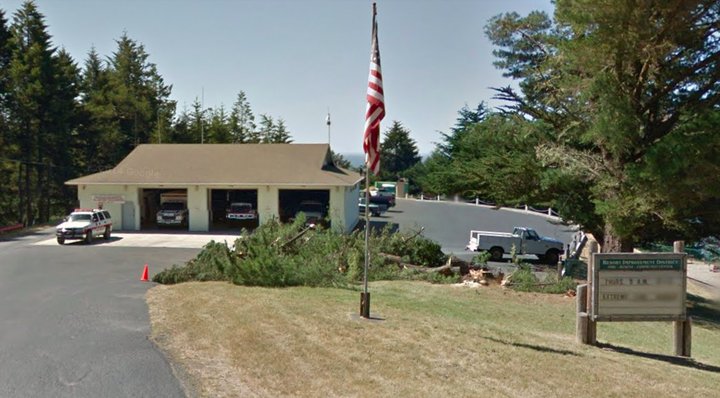 UPDATE, 3:15 p.m.:

Rex Olander says he "absolutely" wants to press criminal assault charges against former Shelter Cove Resort Improvement District General Manager Philip Young.
Olander alleges that Young punched him three times in the face and stepped on his thumb during an altercation behind the Resort Improvement District building last Thursday.
Reached by phone this afternoon, Olander said the heated confrontation concerned public access to a piece of property Olander owns. The land has an easement granting access to Resort Improvement District staff, but Olander said that during a public meeting last week Young was encouraging members of the general public to ignore a "No Trespassing" sign posted on the parcel.
"I've been having trouble with this particular property, with people dropping stuff off, their garbage, and vandalism," Olander said. Resort Improvement District staff needs to cross the property to reach a pump house, but Olander said nobody else has a right to be on the land.
"He knows better," Olander said of Young. "When I asked him what his bosses would think [of his statements at the meeting], that's when he went totally ballistic. He was ranting and raving at me, calling me all kinds of names, just like junior high school shit."
Olander said a young office employee came out and told the two men to calm down. Olander had seen security cameras posted on the building exterior and asked if they recorded audio along with video, he said. Young then walked around the backside of the building and motioned for Olander to follow, Olander said.
"I thought he wanted to get away from any soundbites," Olander said.
Here's how Olander described the alleged assault:
"He [Young] takes off his glasses, throws them on the front of a truck and says to me to take mine off. I refused, said I wasn't gonna box him in my good clothes. And that's when he Sunday punched me.

"I'm ashamed I was so unprepared for that. He hit me three times. I got a black eye, he busted my dentures and tore my mouth up. And he stomped on my thumb one time when I was getting off the ground."
When the Outpost contacted the Humboldt County Sheriff's Office earlier today we were told that the victim (Olander) didn't want to press charges, but Olander said he merely told a deputy that he didn't want Young to be hauled off to jail for Christmas.
Olander said he took pictures of his wounds and considers Young a bully.
"I absolutely do want to press charges," he said. "The guy needs to be collared."
The Outpost has reached out to Young for comment but has yet to hear back.
###
Original post: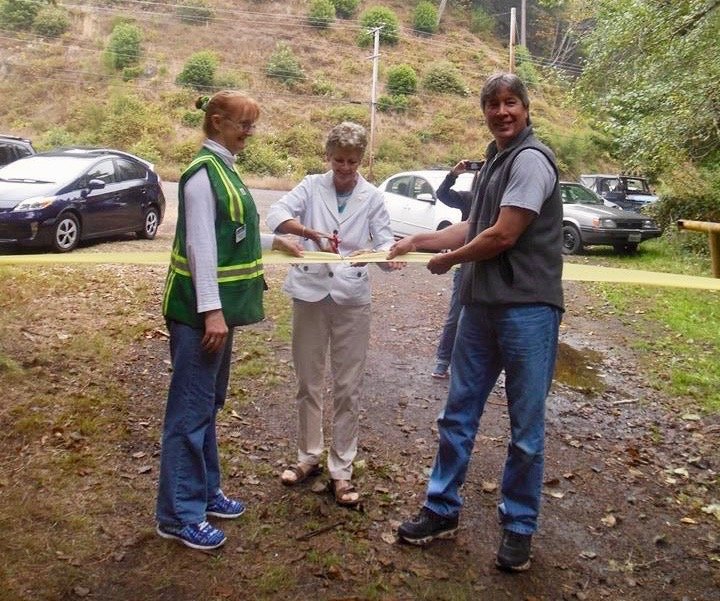 The remote, unincorporated community of Shelter Cove has been left without a general manager for its Resort Improvement District, the government agency that manages community utilities, following the unexpected resignation of GM Philip Young this past Friday.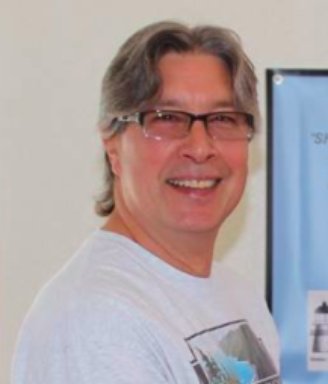 Susan Fox, president of the Resort Improvement District Board of Directors, confirmed to the Outpost that Young tendered his resignation on Friday and the board met later that same day, voting unanimously to accept his resignation.

While Fox declined to comment on the reason for his sudden departure, citing public employment law, a Facebook post from Friday morning accuses Young of assaulting a resident named Rex Olander inside the district office on Thursday, and the Humboldt County Sheriff's Office did respond to a Dec. 21 report of "assault and battery" at the district office. Olander was listed as the reporting party for the call, which came in at 6:47 p.m. on Thursday, Dec. 21.
Sheriff's Office Public Information Officer Samantha Karges told the Outpost via email that "the victim only wanted the incident documented and did not press charges against the other party involved."
The Facebook post, which was made through Olander's account but apparently written by a woman named Justine, says the alleged assault stemmed from a dispute over a public easement through Olander's property granting the Shelter Cove Resort Improvement District access to a pump house behind Humboldt Loop Road.
The post says that Young instructed people at the meeting to disregard a "Private Property" sign on Olander's property, and that when Olander went to the district office to protest, an argument ensued. Here's part of the post:
Folks what transpired next is beyond belief. And morally reprehensible.

The man hired to work with the community and represent the members of our lovely beach town resort became belligerent and verbally abusive the moment Rex began to question the manager's actions during the meeting earlier in the day. In fact Mr. Phillip Young lured Rex around to where no cameras could see and he punched Rex in the face.

Being caught off guard Rex still had his glasses on. When this public figure working for us knocked Rex to the ground Rex's glasses fell off of his face. And while working to retrieve them the assailant stomped on Rex's thumb and continued to work on Rex's face. Causing his dentures to tear up the inside of his upper palette [sic] and creating a huge lump on his left temple.
The Outpost reached out to Young via Facebook for a response but has yet to hear back. He had been general manager of the Resort Improvement District since at least 2013.
We also left a voicemail for Humboldt County District 2 Supervisor Estelle Fennell and called a number listed under Olander's name, but there was no answer.
Fox, the board president at the Resort Improvement District, said that in the absence of a general manager, policy holds that the person in her position "steps in to help out." The vacant position will be discussed at the next district board meeting, scheduled for Thursday, Jan. 18, at 9 a.m.