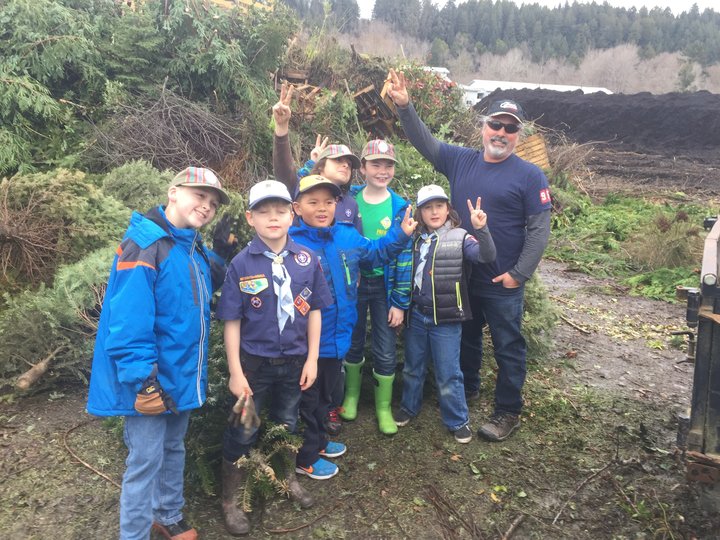 You've had your Christmas fun. Now it's time to get that dead and decaying firetrap of a tree out of your house. But how do you do that? What are your options?
In the past, in many parts of the county, scouting troops and/or packs have offered to come to your house to pick that sucker up in exchange for a modest donation. That's happening again this year, too, at least in Arcata, McKinleyville and Eureka. See below for details.
Are other troops in other parts of the county offering curbside tree pickup? Possibly! But since local scouting troops don't have people manning an 800 number around the clock, we were unable to ascertain whether or not this is the case. They will see this post and let us know the details, and then we will update this post with those details. That's how these things work sometimes.
Don't see your local troop below? Your last-ditch option is to drive the sucker to the waste transfer station for free disposal. Details on that follow all the scouting troop details at the bottom of this post.
OK — here we go!
ARCATA/MCKINLEYVILLE:
Greetings, LoCO:

I'm hoping you can help us spread the word that Cub Scout Pack 95 will be picking up Christmas trees and hauling them to greenwaste as a community service project. Here's the details:

Cub Scout Pack 95 will be picking up Christmas trees in the Arcata/McKinleyville area on Saturday 12/30/2017 and Saturday 1/6/2018 and hauling them to greenwaste for recycling. Folks interested in having us pick up their tree should call or text (707) 440-9272 or email arcatacubscouts@gmail.com. You should leave your name, address, phone # and your preferred pick up date. Note that this number can receive text messages for those that prefer this over leaving a voicemail. We request that folks leave a donation for the tree pick-up services but it is not required - folks that wish to donate can leave any amount they wish…typical donations are in the $5-$20 range but again its totally up to the individual if and how much they wish to donate. The activity is primarily to provide a community service but any provided donations will be used to help fund Scouting activities such as camping trips and day outings, Pack activities such as bowling, swimming, roller skating climbing wall etc.

So please help spread the word so we can have a robust pick-up schedule - it's lots of fun for the Scouts so the more trees the better. Thanks for your support!
EUREKA (AND ARCATA/MCKINLEYVILLE, AGAIN):
You've enjoyed your Christmas tree through the season and now it is time to dispose of it. Save yourself the time and hassle, and call your local scouts.

In Arcata and McKinleyville we will be picking up trees on Saturday, Dec. 31 and Jan. 6. In Eureka we will be picking up the last weekend in December and on Sunday, Jan. 7.

To schedule a pick up, call or text our hotline at 707-440-9272. Leave your name, address, phone number and preferred pickup date or email your information to arcatacubscouts@gmail.com.

Please have your undecorated tree ready and waiting curbside by 9 a.m., and we will stop by during the day and pick it up. Sorry, we cannot pickup flocked trees. Your donation of $5 to $10 is greatly appreciated and benefits local scouting.

Thank you and Happy Holidays!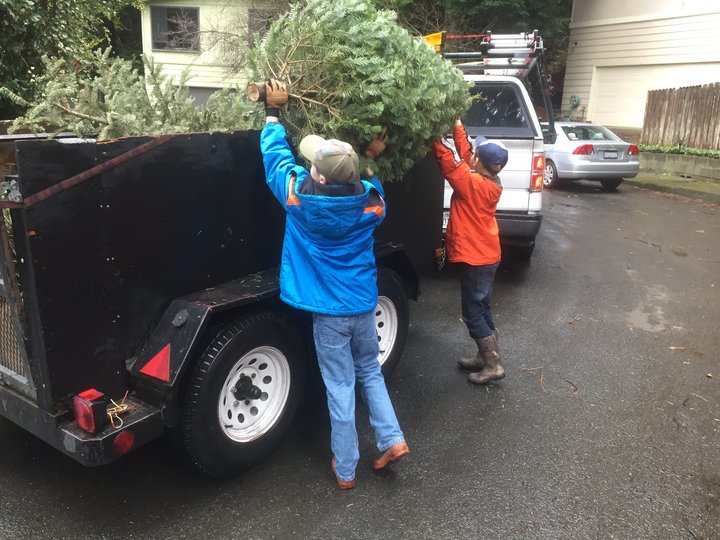 TRASH IT YOURSELF:
From the Humboldt Waste Management Authority:
HWMA will be accepting Christmas trees for drop off at no charge at our Hawthorne Street location December 26, 2017 through January 15th 2018. Trees can be placed in the large blue bin across from the transfer station scale house. Questions? Please call 707-268-8680.
Waste Management Authority HQ.