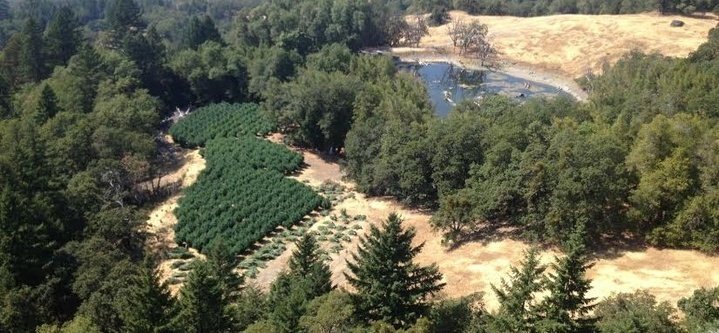 California is on the verge of launching the world's largest legal marijuana market, and yet the weed industry here in Humboldt County, internationally renowned for dank buds, finds itself in decline — at least in terms of profits.
Tales of dwindling returns this year are rampant. Kevin Jodrey, a longtime cultivator and owner of Garberville's Wonderland Nursery, said local growers are selling pounds for "anywhere between $500 and $700." In a good market, a pound of high-quality outdoor-grown cannabis might still sell for $900, he said, but even that's a dramatic decline from a year ago, when pounds were going for closer to $2,000. And prior to the 2008 financial collapse local growers were commanding $4,000 per pound, Jodrey said.
Growers who are working to join the legal and regulated marketplace are feeling the pinch especially hard. "If you're a craft farmer in Humboldt County, like myself, you're struggling because the market is driven by volume right now," said Sunshine Johnston, who's operating a 4,000-square-foot grow near Redcrest and has a permit application pending with the county to increase her farm to 10,000 square feet.
As of this week, the county has approved just 99 permits, 86 of which are for cultivation. (The other 13 are for manufacturing, distribution, or a dispensary.) That leaves more than 1,700 permits awaiting approval, but even that number represents just a fraction of the estimated 15,000 grow operations in Humboldt County alone.
The swollen ranks of black market operators across the state have been flooding the market with product, rushing to capitalize before the regulatory landscape changes on them. Once legalization hits, dispensaries will no longer be allowed to get their supply from people with secret grows in their garages and backyards. They'll have to buy weed that's been tested, certified and tracked from seed to sale.
For every grower unable or unwilling to go legit, with all the red tape and fees that entails, this year has been the last hurrah, in some ways. (Interstate sales and distribution still account for the majority of black market profits, by all accounts.)
"Cannabis 2017 is cannabis on steroids," said Terra Carver, executive director of the Humboldt County Growers Alliance, a nonprofit representing 162 local weed businesses. "Anybody and everybody is growing as much as possible across the state with no regulations, no testing," no government-imposed bottlenecks to hold back "that tidal wave of product," she said.
"That's a problem," Johnston said. "Everyone's driving the price down. It just sucks."
Jodrey agrees that this transition period has been painful and confusing for many local growers. "People are basically just trying to survive," he said. "I don't think anybody understands what's about to happen."
One result of the over-supply of weed has been a lot less cash flowing into the local economy. This trend impacts even those businesses with no direct connections to the industry.
Shelley Nilsen, owner of Express Employment Professionals and chair of the Greater Eureka Chamber of Commerce, told the Outpost via email, "I have heard from many local retail businesses that they are down this year, many of them significantly down. People just aren't dropping cash like they have in years past."
Jodrey said he's been approached by "county leaders and powerful businessmen in normal business [who] realize they're about to lose all the disposable income in the county. … Cultivators are the backbone of the Humboldt County economy," he said. "Who buys at grocery stores? Who eats at restaurants? I'm nervous watching all these people I know start to go bankrupt."
So is this the beginning of another economic collapse in Humboldt County, with the end of the Green Rush echoing the previous collapse of Humboldt's timber and fishing industries? Or does this lean year merely reflect a painful but ultimately fruitful transition from an illicit criminal black market to a well-regulated agricultural industry, one that could offer a more stable foundation for our economic future?

###
For growers like Johnston, the regulations feel more like a burden than an opportunity so far.
"In the short term I'm very worried because farmers have already spent all their savings just to become compliant," she said. "Attorneys and consultants ripped us off. People don't have savings going into state licensing."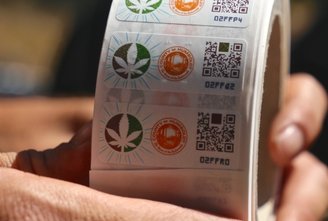 Johnston also said local growers are worried about the expense of the county's track and trace program, which she said "will jack our cash flow."

She feels the county didn't adequately consider the total costs for growers to come into compliance with multiple agencies, and she argued that the county's taxation system should have been based on yield rather than square footage of cultivation area. The current system puts "craft farmers" at a disadvantage, instead benefitting high-yield growers, she said.
That's the same criticism leveled against state lawmakers' recent decision to eliminate a proposed one-acre cap on growing operations. The cap was nowhere to be found in emergency regulations released by the California Department of Food and Agriculture last month. Unless it's overturned, this omission would effectively allow grows of unlimited size in some parts of the state.
The decision to eliminate the one-acre cap, which followed intense lobbying from industry insiders, runs counter to both Prop. 64's pitch to voters and the recommendations in a 2015 report from the Blue Ribbon Commission on Marijuana Policy, which warned against "a market dominated by large corporations that could exert increasing influence on the commercial and political process."
Nathan Whittington, who operates the Ladybug Herbal Sanctuary Cooperative and has a 2,500-square-foot grow near Ferndale, said that he and other members of both the Humboldt County Growers Alliance and the California Growers Alliance urged state lawmakers to keep the cap. "We're still working with the state on that issue," he said. "There's a big difference between being mass produced, like the Budweiser model, and the smaller microbrew model."
(As industry website Leafly notes, however, even that cap might not prevent big corporate interests from dominating the industry since they could conceivably stockpile a collection of once-acre permits.)
But Whittington is more optimistic than some of his industry cohorts. "We're leading the state right now," he said, referring to Humboldt County. "We were the first ones to have an ordinance, the first ones to have a regulatory system."
He and his business partners are holding onto their fall harvest so they have product ready for the statewide marketplace in the new year, and he said much of the work local growers did to come into compliance with county rules will translate easily to the state system.
Growers in other counties will have a more difficult time, he predicted. Most local governments don't have a regulatory system up and running yet, and some have chosen to ban cannabis cultivation altogether. "This will give us a chance to demonstrate that our products are sustainable, and we can get a piece of the market share," Whittington said. "I think we're in a good position to lead the charge for the state."
He did acknowledge that there's a lot more to think about and navigate in the world of legal weed. "As an owner of a small family business, I'm having to take on many roles in relation to compliance — making sure we're compliant with the Ag Department's pest management concerns, doing the bookkeeping, making sure we're in line with the state rules."
Johnston agreed that it's critical to stay on top of such things. "If you're a farmer and you're not working on your business, you're getting behind," she said. "There are so many more costs now."
Jodrey, meanwhile, said local growers still have a lot to learn. He spoke to the Outpost from a cannabis business convention in Hawaii. It's the kind of event he's been attending for years now, meeting with investors across the country in hopes of getting a leg up during the early days of the legal marketplace. That's not something many other locals have been doing, he said.
"The problem is, Humboldt County farmers are usually quiet, private people. They're not really suited to do that," he said. "Our ignorance is a real detriment right now."
Unlike Whittington, Jodrey sees our region in a much more precarious place economically. Humboldt County has the ability to create a thriving legal industry, he said, "but we need a system for easier permitting access. We need to simplify the process. Otherwise we'll lose out to industrial grow operations in the high desert and down in Southern California. … The county has to take a look and understand that unlike other places in the U.S. we are completely cannabis dependent."
Nilsen disagreed, saying there's more to the local economy than cannabis, though she admits that it plays a big role — probably too big. Humboldt County needs to diversify, she said.
"If all we are good for is marijuana (or any other single industry), then we are not thinking big enough as a community," Nilsen said. "We need to pursue other type of manufacturing as well as [information technology], and we need to make sure our infrastructure, such as our transportation system, is capable of supporting a variety of industries."
There are plenty of jobs available in the county, especially for skilled tradesmen in the construction industry, including plumbers, roofers and electricians, Nilsen said. She also noted that the health care field is "wide open," with entry-level jobs as medical assistants and billers as well as more advanced positions such as RNs, respiratory techs, X-ray techs, and practice managers.
"Really, any type of work that requires trade school and on-the-job learning is in high demand and we are seeing wages push up, especially as you gain that experience," Nilsen said.
As for the legal cannabis industry, she and others noted that it's still early days. "Major legislative changes take years – even a decade or more – to really solidify and be fully implemented," Nilsen said. "I think this will be the case with marijuana. There are so many issues to work out in terms of how to govern it, we haven't even identified them all yet. … We can expect a lot of uncertainty around it for years to come."
Carver said she likes Senator Mike McGuire's analogy: we're building a plane while flying it. "I think we'll start seeing things become more normal in 2019 or 2020," she said, noting that supply chain problems, like a statewide shortage of retail outlets and testing labs, will take some time to get worked out.
And she agreed with Nilsen that the community needs to look beyond marijuana.
"It's really important that Humboldt County start looking at a diversified model to be able to supplement the economy that it has now," she said. Specifically she suggested focusing more on tourism, with a unified Humboldt brand and marketing campaign. "We have so much to offer up here that isn't cannabis but that can be supported by those who use it," Carver said.
Calling legalization "one of the biggest opportunities we've ever had," Carver said she's optimistic about the county's economic future, as long as people focus on combining our cannabis assets with tourism and other industries. She imagined an ad campaign that convinces a millennial in Los Angeles that "the best road trip in life" is a drive up to Humboldt County, along the Lost Coast, with dinner at Gabriel's, a photo op at Patrick's Point, and sure, maybe a stop at a local dispensary or farm.
"If we don't start engaging in those conversations we will not only feel the loss of money flowing in from illegal [grow operators], we will have lost an opportunity to create something better for the whole community," Carver said.