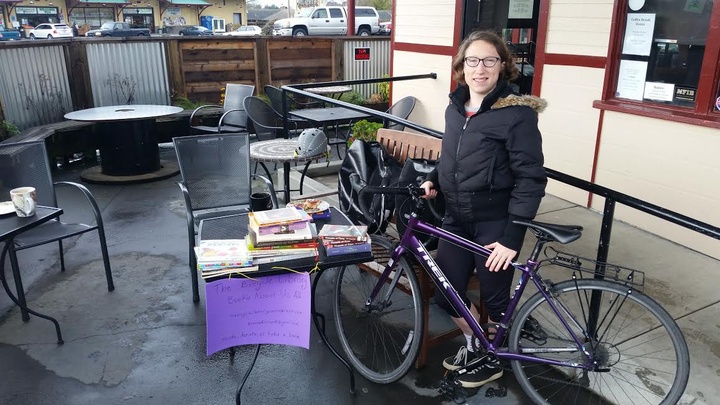 There's something about Humboldt that encourages human-powered low-tech arts and culture: the Kinetic Grand Championship, the Poem Store and now, the Bicycle Library. Not to be confused with the library that lends bikes, this newest endeavor uses cycle power to bring books to the people.

Like many across the nation, Bicycle Librarian Elanna Erhardt was troubled by the divisiveness of the recent presidential election. The day the election results were announced, she went to the Arcata Co-op for some lunch – and walked out into the aftermath of the noon-hour stabbing that occurred out front. This left her troubled, saddened … and determined to do something. So Erhardt has taken her freshly-minted Master's degree in Library Science from San Jose State on the road.
Her project is to build community, person by person, book by book. Using her purple 10-speed Trek, Grapesicle, with panniers full of books and a satchel of pamphlets, she has devised a way to deliver books with "content inclusive of all identities and cultures, as well as how-to books" along the streets of Arcata.

Her goals are "to encourage conversation, learning and collaborative engagement." She offers books, community announcements and "a little conversation." More like a mobile Little Free Library than a Bookmobile, at the Bicycle Library people are encouraged to borrow, trade or simply take books; Erhardt doesn't catalogue or keep track of books in any way.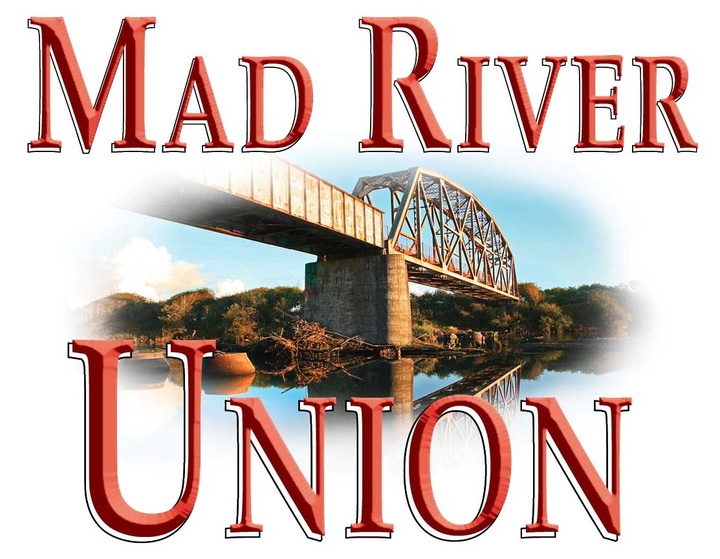 The Bicycle Library carries multicultural novels and autobiographies by people from marginalized cultures not only to appeal to members of the diverse cultures present in Arcata, but also to provide windows into other lives. "When you're not curious," she said, "that can become dangerous." Her goal is to help people develop the values of community, to engage them in learning about who people are, and to foster tolerance for differences.
So why include how-to books? "Because if you're going to do a project," said Erhardt, "you're going to need some help, so you'll probably get someone to give you a hand." And that builds community too.
Erhardt launched the Bicycle Library Saturday, Jan. 21 on a route planned to reach diverse Arcata communities. She plotted out several stops where, every Saturday she intends to set up her sign, a book display and fliers about community services and organizations.
Although her first outing was cut short by bad weather and the need to attend the Women's March in Eureka, Erhardt reported that the first day on the trail went well. "I shared books with three moms and an aspiring guitarist at different stops along the trail," wrote Erhard in her blog. She added that the people who chose to engage with the library "were excited about its existence, and either took books or wanted to contact me later about donating from their personal collections."
It's exactly the type of interpersonal interaction she was seeking. Erhardt grew up in Missoula, Mont., one of five children of a single mother. On her side of the digital divide – the ever-shifting socioeconomic line that divides the technological haves from the have-nots – she only had limited internet access. When she got bored, she would leave home and find people in her community to talk to.
Ironically, completing her library sciences graduate degree online led her to experience a type of digital isolation as an adult. "The loss of interpersonal communication is a detriment to people and isolating," she said, clearly speaking from experience. Once she completed her studies, she began seeking, once again, opportunities to engage with people "on a very genuine level."
In the few years that have passed since Erhard was a child, the growing ubiquity and affordability of technology has further isolated neighbors from one another. Her fear is that this isolation will increase under the new presidency, "that people won't feel it's important to know other people around them," she lamented. Following the Women's March, she added, "my sense of hope is lifted with the turnout of approximately 5,000 people of all genders, races, ethnicities and ages in our community. But more work still needs to be done to maintain bridges among one another, and to maintain a sense of hope."
"I believe that this sort of positive, constructive community involvement is important especially after the results of our presidential election," said Erhardt. "I want to support the wellbeing, happiness and positive outlook of my community."
Erhardt estimates that the Bicycle Library will require 50 to 75 books per week. She was able to get enough for the first week with donations from Holly Yashi and the Tin Can Mailman. Erhardt says she is always happy to accept relevant book donations from local organizations and community members.
In order for the Bicycle Library to be successful, Erhardt estimates it will need $2,500 to $3,000 to pay for a small storage space, bicycle (plus maintenance and repair), a bicycle trailer, and secondhand books to keep a full supply if donations run low. She accepts book donations and would like to offer books not only in English, but in Spanish and Hmong, other languages that are spoken locally. Books for all reading levels, from children to adults, are appreciated.
She is also open to collaboration; if you have an interest in becoming a Bicycle Librarian, or if you have books or other goods and skills to donate, you can contact her at ElannaErhardt@gmail.com. Keep up with the Bicycle Library at thebicyclelibrary.wordpress.com and through Instagram at bicycle_library.
###
BICYCLE LIBRARY SATURDAY ROUTE

• 10 a.m.: The Coffee Break, Sunny Brae
• 11 a.m.: Arcata Plaza
• noon: Wildberries Marketplace
• 1 p.m.: Greenview Park
• 2 p.m.: Janes Creek Meadows Park
Visit thebicyclelibrary.wordpress.com for the most up-to-date schedule.
BICYCLE LIBRARIAN'S RECOMMENDED BOOKS

Identity category:
• Spare Parts by Joshua Davis
• Cesar Chavez by Ginger Wadsworth
• White Teeth by Zadie Smith
• Their Eyes Were Watching God - Zora Neale Hurston
• How Do I Begin?: A Hmong-American Literary Anthology by Hmong-American Writers' Circle

How-To Category:

• How Many? – Native American Authors documenting their languages in a children's book for language learning
• Everything Kids' Spanish Book – childrens' language learning book
• Turning Boxes by Richard Raffan
• Big Book of Beautiful Beads by Jeanette Shanigan & Jane Davis
• Awesome Lego Creations with Blocks You Already Have: 50 New Robots, Dragons, Race Cars, planes, Wild Animals and other Exciting Projects to Build Imaginative Worlds by Sarah Dees
###
Lauraine Leblanc is scene editor of the Mad River Union. Subscribe here.