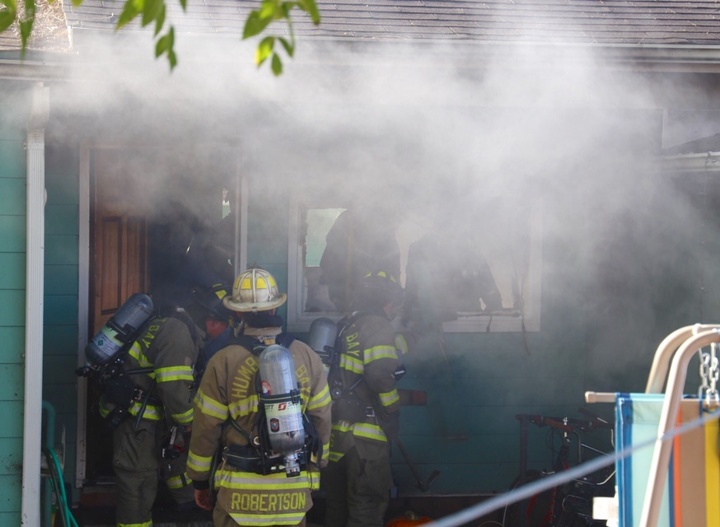 PREVIOUSLY:
Humboldt County Office of the District Attorney press release:
On January 19, 2017, a Humboldt County jury convicted Devin Lee James Schmidt, 24, of arson of an inhabited dwelling, which is a serious and violent offense under the California Penal Code.

The case against Schmidt arose from a fire in a residence on Muncie Street in Eureka on November 3, 2015. That same day, Humboldt Bay Fire Department Arson Investigator Captain Michael Landry determined the fire was intentionally set. His observations included a gas can with blood on it inside a bedroom and blood on the exterior of the house. During Captain Landry's investigation, Schmidt arrived on the scene with bandages and cuts on his hands. A neighbor identified Schmidt as the person seen leaving the residence near the time of the fire. Firefighters detained Schmidt until law enforcement arrived.

Humboldt County Sheriff's Office (HCSO) Deputy Andrea Sherrod led the law enforcement investigation. HCSO Evidence technician Andy Campbell acquired blood samples from the gas can, outside the residence, and the defendant. California Department of Justice (DOJ) criminalists determined that it was Schmidt's blood on the gas can and outside the house.

The court referred the case to the Humboldt County Probation Department for pre-sentencing reports. Sentencing is scheduled for February 23, 2017. Schmidt faces a potential maximum sentence of 8 years in state prison.

The case was prosecuted by Deputy District Attorney (DDA) Adrian Kamada with assistance from District Attorney (DA) Investigators John Burke, Gary Cooper, and DA Information Systems Analyst Tom Pinto. Schmidt was represented by Deputy Public Defender Kelly Neel. The District Attorney's Office appreciates those who testified in the case, including the victims, neighbors, firefighters (Captain Landry, Chief Chris Emmons, and Firefighter Kyle Brown), law enforcement personnel (Deputy Sherrod, Sergeant Justin Braud, and evidence technician Campbell), and DOJ criminalists (MaryJo Olegario and Lynn Melgoza).