---
(UPDATE) (AUDIO) Police Receive 911 Call Threatening 'Mass Shooting' in Eureka Today
---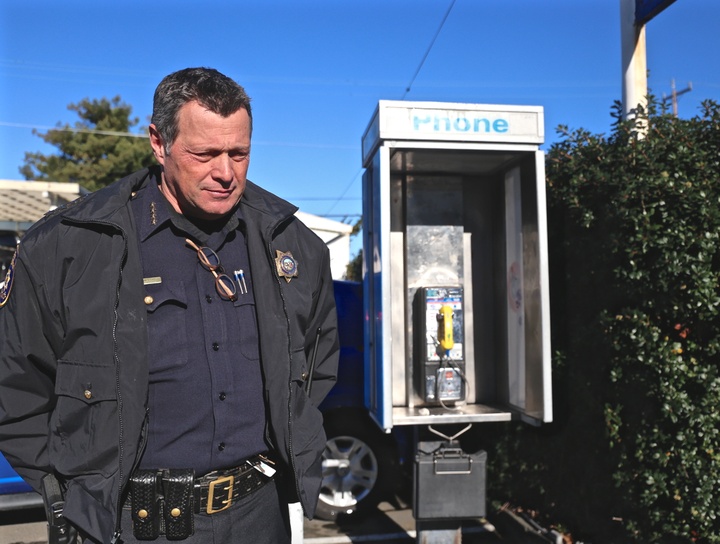 UPDATE, 12:10 a.m.:
###
UPDATE, 11:30 a.m.: Eureka City Schools sent out the following message to students, parents and others in the community:
Message from Eureka City Schools superintendent
###
UPDATE 11:15 a.m.: The Outpost's Andrew Goff caught up with Eureka Police Chief Andy Mills near the pay phone used to deliver the threat this morning. Mills said that while police are taking the threat very seriously, and have contacted local schools and courthouse staff, there is probably no immediate call to panic.
"I don't think people should be overly concerned," Mills said.
Eureka police receive a number of such threats throughout the year, he said, and the majority of them turn out to be "less than credible." In this case, Mills said, it is notable that the subject did not mention a specific target.
###
Shortly after 10 a.m., numerous people began contacting the Outpost saying that they had been warned that police had received an anonymous threat that there would be a mass shooting somewhere in Eureka today, perhaps at or near the Humboldt County Courthouse. County employees were warned, apparently, and a couple of people told us that a bailiff announced the threat to around the courtrooms on the second floor.
The word quickly went out to friends and family. Attempts to reach the Sheriff's Office's public information officer, as well as the county's general PIO, were unsuccessful.
But the Eureka Police Department just released audio of the threat, which was received from a pay phone on Fourth Street:
Press release from the Eureka Police Department:
On January 5, 2016 2017 at about 8:57 a.m., the Eureka Police Department received an anonymous 911 call from a payphone on the 800 block of 4th Street that there was going to be a massive shooting in this town. Officers are currently investigating the credibility and source of the call. There were no specific targets or locations named in the call. The Eureka Police Department is taking this threat seriously and are making the necessary notifications as a precautionary measure.
---
SHARE →
---
---