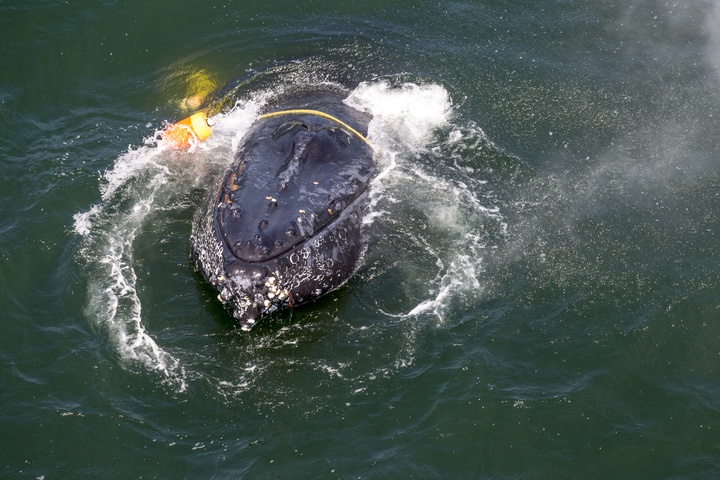 UPDATE, 5 p.m.:
Milstein reports that the whale is free! Swim free, whaley!
UPDATE, 4:25 p.m.:
Rescue workers today have managed to cut several of the lines wrapped around the head of the whale (and visible in the photos here), but the humpback's tail remains tangled in fishing gear and weighed down by something heavy, NOAA spokesperson Michael Milstein said this afternoon.
"They're trying to come up with ways to lift the tail closer to the surface so they can access it, but so far that's been a real challenge," Milstein explained.
He added that "quite a few people" are involved in the rescue effort, including local fishermen. They plan to be out on the ocean until dark this evening and then go back out tomorrow to continue the operation.
# # #
Original post:
A team of scientists and rescuers is working off the coast of Crescent City today, trying to release a humpback whale that's been tangled in fishing gear since last week.
The Outpost spoke briefly this morning with Humboldt State University marine mammal biologist Jeff Jacobsen, who's part of the team trying to free the whale. "We're right in the midst of it right now," he said shortly after 10 a.m.
Several crews are out on the water with drones, cameras and tools, trying to figure out how to cut the whale free and whether they can do so safely, said Justin Viezbicke, a stranding coordinator with the National Oceanic and Atmospheric Association.
"The whale is severely entangled and grounded in one spot," Viezbicke said. "They'll be working with knives and tools we've developed on long poles to try to bring the whale to the surface and make cuts to get it free of the gear."
The whale has been stuck in a spot about two miles offshore of Crescent City's Battery Point since at least Thursday. That's when the National Marine Fisheries Service first received a report of the entangled whale. The ocean is about 400 feet deep in that spot, Viezbicke said, but the whale is wrapped in enough gear, including an anchor, that it's being held in place.
Such entanglements have become increasingly common in recent years. NOAA had 71 reports of whale entanglements off the West Coast last year alone, the highest one-year mark since the agency started keeping records in 1982. Over the past two years, the vast majority of entanglements have been caused by gear from the Dungeness crab commercial trap fishery. Last year, for example, NOAA was able to definitively associate 29 entanglements with specific fisheries or gear types. Of those 29 cases, 22 were caused by crab fishing gear.
Hoping to address this problem, North Coast Senator Mike McGuire last year authored the Whale Protection & Crab Gear Retrieval Act, which creates incentives for crab fishermen to retrieve pots and other gear that create entanglement hazards.
Dungeness crab fishermen, who obtain a retrieval permit through the industry-funded program, will be paid a recovery bounty for each trap they retrieve after the crab season has closed each year. The current season remains open north of the Sonoma/Mendocino county border.
McGuire's bill was signed into law by Governor Jerry Brown last September.
As originally reported in the Del Norte Triplicate, NOAA's response to this current emergency was delayed because the federal agency had halted all disentanglement efforts following the death of a noted emergency responder last week. The man, a Canadian named Joe Howlett, had just freed an entangled right whale in Canada's Gulf of St. Lawrence when, according to his colleagues, the animal struck him as it swam away, Maine Public Radio reports.
Viezbicke said there's always potential for injury when people get close to a whale in a stressful situation.
"These animals are so darn large that even if they're not intending to hurt you it doesn't take much," he said. "In relative size and scale we're small and vulnerable. We try to keep ourselves out of the danger zones."
Viezbicke said the rescuers should have a better sense of the scope of this rescue effort later today. Depending on the extent of the entanglement, the operation could last anywhere from a couple of hours to several days, he said.
# # #
UPDATE, 2:18 p.m.: After the above post went up today, the Outpost was contacted by a spokesperson for the environmental nonprofit Center for Biological Diversity, informing us that last month, the group is preparing a lawsuit against the California's state wildlife agency for failing to prevent commercial Dungeness crab gear from entangling humpback whales, blue whales and sea turtles.
"We at the Center for Biological Diversity have been working to publicize and reform this problem for the last few years, including serving in a working group with crabbers and regulators to address it," spokesperson Steve Jones said in his email. "But we're frustrated that so little has been done by the industry or the state as this problem has reached truly alarming proportions, which is why we're preparing to sue."
Read more about the effort by clicking here.
# # #
Note: This post has been corrected to reflect that Jeff Jacobsen is no longer working at HSU. The Outpost regrets the error.
Approximate location of the whale.