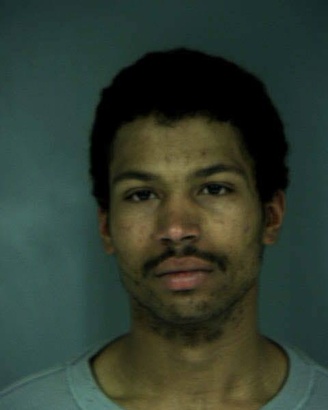 An Oakland man who sexually assaulted a Humboldt State University student in an Arcata laundromat has been sentenced to five years behind bars.

This morning visiting Judge Robert Crone sentenced Justin Farris Patrick to four years in prison for assault with intent to commit rape and one year for escape. Patrick, 27, has been in custody since March 2016. He was first arrested Feb. 26 at HSU when he walked up to a woman in the library and rubbed his penis while looking over her shoulder. He was told to stay away from campus for at least a week.
Later the same day he approached a student at a laundromat on H Street in Arcata and "pulled down her pants," Deputy District Attorney Carolyn Schaffer told the judge today.
The victim in that incident, barely able to speak through her sobs, told Crone the attack "impacted my life drastically."
"I was raised by a single parent who taught me to be very independent," the 21-year-old woman said.
"That was taken away from me." She said she once confidently shopped alone, ate out alone, did her laundry alone.
"(Now) I cannot do anything by myself," she said. Her main concern, she said, "is to prevent this from happening to anyone else."
Patrick, seated in the jury box with other inmates, listened quietly. He didn't speak during the sentencing.
Deputy Public Defender Jennifer Dixon argued for supervised probation and treatment, saying Patrick is a paranoid schizophrenic and "severely mentally ill." Dixon said mentally ill people "warehoused" in prison receive no treatment and come out worse than they were.
But prosecutor Schaffer said it's been shown that Patrick, left to his own devices, doesn't take his medication and is a danger to the public.
Judge Crone agreed, saying placing Patrick on probation "would be a substantial risk to the community."
During a court appearance in September 2016, Patrick managed to escape into the courthouse hallway. He was tackled and subdued by bailiffs. Dixon said today that Patrick "just tried to walk out of court" because, given his mental problems, he was frightened and confused.
Patrick was initially diagnosed as incompetent to stand trial, and he spent about four months in the state mental hospital in Napa. Today he received credit for 552 days in custody, including his time in Napa. The time for the assault must be served in prison, while the year for escape could be served in the county jail.
Between the Feb. 26 library incident and his final arrest March 1 while sleeping at the county airport, Patrick also was detained for stealing $9 worth of goods from Ray's Food Place in McKinleyville.
Patrick's father came from out of town for the hearing today, but he arrived too late to hear most of the arguments. He appeared shocked when Dixon told him about the sentence imposed on his son, saying "Oh, my goodness."
###
PREVIOUSLY: