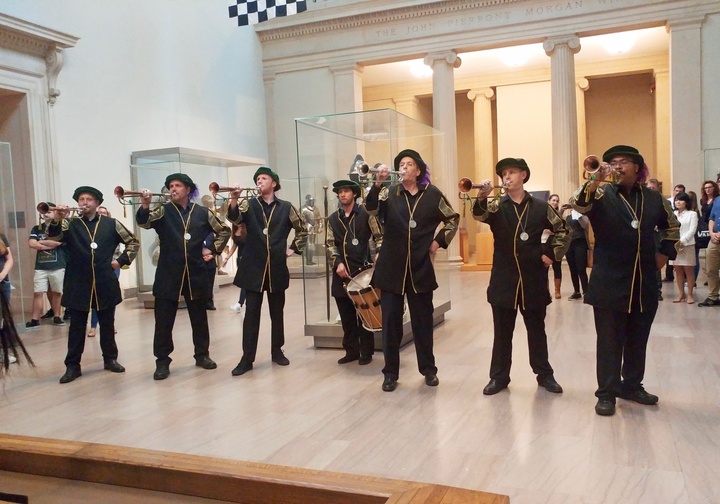 Earlier this month, a group of Humboldt State University musicians and community members traveled to New York City's Metropolitan Museum of Art, where they'd been invited by the Historic Brass Society to perform on baroque trumpets, replicas of valveless brass instruments used as far back as the 16th Century.
The university's Trumpet Consort von Humboldt was created about a dozen years ago by Music Professor Gil Cline, who considers it a research project but talks about it more like a passion project.
Describing the technical prowess required to play these long, valve-less trumpets, Cline says the notes are like colors in the most beautiful rainbow. "We can see those inside the trumpet," he said. "We have to hear those colors with ears and make our lips buzz those notes." He also says the technique is "analogous to Steph Curry sitting back from 25 feet and hitting three pointers," which we take to mean a rare skill made to seem effortless through years of practice.
Audrey McCombs, a Fortuna native and HSU alum who's now teaching music at Ukiah High School, said Cline is maybe the most meticulous and prepared person she's ever met. Not only did he have the five students in Trumpet Consort von Humboldt practice for hours and hours, "he also did choreography, made them run, do calisthenics and even gave them nutritional advice," McCombs said.
She made the trip to New York with the group and watched them perform in the Met's Arms and Armory gallery, dressed in period costumes and standing next to ancient artifacts.
"I doubt anything in the history of the HSU music department has been this cool," McCombs enthused.
The performance was part of a four-day symposium. "For us it was a chance to really geek out for brass," Cline said. The group that made the trip included Cline, a colleague and five students — four on baroque trumpets and one on percussion. The natural trumpets that serve as a model for the modern replicas were popular in the courts of monarchs such as King Henry VII, and Cline said the consort's New York City performance shared a room with that very king's armor. "It was a kick," he said.
From rehearsals at Basilica St Patrick's Old Cathedral in NYC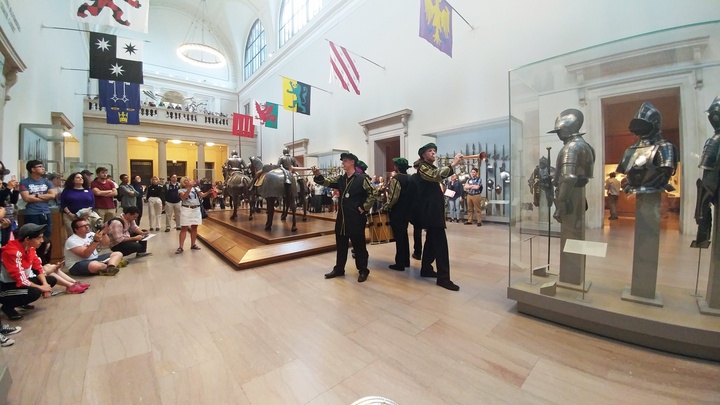 Here's some more info in the form of a press release from HSU:
Humboldt State University's Trumpet Consort von Humboldt just returned from a unique performance with baroque natural trumpets that were common in 17th century England.

Led by HSU Music Professor Gil Cline, students Kevin Blake, Ryan Blake, Andrew Henderson, Charlie McClung and community member Chris Cox performed in the Arms and Armory gallery at the Metropolitan Museum of Art in New York City for the 2017 Historic Brass Society Symposium, which took place July 13-16. The society is an international music organization that champions brass music from antiquity and the Biblical period to the present. The society's purview encompasses the history, music, literature and performance practice of early brass instruments, including the natural trumpet.

"The Consort von Humboldt turned in a superb performance. A great balance of excellent musicianship and fun that clearly connected with the audience," said Bradley Strauchen-Scherer, Associate Curator of Musical Instruments at the Metropolitan Museum of Art.

Leading brass educators and musicians from the U.S., Canada, Europe, and Australia gathered at New York University for four days of lectures, discussions, and performances. Trumpet Consort von Humboldt was one of only two representatives—and the only performing group—from the West Coast.

This was not Humboldt-based consort's first time performing at the symposium; the group was a hit when it performed at the last HBS Symposium in 2012 also in New York. Trumpet Consort von Humboldt is one of just a handful of university-based brass conservancy groups.

Lacking tuning vents, natural trumpets are significantly different from their modern day counterparts. The trumpets were first developed in the 1600s to be played for royalty and at special occasions like civic and military events. The valveless instrument's tubing is usually 8 feet long, creating a timbre that is richer than today's garden-variety trumpet and not as loud.

Without the vents, considerable skill is required to play a natural trumpet. Equally important is the player's posture, where the left hand is kept at his or her side and the feet are arranged similar to the fourth position in ballet.

Learn more about the world of natural trumpets at magazine.humboldt.edu.