Video by Carol A Thompson.
Eastern Humboldt had all kinds of nasty weather yesterday, after a thunderstorm brought hail and lightning to the area during a 90 degree heat wave.

Willow Creek resident Carol A Thompson captured the weather on video yesterday and shared her experience on Facebook.
"90 degrees and hailing in Willow Creek tonight," Thompson wrote.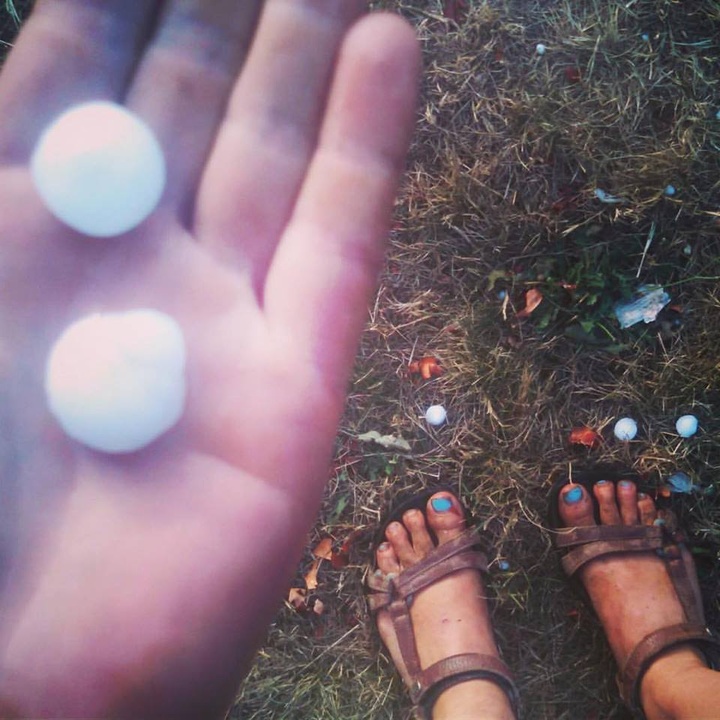 Although it would seem unlikely that hail and 90 weather could mix, meteorologist Matthew Kidwell of Eureka's National Weather Service office tells the Outpost that it's not all that uncommon.
"It's not that unusual to have a hot day and get hail," Kidwell said told the Outpost this afternoon during a phone interview. "When you get a thunderstorm it creates an updraft, and the falling snow will melt and become rain. The updraft will lift it back up and it will refreeze and fall back down. The stronger the thunderstorm the biggest the hail."
The thunderstorm also produced a number of lightning strikes, igniting several small wildfires around the Orleans area. The U.S. Forest Service reports today that multiple fires are currently burning in the Orleans/Ukonom district of the Six Rivers National Forest.
The largest of these fires has been named the Ukonom Fire, which is located at the base of Ukonom Mountain and is visible from Highway 96. Firefighters are in the process of accessing the fires and determining what their best attack methods will be.
"There were about 250 strikes in Siskiyou County, a few strikes in Humboldt and Del Norte Counties, and about 25 or so in Mendocino County yesterday," Kidwell said. "Any fire started might be smoldering now, because we have some rain also. But they could smolder and take off again. They may be finding fires for a few days."
Temperatures are expected to rise in the coming days. Willow Creek is forecast to have a high of 94 degrees tomorrow, and by Sunday, temperatures are expected to rise above 100 degrees.